Morning in America
Bernie Sanders Releases Optimistic Closing Ad in Iowa
The Vermont senator offers a hopeful vision of what the country can become under his leadership.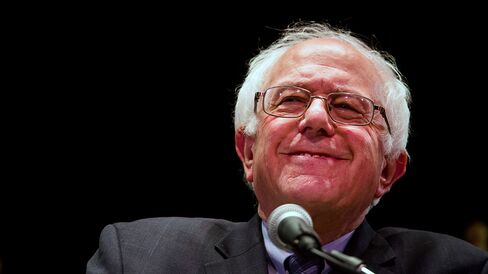 Democratic presidential candidate Bernie Sanders is making a final, optimistic pitch to Iowans in a TV ad set to air Tuesday ahead of the Feb. 1 nominating caucuses.
"There are those who say we cannot defeat a corrupt political system and fix a rigged economy," Sanders says to the camera at the beginning of the 60-second spot, which was first obtained by Bloomberg Politics. As the sun rises over a cornfield, Sanders delivers the money line: "But I believe we need to lift our vision above the obstacles in place and look to the American horizon."
The ad comes as polls show that Sanders has pulled even with front-runner Hillary Clinton in Iowa. It will be part of a buy that includes a widely praised spot set to the Simon & Garfunkel song "America."
Clinton's closing Iowa ad, by contrast, puts a heavy emphasis on the former senator and secretary of state's experience in government, and touts her as "the one candidate for president who has everything it takes to do every part of the job."
In Sanders' new ad, the grandfather makes an appeal to Baby Boomers in a different way: tossing a ball to a young boy and envisioning "an America where after a lifetime of labor, there is time for rest and grandchildren."
YouTube: American Horizon | Bernie Sanders
Before it's here, it's on the Bloomberg Terminal.
LEARN MORE