San Francisco Nudges Homeless Away From Super Bowl Fan Village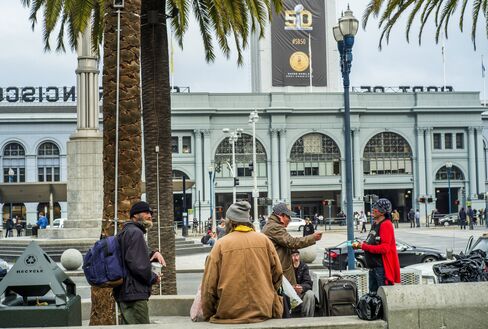 Area around Super Bowl City is a favorite of homeless people

San Francisco has 8th largest homeless population in the U.S.
When a million people descend on San Francisco later this month to revel in Super Bowl festivities, they can see a performance by Alicia Keys, a fireworks display and art by local artists. What they won't see much of are hordes of homeless people.
In recent weeks, San Francisco has dispatched workers to the scenic Embarcadero to provide them with help finding shelter somewhere besides the future site of Super Bowl City. The free fan village will feature concerts, interactive games and player appearances at the foot of Market Street across from the Ferry Building, and will be among the main images broadcast of San Francisco. If the city's plan succeeds, the homeless will head to shelters where they can connect with social services.
"When a lot of cameras are going to be pointed on the city, they want to have an image of the city that does not include poverty," said Jennifer Friedenbach, executive director at the San Francisco-based Coalition on Homelessness. "They want to decrease the physical presence and reminder of poverty and create an illusion that poverty does not exist by removing poor people from the vicinity of the Super Bowl party."
Homelessness in San Francisco, which has risen seven percent since 2005, is a persistent problem that's worsened as a technology boom drawing thousands of well-paid workers has inflated housing costs to some of the highest in the U.S. The city now has the eighth-worst homeless rate in the nation and is fielding a growing number of complaints about encampments, shopping carts, feces and urine.
Starting on Jan. 30, access to the site will be controlled through four airport-style security checkpoints, including bag checks. The CBS television network will broadcast from the village, which is near a pier where 32-year-old Kathryn Steinle was shot to death last year. Police have charged a homeless immigrant in her killing.
"As much as possible, we will be working more than usual, and there will be more street teams going out to assist people who don't have a place to stay so that they can be safely cared for," David Perry, the Super Bowl host committee's head of public engagement, said at a community meeting. "San Francisco is also committed to making sure that the experience for Super Bowl is safe, secure and sanitary."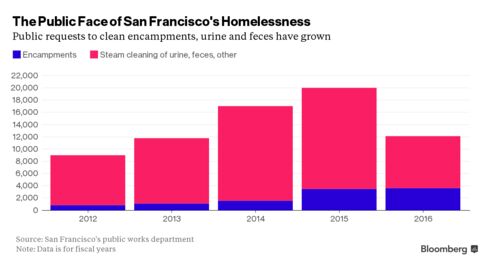 Supervisor Jane Kim said the message she got from Mayor Ed Lee's office is that the city is specifically targeting the site for homeless services because of the Super Bowl. Kim criticized the city's estimated $5 million cost to provide support, including additional police, saying taxpayers shouldn't be on the hook for a corporate marketing event. The game itself will take place on Feb. 7 at Levi's Stadium in Santa Clara, a Silicon Valley city 37 miles (60 kilometers) south of San Francisco.
"We should be making sure that we're delivering services throughout the city not just because of a special event," Kim said in a phone interview. "Specifically, to hide an issue for tourists and visitors that are coming in -- we should be providing this type of compassionate, strategic approach all the time."
Rachael Kagan, a spokeswoman for the city's health department, said workers haven't encouraged the homeless at the fan village site to leave.
"The homeless outreach team staff informed homeless people in that area that the event will be coming there, that there will be construction, road closures and crowds," Kagan said. "It will be very different than usual for the next few weeks, and the team made sure that the people who live there are aware of that."
Christine Falvey, a spokeswoman for Lee, said homeless people are being approached at the festival site with offers of shelter and longer-term housing because of the winter weather, a city-wide effort that includes adding 1,100 beds at emergency shelters. Falvey denied the city is specifically targeting the homeless around Justin Herman Plaza, the heart of the future village, because of plans to build Super Bowl City.
"It's associated with cold, wet winter," Falvey said. "It is dangerous and unhealthy to live on our streets."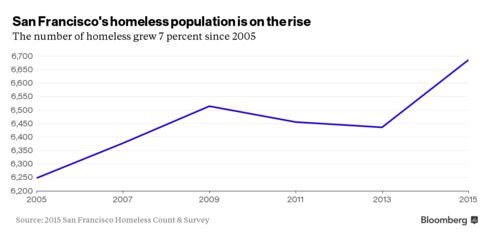 Christopher James, 33, sat on the ground next to someone resting in a sleeping bag outside Justin Herman Plaza and asked passersby for spare change. He said he hasn't been approached by city officials and even if he were, he doesn't know where he'd go.
"Shelters are nasty," James said. "Eleven years ago, I stayed in a shelter. It was just a weird feeling."
San Francisco, the 13th-biggest U.S. city by population, ranks No. 8 nationwide in the number of homeless, an estimated 6,775 in 2015, with 64 percent living outside of shelters, according to a report from the U.S. Department of Housing and Urban Development.
Public complaints about feces, urine and other materials have doubled to 16,530 and those concerning encampments have quadrupled to 3,509 since fiscal 2012, according to data from San Francisco's public works department.
The Super Bowl host committee is donating $13 million of the $50 million raised to San Francisco area charities that are mainly aimed at alleviating poverty, said spokesman Nathan Ballard.
There are 500 to 700 people on the waiting list for shelter at any given time, said Jackie Jenks, executive director of San Francisco-based Hospitality House, which runs a shelter that can house 30 men.
"We are definitely in favor of any new place where we can get folks off the street," she said. "The question is: Where do people go from there?"
Before it's here, it's on the Bloomberg Terminal.
LEARN MORE