Christie's White House Quest Complicated by New Trial Date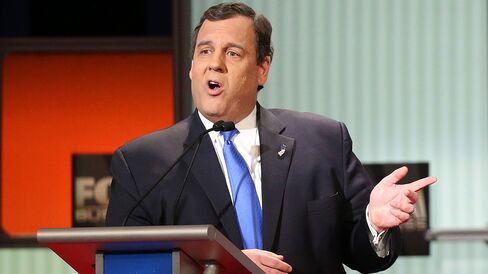 G.W. Bridge case now set for May 16, U.S. judge rules

Baroni, Kelly are accused of intentional lane closings
If New Jersey Governor Chris Christie manages to break out of the pack and survive the early rounds of the Republican primary season, his quest for the White House may be complicated by a scheduling order by a U.S. judge.
The judge postponed to May 16 -- when seven GOP primaries will remain -- the trial of two former Christie allies on charges they created traffic jams near the George Washington Bridge. Bill Baroni, the former deputy executive director of the Port Authority of New York & New Jersey, and Bridget Kelly, Christie's former deputy chief of staff, initially faced trial on April 4 in federal court in Newark, New Jersey.
Christie denies he knew of the lane closings when they occurred in September 2013 in Fort Lee, New Jersey. Prosecutors accuse Baroni and Kelly of creating traffic jams during the first week of school to punish the Democratic mayor of Fort Lee for failing to cross party lines and back Christie's re-election.
U.S. District Judge Susan Wigenton on Wednesday agreed to a delay sought by Baroni and Kelly to give their lawyers more time to review extensive written evidence and file pretrial motions. She reset the trial date as May 16 "or a date to be set by the court," according to a five-page order.
Last week, U.S. prosecutors secretly identified accomplices in the plot to Wigenton and asked that the names remain permanently confidential. Several media organizations asked to intervene in the case, seeking access to documents filed under seal, including the list of co-conspirators.
The publishers and owners of the Record, Bloomberg News, WNBC-TV, the New York Times, nj.com, the Wall Street Journal, the Associated Press, NJTV and New York Public Radio filed the request.
The case is U.S. v. Baroni, 15-cr-00193, U.S. District Court, District of New Jersey (Newark).
Before it's here, it's on the Bloomberg Terminal.
LEARN MORE