Strange Bedfellows
Republican Operatives Try to Help Bernie Sanders
"Picking your opponent" is an age-old political manipulation tactic.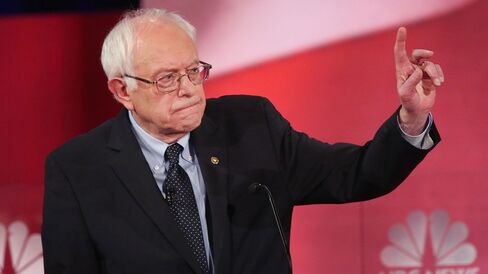 Republican operatives are having a strange crush on Bernie Sanders.
During Sunday night's Democratic debate, the Republican National Committee made the unusual move of sending no fewer than four real-time e-mails to reporters defending the self-described democratic socialist from attacks by Hillary Clinton or echoing his message against her. Based on their content, one could be forgiven for thinking the RNC communiques came from the Sanders campaign.
One RNC e-mail, which was titled "Clinton's Misleading Health Care Attack," defended the Vermont senator from what it described as "the Clinton campaign's inaccurate remarks on Sanders' single-payer plan," and quoted news articles that featured rebuttals of her arguments. A second message countered Clinton's attacks on Sanders over gun control by pointing out her gun-friendly statements in the past. Two other e-mails sought to bolster Sanders' case that Clinton is too close to Wall Street and the drug industry.
Sean Spicer, the chief strategist and spokesman for the RNC, spent much of the evening tweeting Sanders-friendly commentary on the debate, often with the pro-Sanders hashtag #FeelTheBern. At one point, Spicer gently chided Sanders for what he deemed a poor response to a question and added, "come on we are trying to help u."
After the debate, the Republican political action committee America Rising promoted the narrative that Sanders won the debate. "Clinton needed a win last night. Instead, everyone is talking about how well Bernie Sanders, her chief rival, did," spokesman Jeff Bechdel wrote to reporters.
Meanwhile, American Crossroads, a group co-founded by Karl Rove, is airing an ad in Iowa bolstering a core tenet of Sanders's case against Clinton: that she has received large sums of campaign contributions from Wall Street, and therefore can't be trusted to crack down on big banks. "Hillary rewarded Wall Street with a $700 billion bailout, then Wall Street made her a multi-millionaire," a narrator in the ad says. "Does Iowa really want Wall Street in the White House?"
YouTube: American Crossroads: "Hillary's Bull Market"
These Republican operatives are attempting to pick their Democratic opponent in the general election, and they're making clear they'd rather face Sanders than Clinton. It is age-old political manipulation tactic, typically used with some subtlety. It comes as recent polls show Sanders as competitive in Iowa and leading in New Hampshire, where back-to-back Sanders victories could endanger Clinton's national lead.
"In Iowa, American Crossroads is helping Bernie Sanders by depicting Hillary Clinton as a Wall Street insider," Jack Pitney, a political science professor at Claremont McKenna College, wrote on his blog.
"My guess is that Republican operatives know that Clinton is likely to win the nomination even if Sanders upsets her in Iowa and New Hampshire. But an extended challenge will force her to use up money too early, and nudge her farther to the left," Pitney said in an e-mail. Whether it will work remains to be seen, he said. "But at this stage, campaigns will grab for every advantage they can get."
Priorities USA, a group backing Clinton, said the ad was designed by Republicans to "interfere with our primary process" in an "attempt to clear their path to the White House."
At Sunday night's debate, Clinton made a note of the ad, too. "I'm the one they don't want to be up against," she said, referring to the financial sector.
The efforts indicate that Republicans aren't buying recent polls that show Sanders out-performing Clinton in hypothetical head-to-head match-ups against GOP presidential front-runner Donald Trump. One reason may be that, unlike Sanders, Clinton has been through the wringer of Republican attacks. While a spokesman for Sanders didn't immediately return a request for comment on the Republican attempts to boost him, the senator went out of his way in Sunday's debate to invoke recent surveys to make the case that he's electable.
"In terms of polling, guess what? We are running ahead of Secretary Clinton in terms of taking on my taking on my good friend, Donald Trump," Sanders said. An NBC/Wall Street Journal poll finds him leading Trump nationally by 15 points, while Clinton leads Trump by 10 points.
Republican candidate John Kasich indicated in a debate last week that he'd love to face Sanders. "We're going to win every state," he said, "if Bernie Sanders is the nominee."
Before it's here, it's on the Bloomberg Terminal.
LEARN MORE