Arkansas Rejected by U.S. Supreme Court on 12-Week Abortion Ban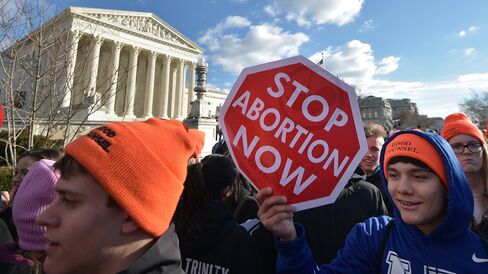 The U.S. Supreme Court refused to revive an Arkansas law that largely barred women from ending pregnancies after the 12th week, turning away an appeal that aimed to limit constitutional abortion rights.
The justices left intact a federal appeals court decision that said the Arkansas law couldn't be squared with the 1992 Supreme Court ruling that reaffirmed abortion rights. The measure was among more than 200 restrictions enacted in a number of states since a Republican-led push began five years ago.
The court is already hearing an abortion case in its current term, a fight over Texas clinic regulations that may close three-quarters of the state's facilities.
The Arkansas law, enacted in 2013, generally barred abortions after the 12th week when a heartbeat had been detected. It allowed exceptions for pregnancies resulting from rape or incest, and in cases where the mother's health was in serious danger.
The 1992 case, Planned Parenthood v. Casey, said states can't place an "undue burden" on a woman's right to end a pregnancy before the fetus would be able to live outside the womb.
The case is Beck v. Edwards, 15-448.
Before it's here, it's on the Bloomberg Terminal.
LEARN MORE