Donald Trump Gets High Marks From Evangelicals, If Not on Theology
As one Liberty student puts it, Trump isn't "the most religious guy." But praise from the school's leader could help him in Iowa and Virginia.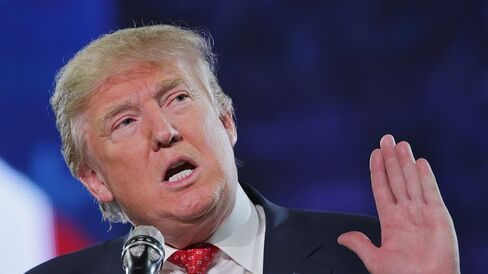 Republican presidential candidate Donald Trump won glowing praise from a Christian evangelical leader in one of the nation's biggest battleground states on Monday.
Jerry Falwell Jr., head of the Virginia-based Liberty University, didn't formally endorse the billionaire, who spoke at the school's convocation, but his remarks went further than for any other candidate to speak there during this race.
"He cannot be bought. He's not a puppet on a string like many other candidates," said Falwell Jr., who said he met with three of Trump's children this past week. "The American public is finally ready to elect a candidate who is not a career politician."
Falwell Jr. even likened Trump to his father, the late Reverend Jerry Falwell, which the candidate called "an honor for me." Falwell Sr., a politically influential evangelist, founded the "Moral Majority" that became a conservative force in the 1980s.
Trump did better at winning the crowd over when he praised the Falwells than when he praised Jesus. "Obama? This isn't Jerry running our nation, that I can tell you," Trump said. "Like Jerry Sr. would say, 'We want to be politically correct? It's just not working.'"
As for the Moral Majority, he said, "I think I'm going to up it because it's really a noisy majority." Trump put the crowd size at what he said was a record-breaking 12,000 people inside a campus stadium (attendance is mandatory for students). He dedicated his speech to the "late, great Martin Luther King," the assassinated African-American civil rights activist whose birthday was observed as a national holiday on Monday.
Falwell's comments could help Trump win over evangelical voters, particularly in southern Virginia, where one in eight of the town's residents attend services at the family's church in Lynchburg, according to the organization. They could also help Trump in Iowa, which hosts the first nomination voting of the election on Feb. 1.
Trump leads national polls, but he's locked in a battle for first in Iowa with Texas Senator Ted Cruz. The lawmaker has campaigned heavily for the evangelical vote, appealing to Christians who oppose same-sex marriage rights and abortion. Cruz announced his candidacy in March in the same venue where Trump spoke on Monday. Trump backed off his Cruz attacks for the Liberty occasion, saying, "We don't want to insult anybody." (He opted for mockery of Jeb Bush and Hillary Clinton instead.)
Trump, a Presbyterian, largely shies away from discussing his faith on the campaign trail. But he did inject some religious sentiments in an apparent effort to cater to the audience. He said his best-selling book, The Art of the Deal, was "a deep second" to the Bible.
"The Bible blows it away. There's nothing like it, the Bible," he said.
He also vowed to defeat the Islamic State and win "the War on Christmas." "If I'm president, you're going to see 'Merry Christmas' in department stores, believe me," he said.
Some of his efforts were better received than others. His attempt to quote a Bible verse as "two Corinthians" drew chuckles from students. It's commonly pronounced "second Corinthians." (Shortly after his speech, students posted memes on social media joking about his mispronunciation.)
"With his faith—I think that with President Falwell speaking beforehand, that seemed to be enough," said Caleb Abel, an undecided voter who attends the university.
Josh Moore, another undecided student, said Trump was "entertaining" but "not the most religious guy." "He didn't really address his faith to the extent that most people do when the come here," Moore said.
"But I really like that Trump is no B.S, and like Jerry said, we need to elect someone who can win—even if he doesn't have exactly the same faith as us."
Before it's here, it's on the Bloomberg Terminal.
LEARN MORE