To the Right
Trump, Cruz Sport Contrasting Styles Before South Carolina Tea Partiers
The Texan appeals to evangelicals; the billionaire, to bikers.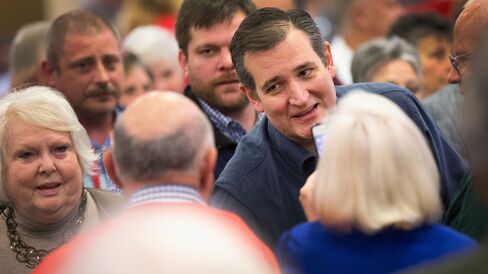 The two leading contenders for the Republican presidential nomination presented a study in contrasting style Saturday, as U.S. Senator Ted Cruz and billionaire Donald Trump delivered dueling speeches at an annual Tea Party convention in Myrtle Beach, South Carolina.
Cruz's tone and delivery mirrored that of a Sunday sermon. Trump's seemed more geared towards a Saturday night bar crowd. (He opened his remarks by thanking the dozen or so Myrtle Beach motorcycle bikers who stood outside cheering for him.)
In his speech, Cruz made no mention of Trump. But the Texas lawmaker wasn't ignoring his rival: According to CNN, Cruz mocked Trump's Twitter account in a conversation with reporters earlier in the day. "I think in terms of a commander-in-chief, we ought to have someone who isn't springing out of bed to tweet in a frantic response to the latest polls," Cruz said.
Trump, who appeared before the same audience two hours later, took the freshman Texas senator head on, targeting Cruz's failure to report to the Federal Election Commission nearly $1 million of loans he got from Goldman Sachs and Citigroup to fund his successful 2012 Senate campaign.
"You give a campaign contribution to Ted Cruz and you get whatever the hell you want," the businessman said. Cruz supporters immediately began booing him. "Excuse me, excuse me," Trump interrupted back. "Say whatever you want—he didn't report his bank loans."
"Disgusting, rude and obnoxious," was how Cruz supporter Betty Wood, from suburban Atlanta, reacted after Trump's speech. Trump backer Aileen Milton, of The Villages in Florida, disagreed. "Cruz deserved it—he's a politician like all the rest of 'em," she said. Despite their differing reactions to the two candidates' speeches, Wood and Milton conceded that their second choice would be Trump or Cruz, respectively.
"It's just politics—it'll all be forgotten in a general election," said Janet Whitfield, from Myrtle Beach, who wore a patriotic jump suit that she said was inspired by Dollie Parton and Elvis. She's undecided between the two candidates. "Cruz has the values I'm looking for but Trump I think can get the job done," she said.
Trump leads in most Republican national polls. But he is locked in a battle for first place with Cruz in Iowa, an evangelical stronghold where caucus-goers will kick off the 2016 presidential voting on Feb. 1. Trump is also leading the Republican field in New Hampshire, where independents and centrist Republicans are key constituencies.
Cruz is hoping that momentum in Iowa will help him South Carolina, where polls show Trump with a big lead ahead of the Feb. 20 Republican primary. It's a state where small-government fiscal conservatives have at least as much clout as social conservatives: South Carolina is where the Tea Party claimed one of its first electoral victims, defeating U.S. Rep Bob Inglis in a 2010 Republican primary.
In his speech Cruz tried to appeal to both factions, emphasizing his opposition to abortion and marriage equality as well as his hostility to the Wasington establishment. He portrayed himself as the only Republican candidate who was a "true conservative." And he warned against "false conservative prophets" who could govern like "John Boehner in the White House," a reference to the Republican former speaker of the House who was ousted by conservatives in his own party.
"We should ignore all the campaign rhetoric from everyone and simply see who has been walking the walk," Cruz said. And then: "As the Scripture has said, 'You shall know them by their fruits.'" The crowd joined in with him in murmuring the Bible verse.
Trump opened with a favorite anecdote about how during the 1980s he took over from New York City officials to open the Wollman Ice Rink in Central Park, which was "behind schedule and over budget."
"Imagine if we could equate that to the country... We can do that. It's so easy," Trump said. The crowd roared with approval, laughing and cheering along.
The story played to Trump's theme of bringing common-sense business practices to government. But, showing that he's beginning to be schooled in the art of politics, Trump confided to his audience that former House Speaker Newt Gingrich—who won the South Carolina Republican primary in 2012—urged him on a recent phone call to use the story of the ice rink in his speeches.
Smiling and pointing at the row of cameras in back of conference room, Trump added: "That one's for you, Newt."
Before it's here, it's on the Bloomberg Terminal.
LEARN MORE