Race for the White House
Rubio Gets Angry Makeover as Path to Victory Narrows
In the final sprint to Iowa, the candidate tries to match the darker mood of the Republican base.
The reinvention of Marco Rubio as a grittier and more ominous figure at Thursday night's debate was the product of an unsettling reality for the candidate. The "establishment" or "moderate" lane of the Republican Party is crowded with candidates but shrinking in numbers of voters. A realistic path to the nomination requires courting the ascendant angry voters who have been flocking to Donald Trump and Ted Cruz.
The sunny optimist of prior debates was nowhere to be found, recast as a mad-as-hell insurgent. He used his opening line to torch Democratic presidential front-runner Hillary Clinton as a "liar" who's "disqualified" from being commander in chief. He claimed President Barack Obama wants to confiscate every gun in America. He painted Chris Christie, a rival for the moderate Republican vote, as a closet liberal who has previously supported Obama's education program and gun control, suggesting that the New Jersey governor would continue Obama's agenda. When challenged by Cruz on the "Rubio-Schumer amnesty bill," a reference to an immigration bill that he co-authored in 2013, Rubio unleashed a torrent of attacks on his Senate colleague for changing positions on issues like legal immigration and ethanol.
"That is not consistent conservatism. That is political calculation," Rubio told the Cruz during a heated exchange, a line he repeated Friday morning on "Fox & Friends."
Despite Rubio's efforts, the debate may have done more to solidify than disrupt the two-man race between Trump and Cruz that has taken shape in recent months. The two front-runners soaked up most of the talk time, at well over 17 minutes apiece, as they feuded fiercely over whether Cruz's Canadian birthplace disqualifies him from the presidency and the notion that Trump has "New York values." Rubio and Christie were next, speaking for a little over 14 minutes each.
As he often does, Rubio earned wide praise from conservatives for his performance. "I thought he did well, especially in his exchange with Cruz. Rubio always does well in these," said Doug Heye, a longtime Republican operative who is unaffiliated in the race but says he'd refuse to support Trump even if he's the nominee.
Well-received performances in the previous five debates, however, didn't give Rubio the boost he needs to compete for front-runner status.
With just 17 days before the nominating contest kicks off in Iowa, Rubio remains the best-positioned candidate of all of those likely to get party establishment support—and the one many Democrats see as the most dangerous threat in a general election. But recent polls show no signs of a Rubio boost nationally or in key early states. The latest NBC poll released Thursday found him stuck in third place with 13 percent of Republican voters, statistically unchanged from one month ago.
"He needs to do well in Iowa to boost his campaign in New Hampshire and establish himself as the alternative to Trump and Cruz," said Heye.
"[T]here are several candidates who could have a good week before the caucus or develop some momentum out of New Hampshire or South Carolina," said Rory Cooper, a former top spokesman for House Republican leadership. "And yes, that includes Rubio who remains very popular among conservative leaders and the grassroots. All of the other candidates continue to treat him like the front-runner for a reason."
Set against recent history, Rubio's task is a difficult one.
He's running a distant third place behind Trump and Cruz nationally and in Iowa. In New Hampshire, he's competing with four others for a distant second place behind Trump. As Princeton professor Sam Wang noted last week, four of six presidential nominees since 2000 were leading nationally at a similar stage of their races. The other two were either second place nationally (Barack Obama in 2008) or leading in one key early state (John Kerry in 2004).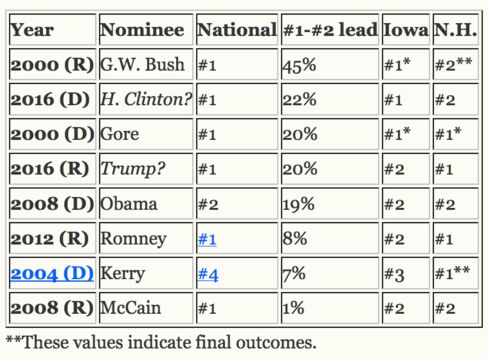 A problem for Rubio in New Hampshire is the traffic jam in the so-called establishment lane. Christie, former Florida Governor Jeb Bush and Ohio Governor John Kasich are all running competitively for second place, nearly 20 points behind Trump. They pose a serious threat to Rubio's hopes of consolidating the center-right vote and making a serious push for front-runner status as the race moves to South Carolina, where Trump and Cruz are also leading.
The Bush campaign and its well-funded super-PAC are spending millions of dollars running TV ads that portray Rubio as a political opportunist who lacks principles on issues like immigration. On Thursday, Rubio released two TV ads defending himself on immigration, one of which featured him saying that "Jeb Bush is desperate and spending millions on false attacks. Don't fall for it." Both ads promised that there would be "no amnesty" (an amorphous phrase deployed as an attack on Rubio for months) for people in the U.S. illegally if he's president. On Friday morning, Rubio continued to take shots at Christie during a campaign stop in New Hampshire.
That threatens to keep Rubio bogged down fending off lesser-performing candidates rather than focusing on the prize. On Friday morning Bush escalated his feud with Rubio. "Marco cut and run," Bush said in South Carolina, referring to Rubio's move to back off his immigration bill in 2013 after the House made clear it would reject it. "What kind of leader will we have if the first impulse is to cut and run?"
The new NBC/Wall Street Journal poll underscored how Rubio's path is narrowing. It found that the percentage of Republican voters who could imagine themselves supporting Trump has grown from 23 percent in March 2015 to an eye-popping 65 percent this month. A hypothetical three-way race shows Trump leading with 40 percent, Cruz second with 31 percent and Rubio third with 26 percent. A two-way race between Trump and Rubio—long seen by pro-Rubio strategists as their most promising road to victory—shows Trump leading Rubio by a margin of 52 to 45.
Though sky-high expectations for the talented young Floridian have dipped, Republican establishment figures still see hope for him.
"While it seems like a Trump and Cruz race at the moment, Rubio had an impressive performance and it will probably convince additional donors to help him," said Ron Bonjean, a former aide to congressional Republican leadership. "If Rubio can place can place the top three spots within the early states, that would likely force other candidates out and create more momentum and fundraising to help him create more advertising and a better voter turnout operation."
Before it's here, it's on the Bloomberg Terminal.
LEARN MORE