Republican Haley Takes Aim at Trump in Party's Response to Obama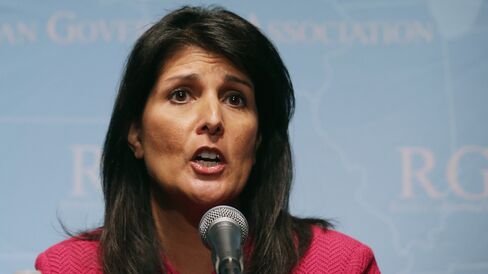 South Carolina governor urges party to shun `angriest voices'

Haley says Republicans share blame with Democrats for divide
South Carolina Governor Nikki Haley drew harsh criticism from fellow conservatives after she took swipes at presidential front-runner, Donald Trump, in her response to President Barack Obama's final State of the Union address.
While never mentioning Trump's name, Haley's effort on Tuesday to sketch out a kinder and gentler vision of the Republican Party was aimed squarely at pushing back against the billionaire's populist campaign for the White House. And it prompted a sharp backlash from some of the party's most fervent conservative voices.
Syndicated columnist Ann Coulter took to Twitter to suggest that "Trump should deport Nikki Haley."
Conservative radio host Laura Ingraham berated the Republican Party for choosing Haley, tweeting, "The country is lit up w/ a populist fever & the GOP responds by digging in, criticizing the GOP candidates dominating polls?! NOT SMART."
Response to Critics
Haley said in an interview on CNN Wednesday morning that her speech partly targeted Trump and that party leaders reviewed her speech before she delivered it Tuesday. Conservative critics should "look at the example of South Carolina," she said, and how political leaders came together to remove the Confederate battle flag from the statehouse grounds following a mass shooting at a Charleston church and to help citizens after what she called a 1,000-year flood last year.
"It takes everyone to get their egos out of the room and really sit down and say, 'OK, how are we going to get to a solution?"' Haley told CNN. "That's not something we're seeing in D.C. right now."
Haley's appearance served as an early trial balloon to test her potential for being a running mate for the eventual Republican presidential nominee -- an unlikely scenario should that nominee be Trump.
"Today, we live in a time of threats like few others in recent memory," she said in remarks aired from the state's capital, Columbia. "During anxious times, it can be tempting to follow the siren call of the angriest voices. We must resist that temptation."
Disillusioned Voters
While Trump was her most obvious target, her comments could also be interpreted as being aimed at Republican Senator Ted Cruz of Texas, whose own presidential bid has been aimed at the same disillusioned voters courted by Trump.
Haley said that Republicans share the blame with Democrats for the nation's distrust of Washington and need to "recognize our contributions to the erosion of the public trust in America's leadership."
By choosing Haley to speak for the party, Republicans leaders sought to portray themselves as more ethnically diverse and empowering to women than critics acknowledge.
Muslim Immigration
Haley's selection also was an effort to distance the party from some of Trump's positions, including his call for a halt on Muslim immigration to the U.S. Haley, 43, an Indian-American, spoke out against Trump's stance toward Muslim immigration and leads an early-voting state considered important to the nominating process.
While her speech was strongly praised by many Republicans on Capitol Hill, the reaction from some of Trump's sympathizers was harsh.
"Some people think that you have to be the loudest voice in the room to make a difference. That is just not true," she said. "Often, the best thing we can do is turn down the volume."
While saying the U.S. cannot allow illegal immigration and must not allow in refugees "whose intentions cannot be determined," Haley said that "no one who is willing to work hard, abide by our laws, and love our traditions should ever feel unwelcome in this country."
Haley delivered her remarks without stumbling. She drew attention with her decision to dispense quickly with her criticism of Obama and her call on fellow Republicans to accept some responsibility for the political discord.
She said that "while Democrats in Washington bear much responsibility for the problems facing America today, they do not bear it alone" and "we need to accept that we've played a role in how and why our government is broken. And then we need to fix it."
Before it's here, it's on the Bloomberg Terminal.
LEARN MORE