RZA Has Already Cashed Shkreli's $2 Million Check and That's It
`He bought it, he can do what he wants,' RZA says in interview

Record contract doesn't include rumored Bill Murray clause
RZA, the rapper and de facto leader of the group Wu-Tang Clan, said he doesn't begrudge indicted drug company executive Martin Shkreli for buying his $2 million album.
"He bought it, he can do what he wants," RZA said in an interview with Bloomberg TV's John Heilemann on the program "With All Due Respect." "Art -- the beautiful thing about art, from my standpoint, is that it has no discrimination." Despite some of the rapper's criticisms of Shkreli, the sale is done. "What we've done is historical, and you can't remove that."
More: Who Bought the Most Expensive Album Ever Made?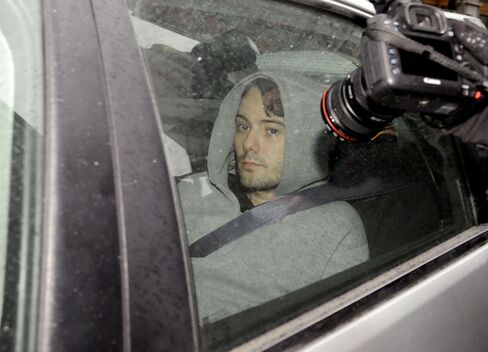 Shkreli was arrested last month on charges of securities fraud related to one of his former companies and several of his hedge funds. He is accused of lying to investors and misappropriating funds. He has denied wrongdoing. Bloomberg Businessweek reported last month that he had paid $2 million for the Wu-Tang album, "Once Upon a Time in Shaolin," which exists only as a single copy.
Baruch Weiss, Shkreli's lawyer, declined to comment.
RZA, whose real name is Robert Diggs, said he used a middleman to help make the sale.
Album Auction
"If you want me to make a beat, come to the RZA, I can handle that," he said. "If you want me to auction off or sell a painting, that's not my business, so I put it in the hands of professionals."
Before Shkreli's arrest, the 32-year-old drug executive rose to notoriety by acquiring an old drug, Daraprim, and raising the price to $750 a pill from $13.50. He was criticized by lawmakers and patient groups and threatened with legal investigation about the company's practices. Shkreli's most recent company, KaloBios Pharmaceuticals Inc., fired him, has filed for bankruptcy and is fighting Nasdaq's decision to kick it off its exchange.
More: Shkreli, Drug Price Gouger, Denies Fraud and Posts Bail
RZA told Bloomberg Businessweek in December that the group had agreed to the sale before Shkreli's drug pricing practices had been revealed, and that it had "decided to give a significant portion of the proceeds to charity."
RZA confirmed that the two met before the album was sold.
"I met him, we had a brief lunch, and he did mention his love of hip-hop," RZA said in the interview with Bloomberg. "I didn't get a chance to read him. We talked briefly about where he comes from, briefly about what Wu-Tang means."
Distancing From Shkreli
In a previous interview, Shkreli didn't take kindly to Wu-Tang's distancing themselves from him.
"I bought the most expensive album in the history of mankind and f---ing RZA is talking s--t behind my back and online in plain sight," Shkreli said in a Dec. 16 interview with the publication HipHopDX. "If I hand you $2 million, f---ing show me some respect."
RZA sounded unperturbed. "I thought about calling him, personally," the rapper said.
Shkreli's arrest throws his continued ownership of the album into question. With the indictment, Brooklyn U.S. Attorney Robert Capers is seeking the forfeiture of "any property, real or personal" acquired with the proceeds of his alleged securities fraud. The U.S. Securities and Exchange Commission also has filed a related lawsuit. The legal actions raise the possibility that the federal government could eventually take control of "Once Upon a Time in Shaolin" and perhaps put it up for a second auction. At a press conference on the day of Shkreli's arrest, Capers declined to comment on the record's fate.
Businessweek reported in December that at that time Shkreli hadn't yet listened to the album.
Museum Tour
"If Mr. Shkreli feels philanthropic, he has the power to do something really cool, you know what I mean?" RZA said. "He could do something that would allow more people to hear the record." He suggested releasing the album publicly, or letting it tour in museums.
He dismissed one other idea that could free the album, based on a rumor that circulated briefly in the wake of Shkreli's arrest -- that actor Bill Murray was contractually allowed to attempt a heist of the album.
"Bill Murray's not in the contract," RZA said.
The full interview will run on "With All Due Respect," which airs on Bloomberg Television and BloombergPolitics.com, Wednesday at 5 p.m. New York time.
Before it's here, it's on the Bloomberg Terminal.
LEARN MORE