Lack of Options on North Korea Presses China to Shift Policy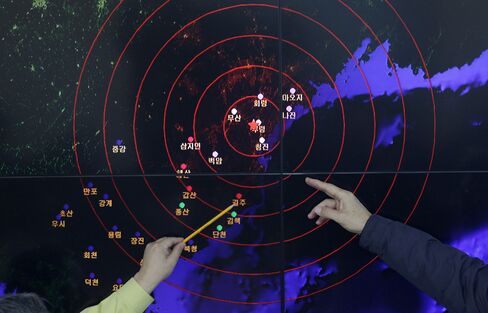 U.S. expended political capital securing deal with Iran

Diplomats question China threshold for ending Pyongyang cover
North Korea has thumbed its nose at the world for decades. The question now is whether its pursuit of a hydrogen bomb may have irritated China, its biggest trading partner, enough to pave the way for tougher sanctions at the United Nations.
The West has run out of options to rein in Kim Jong Un. The U.S. has exhausted its diplomatic capital on securing a nuclear deal with Iran. That puts pressure on China, which has led recent efforts to bring the regime back from the diplomatic wilderness.
The second nuclear test since Kim came to power four years ago may have angered President Xi Jinping, who sent a high-ranking envoy to Pyongyang in October with a handwritten letter seeking deeper cooperation. Beijing was not informed in advance of the test, according to Foreign Ministry spokeswoman Hua Chunying.
President Barack Obama called South Korean President Park Geun Hye and Japanese Prime Minister Shinzo Abe and agreed to work together on a strong international response, the White House said in e-mailed statements. There was no detail on whether he spoke also with Xi.
Get Tough
For diplomats negotiating new steps at the UN's decision-making body, the deciding factor will be whether China, a veto-carrying member, is ready to get tough with Kim.
North Korea's defiance is a source of concern for China as it seeks to expands its role in the world and at the UN, said a European Security Council diplomat who asked not to be named citing the sensitivity of the matter. Anything that gets in the way of that has an impact on the image China is seeking to project of itself, the diplomat added.
For some observers, the reaction depends on how true is the regime's boast it successfully detonated a hydrogen device much more powerful than an atomic bomb.
Game Changer?
"North Korea's ability to procure hydrogen bombs will be a game changer, even for China to overturn its longstanding policy against using sanctions to bring the Kim regime to its knees," said Sue Mi Terry, a former Central Intelligence Agency analyst on North Korea. "But it doesn't look like the hydrogen bomb proclamation is true" which means usual responses like tightening sanctions and blacklisting individuals and entities.
U.S. Secretary of State John Kerry spoke to South Korean counterpart Yun Byung Se and pledged a "stern response" regardless of whether North Korea tested a hydrogen or atomic bomb, Seoul's Foreign Ministry said on its website. Secretary of Defense Ashton Carter reaffirmed the U.S. commitment to defend South Korea, his South Korean counterpart Han Min Koo said Thursday following their phone conversation.
South Korea is mulling its own actions, including potentially restarting propaganda broadcasts that led North Korea to put its troops on a war footing last summer. Switching on loudspeakers in the demilitarized zone is "one of possible plans," Han said Thursday at a parliamentary hearing.
H-Bomb Doubts
Despite North Korea's claims to have successfully tested a hydrogen bomb, initial analysis by the UN, the White House and weapons analysts suggested the regime is exaggerating.
Seismic waves triggered by the blast that registered a 5.1-magnitude earthquake were "slightly down" compared with the level from North Korea's last nuclear test in 2013, according to the UN's watch group monitoring nuclear testing around the world. White House press secretary Josh Earnest said in Washington a first examination was "non-consistent with the claims that were made by the North Koreans."
The nuclear test monitor may be able to verify within "the next couple of days" what type of bomb the North tested, Lassina Zerbo, executive secretary of the UN Comprehensive Test Ban Treaty Organization, said in Vienna. Weather permitting, it may be able to detect radioisotopes, atoms that get released into the atmosphere after a blast, Zerbo said. Scientists failed to detect gases from North Korea's nuclear tests in 2009 and 2013.
Further Action
Earnest declined to say what actions or additional sanctions the U.S. might pursue.
The UN Security Council forbids North Korea from trading weapons of mass destruction, missile-related goods, conventional weapons and related goods and services. It also bans luxury goods and compiles a list of individuals and entities subject to asset freezes and travel bans.
There are two main loopholes in the current system, said Andrea Berger, deputy director of the proliferation and nuclear policy program at the Royal United Services Institute.
"North Korea is still allowed to buy small arms and light weapons, which they have the ability to manufacture themselves and can use to reverse engineer," Berger said. The UN's blacklist doesn't target non-North Koreans that North Korean authorities have enlisted overseas "to open bank accounts for them and give them access to those bank accounts," she said.
Illicit Activities
According to the UN sanctions committee's panel of experts, North Korea uses a limited number of individuals and intermediaries to conduct illicit activities. It operates through trusted foreign partners, shell companies and North Korea's embassies and overseas trade offices, the panel said in its latest report published Feb. 2015.
George Lopez, a former UN sanctions investigator on North Korea, said it would be a big step for China to agree to secondary sanctions.
"You need to take at least a couple of days, almost a week of direct discussions between the U.S., the Brits and China to get to that point," said Lopez, now a professor at the University of Notre Dame. "The trade-off is one of how comprehensive do you want to be versus how strong and unified a statement do you want to give immediately."
Before it's here, it's on the Bloomberg Terminal.
LEARN MORE