Detente
Cruz Wins Praise from Pro-Ethanol Group Protesting Him
The candidate signaled that he would support extending the Renewable Fuel Standard through 2022.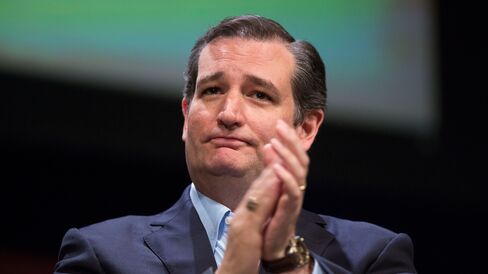 A group that's been protesting Ted Cruz this week at every stop along his six-day presidential campaign tour in Iowa is now offering words of praise for his latest remarks about ethanol.
At stops Tuesday afternoon and evening in northwest Iowa, the junior senator from Texas expressed support for continuing the federal Renewable Fuel Standard through 2022 because there have been "investment-backed expectations" made by the ethanol industry.
That's generally in keeping with his past statements that the standard should be gradually phased out, but was still enough to trigger applause from the state's powerful ethanol lobby.
"This is a big development from where Senator Cruz was, which was immediate repeal of the RFS to supporting it through 2022," Majda Sarkic, a spokeswoman for America's Renewable Future, said in an e-mail. "While we view this development positively we're still looking forward to hearing more. It's a very different position for the senator, so we are still evaluating his position."
The RFS sets the minimum amount of corn-based ethanol and other biofuels that must be included in the nation's gasoline supply. It's an important economic issue in Iowa, which is the nation's top corn and ethanol producer, and in an op-ed published Wednesday in the Des Moines Register, Cruz wrote that it was "utter nonsense" that he opposed ethanol.
For now, Sarkic said her group would continue to have a "presence at candidate events and throughout the state to make sure Iowans are aware of where each candidate stands." In the e-mail, she didn't directly answer whether that would include Cruz.
The group, which is led by the son of Iowa Republican Governor Terry Branstad, held signs and distributed anti-Cruz literature at his event's earlier this week.
"Farmers and rural communities across Iowa are going to be encouraged by Senator Cruz's remarks," Eric Branstad said in a statement Wednesday. "He is clearly listening to the people of Iowa and understands the importance of the Renewable Fuel Standard to America's economy and energy independence, as he started the caucus process calling for immediate repeal. While not perfect, this is a big step forward by Senator Cruz."
The pro-ethanol lobby may also be reacting to Cruz's growing strength in the state ahead of the Feb. 1 Iowa caucuses that will start the nomination season. Seeing a candidate who has been labeled as overtly anti-ethanol then win the caucuses might set a bad precedent for issue in the future.
Before it's here, it's on the Bloomberg Terminal.
LEARN MORE