Race for New Hampshire
Bill Clinton Steps Back Into Campaign Spotlight
The Democratic front-runner is hoping the former president can help offset Bernie Sanders's regional appeal in New Hampshire.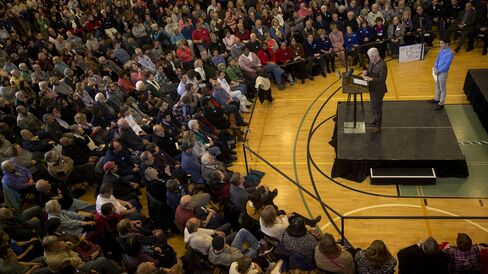 If the proliferation of lawn signs sprouting out of snowy lawns weren't enough of a hint, Bill Clinton's return to the campaign trail in New Hampshire might be: presidential primary season is down to the home stretch.
After spending the first eight months of his wife's candidacy behind the scenes, advising and fundraising out of sight of voters and the media, the never-shy former president is upping his level of public engagement. He was set to headline two rallies Monday, in Nashua and Exeter, plus more across the country in the weeks to come with the aim of helping erase Vermont Senator Bernie Sanders's neighboring-state advantage in New Hampshire and grassroots appeal in Iowa.
"I do not believe in my lifetime anybody has run for this job at a moment of great importance who is better qualified by experience, knowledge, and temperament" than his wife, said the former president in Nashua, a stop marked by unusual punctuality as he quickly worked a rope line.
"Almost everybody goes into the White House with the best of intentions," he said. "Whether they succeed or not depends on whether their instincts, their experience, their knowledge, and their psychological makeup fits the time."
Clinton often jokes about having lost the campaigning skills he once had, but he's still plenty sharp and works rope lines until each and every well-wisher has gotten a handshake and a selfie. "I told somebody the other day, I'm not sure I'm very good at this anymore," he told West Virginia Democrats in October during one of just two political speeches he's given since the start of his wife's campaign (the other was later that month, ahead of the Iowa Jefferson-Jackson Dinner). Then, he repeated a metaphor that's become a standard part of his repertoire in recent years: "I'm kind of like an old horse that you keep at a stable and an election comes along and they come and give you a few extra oats and brush you down and take you out to the track and slap you on the bum and see if you can get around just one more time."
While he at times struggled with message discipline during Hillary Clinton's 2008 campaign, the former president is widely seen by her staff and allies as a major asset, her "not-so-secret weapon," as she described him last month. One person who clearly agrees is Republican presidential front-runner (and one-time Bill Clinton golf buddy) Donald Trump, who has spent the days since the former president's campaign plans were first announced dredging up the sex scandals of the 1990s on Twitter and in interviews.
"Well, if you look at the different situations, of course you could name many of them, I could get you a list and I'll have it sent to your office in two seconds. But there certainly were a lot of abuse of women, you look at whether it's Monica Lewinsky or Paula Jones, or any of them, and that certainly will be fair game," Trump said last week on NBC's Today show. "Certainly, if they play the woman's card with respect to me, that will be fair game."
Clinton campaign spokeswoman Christina Reynolds said last week that "Hillary Clinton won't be bullied or distracted by attacks he throws at her and former President Clinton," but Bill Clinton's history of defending against attacks on his wife suggests that he will at least slug back.
Hillary Clinton, meanwhile, has kept her focus on assailing Trump's message. "You can't make America great again if you insult and demean the people of America," she told supporters Sunday in Concord, at one of three town halls she hosted to kick off her first day of campaigning of 2016 that drew a combined crowd of more than 2,200. She'll traverse Iowa from east to west, from Davenport to Council Bluffs, for five town halls on Monday and Tuesday before heading to a Democratic cattle call in Las Vegas.
Before it's here, it's on the Bloomberg Terminal.
LEARN MORE