2016 Republicans
Kasich Says Tamir Rice Protestors 'Need to Be Heard'
The Ohio governor's tone differed markedly from that of some of his Republican presidential rivals.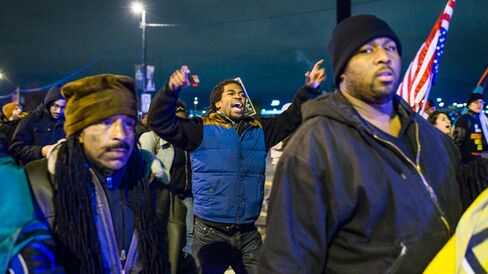 One day after a grand jury in his home state decided not to indict a pair of police officers involved in the fatal shooting of 12-year-old Tamir Rice, Ohio Governor John Kasich told reporters that protestors angry with the verdict "need to be heard" and said he welcomed a federal investigation into the incident.
"Sure, sure. It's fine for everybody to take a look at this," Kasich said when asked about a request from the boy's family for an investigation by the U.S. Department of Justice. "Clearly, when you lose a 12-year-old—what more can you say about how tragic it is? Imagine how the family feels, the friends of the family," he said. "It's a tough a time as you can ever have in life and our hearts go out to all of them. We're going to keep working to try to improve this overall system."
Kasich made the remarks from Nashua, New Hampshire, where he's campaigning for the Republican presidential nomination. Protests were expected later Tuesday over the grand jury's decision in the 2014 shooting of Rice, who drew what turned out to be a toy pistol on the police. Rice was black; the police officers are white.
In a year when police violence against blacks has proven a challenge for many political leaders—including Chicago's Democratic mayor, Rahm Emanuel, who is facing calls for his resignation over the handling of one such incident—Kasich's tone differed markedly from that of some of his Republican rivals, who have decried the protests that have erupted over alleged incidents of racially inspired police violence.
"Our police are being mistreated terribly," Donald Trump said during a campaign appearance in Nashua on Monday night. In October, rival candidate Senator Ted Cruz of Texas is reported to have said that the Black Lives Matter movement has "embraced rabid rhetoric, rabid anti-police language—literally suggesting and embracing and celebrating the murder of police officers."
Kasich warned against outsiders entering Cleveland to cause trouble. "I hope that they're not there to cause trouble, but we're working with local law enforcement and doing everything we can including working with community leaders to try to get beyond this," he said, but he did not discourage the protests.
"Protesting is an American way of life. We just want to make sure that the protest doesn't slip into something that sets everybody back," Kasich told reporters.
His goal is "to fully integrate police with community" but there is "a long way to go," Kasich acknowledged. "There are some in the community that feel the system doesn't fully work for them and works against them." Asked if he has a message to the people who are angry with the grand jury's decision, Kasich said: "You need to be heard."
Despite the concerns in his home state, Kasich did not leave the campaign trail and told reporters he's sticking to plans to have a day of vacation with his family tomorrow. The governor said that he has remained in contact with local religious leaders, law enforcement, and government officials, including Cleveland Mayor Frank Jackson.
Kasich is campaigning heavily in the New Hampshire, which holds the nation's first primary on Feb. 9. Polls in the state have Kasich hovering in the middle of pack along with New Jersey Governor Chris Christie, former Florida Governor Jeb Bush, Senator Marco Rubio of Florida, and Cruz. Trump remains the front-runner in the polls.
Before it's here, it's on the Bloomberg Terminal.
LEARN MORE