Spin Cycle
Clinton, Sanders Camps Aren't Letting Go of Data Breach Scandal
The Democratic front-runner's press secretary fires back at a Sanders campaign talking point.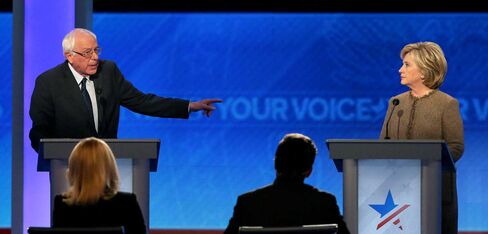 The candidates agreed during Saturday's Democratic debate to move on from talking about Bernie Sanders' staff's breach of Hillary Clinton's data, but since then, both campaigns have shown that they're not ready to let it go.
"We appreciated Senator Sanders' apology for the breach of our data at Saturday's debate, but in the two days since, his campaign has continued to raise the possibility that our campaign may have engaged in similar misconduct," Clinton press secretary Brian Fallon said in a statement Monday.
The Clinton team is still angry that Sanders staffers searched through its voter data—which it says represents millions of dollars of spending and thousands of hours of work—and that response is further aggravated by a sense that Sanders and his top aides are showing little remorse, suggesting that the Clinton campaign may have engaged in wrongdoing without any evidence to support it.
In the post-debate spin room and during TV appearances since then, the Vermont senator and his campaign manager, Jeff Weaver, kept up their criticism of what they contend was the Democratic National Committee's failure to react to an earlier set of data security problems. And the campaign is pushing forward on its lawsuit against the DNC even though its access to data has been restored.
"This is the second breach that the DNC vendors have allowed to happen," Sanders said Monday on CBS This Morning. "What we are asking for now is a thorough investigation with the DNC from day one of these campaigns, to see what the implications of these breaches have been. Have information in fact been able to go both ways? I don't know if that's the case, but that's a possibility." Weaver made similar comments Monday on MSNBC.
Appearing Sunday on ABC's This Week, Sanders conceded he had no evidence to back up the claim but "that's why I want an independent investigation. When there's a breach, when there's a hole in the system, it works both ways." Sanders spokesman Michael Briggs on Monday urged the Clinton campaign to "join us in calling for a thorough, independent investigation" of DNC data security since the start of the 2016 race.
Clinton's staff denies the claim and the DNC contends that it was unaware of a previous breach. "The Clinton campaign has never accessed, let alone copied, data belonging to another campaign. Period," Fallon said Monday.
The Sanders campaign fired its national data director on Thursday and suspended two more staffers on Saturday, something Weaver said only became possible that afternoon after the campaign received vendor NGP VAN's audit logs from the DNC. Party chairwoman Debbie Wasserman Schultz said the Clinton and Sanders campaigns were both given the logs on Wednesday, the day of the breach, and challenged the campaign manager's claims.
Weaver "is the individual, unfortunately for Senator Sanders, he is the individual that has consistently said incorrect things and has been proven to have been saying incorrect things," she said in the spin room after Saturday's debate. "So I wouldn't really take much more of his word versus ours when everything we've said has been proven to be true."
And, on Monday, Fallon piled on, too, without mentioning Weaver or any other Sanders staffers by name.
"It appears Senator Sanders and his supporters are being misled by certain campaign staff who may be trying to downplay the unique and unethical nature of what happened last week," Fallon said. "Either way, the Sanders campaign needs to immediately stop spreading this utterly false innuendo."
Before it's here, it's on the Bloomberg Terminal.
LEARN MORE