Social Networking
Trump's Muslim Travel Ban Idea Drowns Out Obama's Terrorism Speech
The Republican front-runner has dominated Twitter chatter and news coverage since Monday.
In a rare speech from the Oval Office Sunday night, President Barack Obama vowed to overcome the Islamic State and cautioned that "we must enlist Muslim communities as some of our strongest allies, rather than push them away through suspicion and hate." Less than 24 hours later, leading Republican presidential candidate Donald Trump undermined Obama's pro-Muslim overtures by instead proposing a "total and complete shutdown of Muslims entering the United States until our country's representatives can figure out what is going on."
That's not to say Obama's speech didn't make a big splash; it did, at least while he held the nation's attention. The speech ranked among Google's top 10 trending subjects on Sunday (with 200,000+ searches) and garnered over 60,000 related tweets, according to social analytics site Topsy. Yet, while interest in the president's remarks quickly faded thereafter, Trump's notion of a Muslim travel ban has continued to spark sustained conversation on Twitter.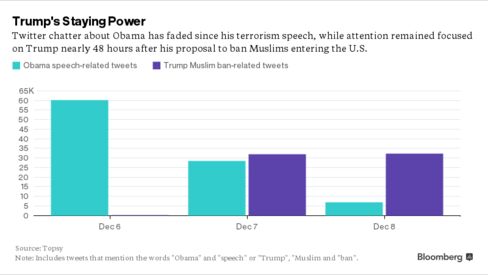 A more detailed chronological look at recent Twitter activity shows that engagement with the president spiked around the time of his speech (to 4,000 tweets per minute), according to this chart prepared by Twitter's data team, before quickly dropping back to pre-speech levels within several hours. Mentions of Trump first peaked around the time of his Monday afternoon press release (to 2,200 tweets per minute) and have stayed relatively elevated even through early Wednesday afternoon. The chart below similarly illustrates how Obama's temporary Sunday Twitter blip, when a total of 473,000 tweets mentioned his name or @POTUS handle, compares to Trump's more sustained hogging of the spotlight, with 850,000-plus tweets about him both Monday and yesterday.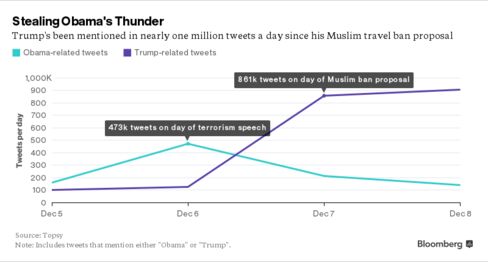 As far as media coverage goes, a Bloomberg Politics news search finds Trump racking up at least 250 headlines in the first 24 hours after his controversial announcement and another 200 or so since then. Obama, meanwhile, garnered a similar level of coverage as Trump during the first day after his terrorism speech, but then amassed just 50 headlines in the following 24-hour period.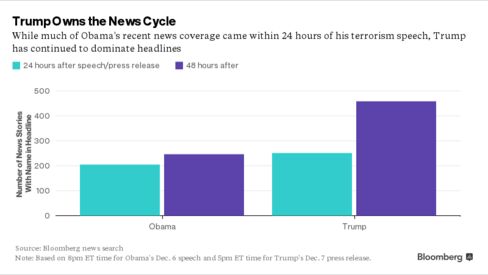 Despite dominating the Twitter and media conversations, neither Trump nor his controversial Muslim ban idea were top Google search queries the past few days. In fact, of the top Trump-related questions posed to the search engine in the 24 hours following his announcement (and provided to Bloomberg Politics by Google Trends), the only one directly related appears to be number nine: "What did Donald Trump say about Muslims?" Ironically, the tenth most asked question was, "What religion is Donald Trump?"
Before it's here, it's on the Bloomberg Terminal.
LEARN MORE