Scalia Says Blacks May Do Better at 'Slower-Track' Schools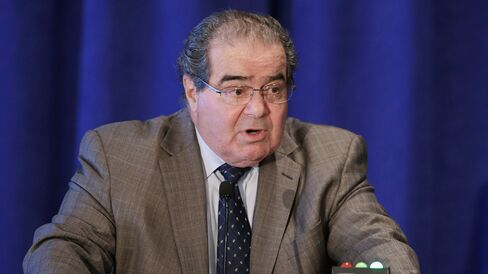 U.S. Supreme Court hears argument on affirmative action case

Justice: Perhaps university should have fewer black students
Antonin Scalia, the U.S. Supreme Court's most blunt justice, grabbed the spotlight during Wednesday's debate over college affirmative action programs when he said that perhaps the University of Texas "ought to have fewer" racial minorities.
"One of the briefs pointed out that most of the black scientists in this country don't come from schools like the University of Texas," Scalia said. "They come from lesser schools where they do not feel that they're being pushed ahead in classes that are too fast for them."
Scalia was apparently making reference to a brief filed by Gail Heriot and Peter Kirsanow, opponents of racial preferences who serve on the U.S. Commission on Civil Rights. The brief argued that affirmative action discourages beneficiaries from pursuing science and engineering degrees.
The brief, citing a 1996 study, said historically black colleges produced 40 percent of the black students graduating with natural science degrees. At such schools, blacks "are not grouped at the bottom of the class," the brief said.
Scalia said black students might do better at "slower-track" schools.
"I'm just not impressed by the fact that the University of Texas may have fewer" minority students, Scalia told Gregory Garre, the university's lawyer. "Maybe it ought to have fewer."
His comments align him with Justice Clarence Thomas, the court's only black member. Writing in a 2003 case, Thomas said affirmative action attracted "unprepared" minority students to the University of Michigan Law School.
"These overmatched students take the bait, only to find that they cannot succeed in the cauldron of competition," Thomas wrote.
Chief Justice John Roberts touched on the issue in a 2013 argument, asking whether the court had to assume that affirmative action programs "definitely are beneficial to particular minority groups."
Scalia has a history of making direct comments, both from the bench and in his written opinions. In 2008, he wrote that a ruling backing the rights of prisoners held at Guantanamo Bay "will almost certainly cause more Americans to be killed."
Before it's here, it's on the Bloomberg Terminal.
LEARN MORE