Lynch Defends Muslim Outreach Efforts as Trump Urges Entry Ban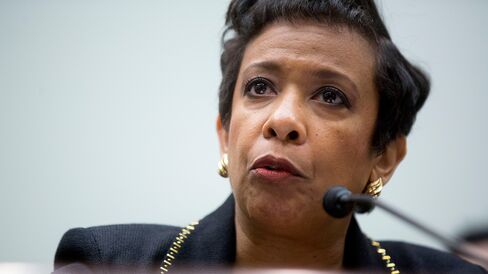 Attorney general cites law enforcement engagement with Muslims

Republican contender's plan contrasts with Obama strategy
Attorney General Loretta Lynch said the U.S. must expand outreach to the Islamic community to detect extremists before they act, highlighting the administration's ideological split with Republican presidential contender Donald Trump, who's calling for a ban on the entry of Muslims.
Lynch's comments, made on Monday hours before Donald Trump urged an entry ban, point up the stark contrast between the administration's policy of engaging with Muslims and the billionaire mogul's controversial stance. While law enforcement has been increasing its interactions with Muslims in recent years to detect violent extremists and to prevent discriminatory backlash, Lynch said those contacts must be broadened.
"It's something though that we are going to have to focus on in a way that
expands who is involved," Lynch said in an interview at Justice Department headquarters in Washington. "As prosecutors, we tend to come in after the fact and this is a very pro-active issue. It is really an issue that requires engagement with people, particularly young people before they get down a certain path and that is very hard to do."
Administration View
Lynch's comments, less than a week after a radicalized couple killed 14 people in San Bernardino, California, reflect the administration's view that battling extremism cannot succeed without extensive outreach to the Muslim community. That effort, she said, is well under way, with the Justice Department, Federal Bureau of Investigation and local law enforcement agencies making inroads with Muslim communities since the Sept. 11, 2001, terrorist attacks.
In February, the White House held a summit addressing ways to combat violent extremism that emphasized the need to build bridges with Muslims, in the U.S. and abroad, through social media campaigns and contacts with Islamic leaders. During his Dec. 6 address to the nation to discuss the San Bernardino attacks, President Barack Obama said such efforts play a pivotal role in reducing the threat of terrorism.
"If we're to succeed in defeating terrorism, we must enlist Muslim communities as some of our strongest allies, rather than push them away through suspicion and hate," Obama said in the prime-time speech.
'Politically Correct'
Trump's call for a temporary entry ban, issued in a statement Monday, drew quick condemnation from Republican and Democratic leaders. The billionaire who's leading many Republican presidential polls, expanded Monday night on his position.
"We can't let people kill us," Trump told supporters who had gathered at the USS Yorktown, a decommissioned aircraft carrier turned museum located in the South Carolina town of Mount Pleasant.
"You're going to have more World Trade Centers," Trump said, a reference to the 2001 terrorist attacks on New York and Washington. "We can be politically correct or we can be stupid, but it's going to get worse and worse."
Trump called his proposed entry ban "common sense" and said the prohibition should stay in place "until we are able to determine and understand this problem."
'Probably Illegal'
The remarks prompted a sharp reaction from the Obama administration, including Homeland Security Secretary Jeh Johnson, who called Trump's entry-ban proposal "irresponsible, probably illegal, unconstitutional, and contrary to international law."
Johnson said during an interview on MSNBC that the Islamic State group, which controls swaths of Syria and Iraq, is targeting Muslims with extremist rhetoric intended to inspire terrorist attacks.
"So it is all the more important that we reach out and build bridges to American Muslims and American Muslim communities," he said, echoing Lynch's position. "Working with the Muslim community, not driving them away, not vilifying them, not driving them into the shadows is absolutely critical to our national security efforts."
Johnson said that he told members of a mosque he visited in Virginia Monday that "if you see something, say something to law enforcement, to a community leader, to a religious leader."
'A Setback'
"Mr. Trump's proposal is a setback that takes us backward, in the opposite direction," he said.
Trump's proposal was announced after terrorist attacks in Paris and San Bernardino, which intensified fears in the U.S. that extremists could wage further strikes on American soil. In the California incident on Dec. 2, Syed Rizwan Farook and his wife, Tashfeen Malik, opened fire on a meeting of county employees, killing 14 and wounding 21, before they were killed in a gun-battle with police.
FBI officials have said the couple had been radicalized for some time and were likely inspired by Jihadist rhetoric. Just moments before the attack, Malik posted on Facebook her allegiance to the leader of the Islamic State, Abu Bakr al-Baghdadi, though there's no evidence so far to indicate the couple were directed from abroad.
In the aftermath of the San Bernardino attacks, Lynch and other U.S. officials have made clear to the Islamic community that they're watching for any backlash against Muslims.
"Obviously this is a country that is based on free speech," Lynch said during a question and answer session last week before a Muslim advocacy dinner. "But when it edges towards violence, when we see the potential for someone lifting that mantle of anti-Muslim rhetoric or as we saw after 9/11 violence directed at individuals who may not even be Muslims, but may be perceived to be Muslims, they will suffer just as well, just as much. When we see that, we will take action."
Before it's here, it's on the Bloomberg Terminal.
LEARN MORE