Closed Doors
Trump Wants 'Total and Complete Shutdown' of Muslims Entering U.S.
The Republican front-runner's statement is roundly condemned by other candidates, politicians, media outlets, and legal experts.
In what may well prove a pivotal moment in his outsider campaign for president, Donald Trump called Monday for "a total and complete shutdown of Muslims entering the U.S." in a sweeping statement that drew harsh rebukes from Democrats and Republicans alike.
"Without looking at the various polling data, it is obvious to anybody the hatred is beyond comprehension," the front-runner for the Republican presidential nomination said in the statement. "Until we are able to determine and understand this problem and the dangerous threat it poses, our country cannot be the victims of horrendous attacks by people that believe only in Jihad, and have no sense of reason or respect for human life."
Campaign manager Corey Lewandowski told Bloomberg in an e-mail the policy would apply to "everyone" who is a Muslim, including those applying for permanent residency as well as non-immigrant visas as a tourist or student.
The billionaire's statement, which comes as a new Monmouth University poll in Iowa shows him being overtaken by Texas Senator Ted Cruz, was roundly condemned by other presidential candidates, Washington politicians, media outlets, and legal experts as running counter to American ideals, but received support from Trump's admirers gathered to hear him speak in Mount Pleasant, South Carolina.
Heightened Terror Fears
Trump's statement came within one week of a married couple murdering 14 people in a shooting spree in San Bernardino, California. The FBI is investigating the mass shooting as terrorism.
Last evening in an Oval Office address, President Barack Obama warned against the dangers of singling out Muslims, saying it heightens rather than reduces the risk of extremism. Without naming his critics, Obama said setting a religious test for who is admitted into the country was irresponsible.
"Just as it is the responsibility of Muslims around the world to root out misguided ideas that lead to radicalization, it is the responsibility of all Americans, of every faith, to reject discrimination,'' Obama said Sunday night in an address from the Oval Office. "When we travel down that road, we lose.''
After hearing of Trump's proposal, members of the president's team took to the airwaves Monday afternoon to denounce it.
"That is going to make it very difficult to partner with Muslim communities here in the U.S. and around the world to prevent this scourge of radicalization that we need to be focused on,'' Ben Rhodes, Obama's deputy national security adviser, said on CNN. "We should be making it harder for ISIL to portray this as a war between the U.S. and Islam, not easier.''
Campaign Trail Condemnation
Reaction to Trump's proposal from other 2016 presidential candidates was extremely quick and more critical than usual.
"Donald Trump is unhinged. His 'policy' proposals are not serious," Jeb Bush, former governor of Florida, tweeted. New Jersey Governor Chris Christie told WNYC that "this is kind of thing people say when they have no experience and no idea what they're talking about." Ohio Governor John Kasich said "this is just more of the outrageous divisiveness that characterizes his every breath and another reason why he is entirely unsuited to lead the U.S." South Carolina Senator Lindsey Graham said in a tweet that "every candidate for president" should "condemn" Trump's plan.
Cruz, who has mounted a strong challenge to the billionaire in recent polls, said he did not agree with the Trump's plan. "No. That is not my policy. I believe the focus should [be] on radical Islamic terrorism. And we need to be directly focused on threats to the U.S.," the Texan said Monday when asked by NBC, according to audio of the exchange. Florida Senator Marco Rubio, who has also risen in polls of late, said on Twitter that he disagreed with Trump's proposal, adding, "His habit of making offensive and outlandish statements will not bring Americans together."
Democratic front-runner Hillary Clinton tweeted her outrage. "This is reprehensible, prejudiced and divisive," Clinton stated. "@RealDonaldTrump, you don't get it. This makes us less safe."
Senator Bernie Sanders, who is running second in the race for the Democratic nomination, blasted Trump. "Demagogues throughout our history have attempted to divide us based on race, gender, sexual orientation or country of origin," the candidate said in the statement. "Now, Trump and others want us to hate all Muslims. The U.S. is a great nation when we stand together. We are a weak nation when we allow racism and xenophobia to divide us."
Democrat Martin O'Malley, meanwhile, issued an even more forceful assessment on Twitter. Trump "removes all doubt: he is running for President as a fascist demagogue."
Admirers Undeterred
Several Trump supporters attending his rally tonight aboard the USS Yorktown aircraft carrier in Charleston, South Carolina, said they support Trump's position.
As a crowd began gathering at a Trump rally in Mount Pleasant Tuesday night, many expressed their support for the candidate's proposal to bar Muslims from entering the country.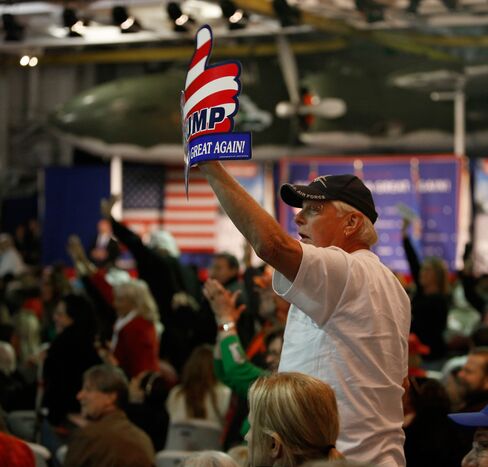 "The problem is in the vetting,'' said Scott Garland, 53, of Charleston, who is retired from the Air Force. "As long as we know who we are letting in here, it's OK.''
Others said they don't trust the press' reporting on the plan and want to see his full statement or hear Trump address it.
"If he wants to make people wait five days, I don't have a problem with that,'' said Mike Gorski, 58, who owns a car service business in Charleston. "If it's five years, I might not agree.''
Kevin Blair of Charleston, 50, who runs a charter fishing business, said he hasn't decided whether to back Trump, Cruz or Rubio. He said he's not bothered by the criticism of Trump's position on barring Muslims.
"We should know who we are letting in, no matter who they are,'' Blair said. "He's just saying, 'Be cautious.'''
Sources and Methods
To support his position, Trump's campaign cited a poll by the Center for Security Policy, a group founded and run by Frank Gaffney, a polarizing anti-Islam figure who in 2009 labeled Obama "America's first Muslim president." Gaffney has also raised alarms about an ostensible threat to American democracy by Sharia law, and the poll Trump referenced claimed to show that "25% of those polled agreed that violence against Americans here in the U.S. is justified as a part of the global jihad."
While some critics of Trump's statement took aim at the Center for Security Policy, others noted that the idea of limiting entry to the U.S. based on one's religious beliefs faced no shortage of legal hurdles.
"It's an absurd proposal that would plainly and blatantly violate First Amendment, due process and equal protection rights," said Ted Boutrous, a lawyer with Gibson Dunn & Crutcher LLP in Los Angeles, who successfully overturned California's ban on gay marriages. "It would be completely unworkable, create a firestorm with other countries, and flatly contradict the basic principles on which the country was founded."
—Angela Greiling Keane and Edvard Pettersson contributed reporting.
Before it's here, it's on the Bloomberg Terminal.
LEARN MORE