Pentagon to Let Women Serve in All U.S. Combat Positions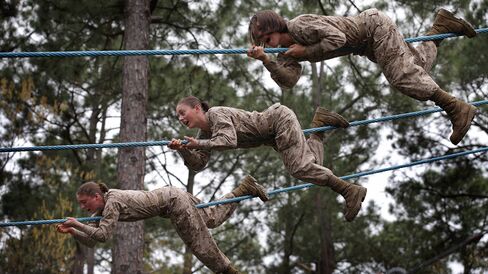 Move opens 220,000 previously closed military jobs to women

Defense secretary's decision overrules Marine Corps objections
Women will be allowed in all combat positions throughout the U.S. military, ending decades of exclusion from front-line jobs, Defense Secretary Ash Carter announced Thursday.
"To succeed in our mission of national defense, we cannot afford to cut ourselves off from half the country's talents and skills," Carter told reporters at the Pentagon.
The change, which will be implemented within 30 days, will open almost 220,000 reconnaissance, infantry, and special-operations positions that were not previously available to women. Women will have access to any position in the armed services whose requirements they can fulfill, Carter said.
"There will be no exceptions," Carter said, adding that the service would be a meritocracy where "mission effectiveness comes first."
Absent from the announcement was Marine General Joseph Dunford, the chairman of the Joint Chiefs of Staff, who had recommended keeping women out of certain Marine jobs when he was commandant of that service.
Women's groups celebrated the announcement.
'Thrilling Day'
"It's a thrilling day for women serving in the military -- and for women across the country," Nancy Duff Campbell, co-president of the National Women's Law Center, said in a statement. "We applaud today's announcement that knocks down the last remaining official barrier to women's military service and ensures the full integration of women into all military jobs, positions and units."
Representative Niki Tsongas, a Massachusetts Democrat on the House Armed Services committee, heralded the move as "welcome and overdue."
"More women entering into combat means more women rise through the ranks to take on leadership roles, and gain the important status and power to better advocate for important issues that affect all servicemembers," she said in a statement.
Women have been a permanent part of the armed services since 1948, but were long excluded from infantry, artillery and other ground-combat jobs. One of Carter's predecessors under President Barack Obama, Leon Panetta, pledged in 2013 to open combat roles to women by January 2016.
Marine Corps Objections
"I remain confident that we will retain the trust and confidence of the American people by opening positions to women, while ensuring that all members entering these newly opened positions can meet the standards required to maintain our warfighting capability," Chuck Hagel, who replaced Panetta, said in a memo in May 2013 that was accompanied by planning documents from the military services.
The services and the Special Operations Command began research and scientific studies intended to design and test fitness and other standards that can be applied uniformly, without weakening them for women.
The decision comes despite the Marine Corps preparing a study earlier this year concluding that male-only units performed better overall than gender-integrated units. The Marine Corps study said male-only units performed better in certain combat situations and had lower injury rates.
McCain Reaction
Even so, Secretary of the Navy Ray Mabus dismissed the report as gender-biased and said it would not lead him to recommend combat exemptions for women. Other branches, including the Army, have been supportive of efforts to open combat jobs for women.
The concerns of the Marine Corps prompted some lawmakers to warn the Pentagon against opening all jobs to women, and call for the public release of the report.
Senator John McCain, the Arizona Republican who chairs the Senate Armed Services committee, and Representative Mac Thornberry, the Texas Republican who holds the corresponding job in the House, said the move would "have a consequential impact on our servicemembers and our military's warfighting capabilities."
"The Senate and House Armed Services Committees intend to carefully and thoroughly review all relevant documentation related to today's decision," the pair said in a statement.
Draft Eligibility
The lawmakers also asked the Pentagon to release the Marine report raising concerns about the move, as well as brief lawmakers on possible changes to the Selective Service Act that may be required as a result of the decision.
Carter said it's possible that women could become eligible for the draft, but the issue is the subject of ongoing litigation.
The defense secretary acknowledged the Marine Corps' request for certain positions to remain closed to women, but said he "came to a different conclusion." He said he was partially persuaded because other branches did not raise similar concerns about similar positions, and that he saw value in a "joint force" with equal rules across the board.
"Now, more than ever, we cannot afford barriers to talent," he said.
Carter said that today's decision also opens to women previously closed positions in special operations forces, of the type that will be conducting counter-terrorism raids against Islamic State in Iraq and Syria.
"That is reflected in my decision," Carter said.
Special Operations Command head Army General Joseph Votel had recommended to Carter that no positions under his command be exempted from qualified women. Elite forces including Seal Team Six and the Delta Force that conduct counter-terror missions fall under Votel's command.
Before it's here, it's on the Bloomberg Terminal.
LEARN MORE