Battlegrounds
Donald Trump Launches 80-Minute Manassas Barrage Following Moment of Silence
The Republican front-runner paused to honor the victims of the San Bernardino shootings, then tore into the man he hopes to succeed as president.
In the Virginia suburb of Manassas, best known for its historical distinction as a U.S. Civil War battlefield, Republican Donald Trump drew fans and curiosity-seekers Wednesday night to the same local fairgrounds where Barack Obama staged a massive rally on the eve of his election to the White House.
At that 2008 rally, which drew nearly 100,000, the Illinois senator who would become the nation's first African-American president pledged to bridge the nation's racial, ethnic, and political divisions. Trump reiterated his promise to build a wall between the U.S. and Mexico and to reverse Obama administration policies that he said favor undocumented immigrants over U.S. citizens.
"We have to be heard now, folks, because our country's going to hell," the billionaire real estate mogul said.
Trump has taken a unique path to his front-runner status at this point in the Republican presidential primary, two months before the Iowa caucuses, trashing his primary opponents by name and making statements about immigrants, women, and Muslims that prompt backers to applaud his willingness to speak his mind and critics to accuse him of appealing to Americans' worst fears and prejudices.
The Manassas rally, which was held indoors and drew a far smaller crowd than Obama had in 2008, began on a higher note. In recognition of a mass shooting with multiple fatalities hours earlier in San Bernardino, California, Trump called for moment of silence. Afterwards, he spoke of his appreciation for police, steering clear of a discussion on gun control.
Quickly, however, he returned to his campaign stump speech.
"I used to call it a silent majority," Trump said, speaking about his base of support. "It's not a silent majority; it's really become a noisy majority."
The Obama administration treats undocumented immigrants better than U.S. military veterans, he said. At another point, the crowd went wild when he vowed, "We're going to build a wall" between the U.S. and Mexico. "We're going to stop people from coming into our country illegally."
"What is the wall going to be made of?" a young boy asked the candidate.
"Hardened concrete, Rebar and steel!" Trump told him.
The audience Wednesday reflected a cross-section of this swing state, which twice gave its electoral votes to Obama and whose governor and U.S. senators are Democrats. Trump's audience, largely but not exclusively white, was a mix of die-hard fans, voters curious to know more, and a couple of outright opponents who said they wanted to experience him in person.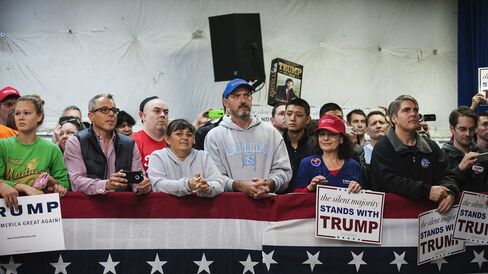 "We want to be a unifier and we have to be a unifier," Trump said. Then, hearing protesters outside, he instructed security, "Get them out, we have to. Will the police remove them, very gently please?"
Warm-up speakers at the rally included an Iranian-American and a black minister, and Virgil Goode, a 69-year-old former Virginia congressman who said Trump is needed to stop liberals who want to bring in Syrian refugees. Goode switched his party registration from Democrat to independent and finally to Republican as a member of the U.S. House. The white ex-lawmaker told the crowd he didn't know about them, but he is "sick and tired" of being at the bottom of the country's totem pole. Someone in the back of the room shouted that the American-born Obama was really "from Kenya."
Trump, who held the rally on the eve of his appearance in nearby Washington on Thursday at the Republican Jewish Conference, announced that he plans to visit Israel "very soon."
His appearance not far from the 1600 Pennsylvania Avenue address he hopes to make his own came the same day Quinnipiac University released a national poll that found Trump to be the "undisputed leader" in the crowded Republican presidential field, the first choice for 27 percent of his party's voters. Meanwhile, a leaked memo from September suggested the National Republican Senatorial Committee is worried about the party's prospects for holding onto its majority in Congress' upper chamber were Trump to secure the party's nomination.
"We're gonna win—a lot. We're going to win all the time," Trump told the crowd in Manassas. "It's all about winning. It's really about making America great again."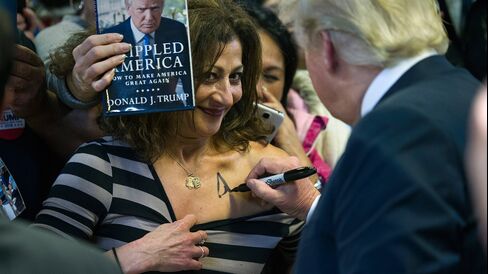 Thomas Dahnert drove into to the fair grounds in a car decked out in American flags and bearing a bumper sticker promoting the Marines that read, "It's God's job to forgive bin Laden. It's our job to arrange the meeting!"
"Right now, I've been a lot in favor of Trump," said Dahnert, 36, a swimming pool and snow removal technician. "Even if you're not his fan, what he says is so out of the blue you've got to hear him." His second choice is Jeb Bush because, he said, Bush would get good advice from his brother and father, past presidents.
He likes Trump, he said, because, "I know he's great with the economy, and that's what we need and once that falls into place everything will be just so much better. And he speaks his opinion. He doesn't back down to anybody."
"My concern is international," Dahnert said. "In speaking with other country leaders, is he too blunt?"
Paula Kozlowski, 53, a retired government employee, said she's "definitely" for Trump. "He's like me. He says what he thinks and he doesn't apologize for it." She knows there are establishment Republicans who don't want him to be the nominee, but "I can't see how they can get him out of there."
Her top concerns are illegal immigration and terrorism, she said. "He's basically going to tell the illegals to get out, which they should have done years ago, and make sure the borders are closed."
Since the Paris attacks for which Islamic State claimed responsibility, Kozlowski said, "We think twice about going to the mall or going anywhere."
"Even today," she said, surveying the indoor rally. "The Secret Service is here, but there's still concerns. You just never know who's going to come into the United States and start blowing themselves up."
Clyde Cornwell, 63, a heating and air conditioning repairman and deer hunting enthusiast, said that "I'm for the one who's going to win and he's going to be the next president. He'll chew—he'll spit—Hillary right out."
Cornwell said his wife is an immigrant, "But I don't believe in everyone coming across." Citing Russian President Vladimir Putin as an example, he argued that Trump would be a leader who would not be intimidated. "He's not going to be afraid of anyone, like Obama is."
Cornwell wore a ballcap with Trump's slogan, "Make America Great Again." He pulled out his phone and showed me a photo of a deceased deer with a Trump ballcap posed on its head.
Daniela Flores, 20, a nursing student, said she's a "maybe" for Trump, whom she'd liked on The Apprentice. "It's either that or Hillary," she said. "Those are the only two I've been looking into, Hillary being the first woman and Trump being a whole different category, not your typical politician."
Flores said she knows Trump has made comments Hispanic Americans have found insulting but that as a second-generation American his comments about immigrants and Mexicans haven't been among her top concerns.
Elijah Enriquez, 20, an airport worker, said he's "curious" about Trump and might vote for him in a general election if the Democratic nominee is Hillary Clinton, whom he considers too much a part of the establishment. Bernie Sanders is Enriquez' top choice, he said. His chief concern about Trump is that he comes across as too "all-American" in his rhetoric. "You get too extremist and we take a wrong turn."
Two figures in headscarves stood out in a crowd of mostly though not exclusively older, white attendees. They were Sherri Moore, 44, and her daughter, Layla Alnozaily, who, at 16, won't be old enough to vote next November but who is interested in a career in politics or public service.
Moore said she'll "never" vote for Trump but wanted her daughter to experience him, and the crowd, in person. "We're Muslims. We should be tagged and monitor us and you want us to vote for you?" she said of Trump, who suggested after the Paris attacks that he would be open to such a registry. "Are you serious?" She said she fears that Trump "makes racism acceptable" as part of the political discourse.
"I'm not here to entertain folks; I'm not an entertainer," Trump said before wrapping up remarks that lasted well over an hour in which he also invoked singer Elton John's advice to end shows with a bang, then critiqued John as not always living up to that mantra. "I'm somebody that knows how to get things done."
Before it's here, it's on the Bloomberg Terminal.
LEARN MORE