Donald Trump Says Ben Carson's Campaign Is in 'Freefall'
The Republican front-runner cited a New York Times piece that portrayed the retired neurosurgeon as unprepared on foreign policy.
Donald Trump questioned Ben Carson's qualifications to be president during an appearance Thursday evening in Iowa, highlighting a New York Times story this week that quoted an adviser to the retired neurosurgeon saying he'd been unable to teach the candidate about the Middle East.
"One of the people that is his chief adviser and consultant said he's incapable of learning about foreign policy," the Republican front-runner said in Newton, Iowa. "That's a problem."
The billionaire then pointed to Carson's reputation of being a nice, soft-spoken man. "We can't be nice," he said. "This is very, very serious business."
At a time of amplified global threats, Trump said Carson isn't up to the task of being commander-in-chief. "We have to be really good and really sharp on foreign policy, or we're going to have bigger problems than we've ever had," he said.
Carson's campaign quickly fired back.
"He won't find us so nice after we whip him in Iowa," responded Doug Watts, the Carson campaign's communications director.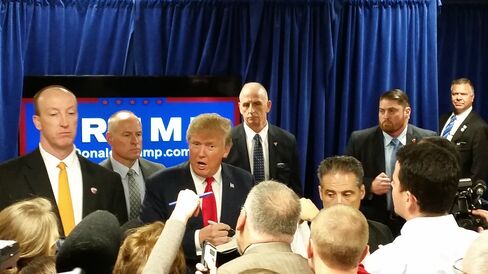 Trump's appearance followed one in the state on Nov. 12 when he also repeatedly criticized Carson, who has led in polls in Iowa ahead of the first-in-the-nation caucuses on Feb. 1.
During the mid-November appearance, Trump repeatedly said he can't believe Iowans still support Carson, who has written about having a troubled childhood that included violence and ultimately helped him find God. "How stupid are the people of Iowa?" he asked that night in Fort Dodge. "How stupid are the people of the country to believe this crap?"
On Thursday, Trump told his audience of about 300 at a community college, a group that was fed free pizza after the event, that he thinks his earlier criticisms may have hurt Carson's campaign.
"I think it is in freefall," he said. "Maybe I helped it along by making a speech two weeks ago."
A Bloomberg Politics national poll released Thursday showed Trump leading the field with 24 percent support from register Republicans and those who lean toward the party, followed by Carson at 20 percent.
Trump made no apologies for what some have labeled as his inflammatory language about Muslims, when an Iowan asked him about unfair stereotypes.
Answering an audience member's question after a televised town hall-style interview ahead of his rally, Trump said America can't worry about unfair labeling of Muslims, and pointed to the recent terrorist attacks in Paris and elsewhere.
"They're sneaking around, putting bombs in your cafeterias, in your airplanes, so we have to be very, very tough," he said. "And you're right, it's a shame because people get tarnished, but we have to be very careful."
In an interview with Yahoo News published Thursday, Trump was asked if he would consider requiring Muslims to register in a database or giving them a form of special identification that referenced their religion. "We're going to have to look at a lot of things very closely," he said. "We're going to have to look at the mosques."
Speaking to NBC News in Iowa on Thursday, Trump went further, saying he "would certainly implement" a mandatory Muslim-tracking database.
In his public remarks in Iowa, Trump said he has no concerns about targeting a group of people for greater review.
"It's evil and it's coming from a group of people," he said. "Like you, I know Muslim people. They're phenomenal people, they're really great people and that's the shame of it because they get tarnished by the acts of others. But there is a radical Islamic terrorism that's going on."
The billionaire arrived eight minutes late for a live broadcast featuring him that was airing on one of the state's most-watched television stations, WHO-TV. Trump's back-to-back appearances were in heavily blue-collar Newton, once the prosperous headquarters of Maytag appliances and a community Trump acted to personally help in 2010 after watching a 60 Minutes broadcast about the loss of jobs there.
Larry Stewart, a retired insurance appraiser who attended the second Trump event, said he's trying to decide whether to caucus for Trump or Senator Ted Cruz of Texas. He likes the independent streaks displayed by both men.
"I'm sick of the two parties," Stewart said. "I'm sick of the Republican Party, too."
Before it's here, it's on the Bloomberg Terminal.
LEARN MORE