Bernie Sanders Flirted With 100% Marginal Tax on the Rich, Maximum Wage
In the 1970s, when he was a candidate for Senate, Sanders told the Burlington Free Press that "nobody should earn more than $1 million."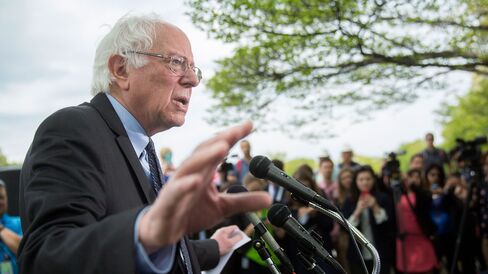 Vermont Senator Bernie Sanders distanced himself from the Eisenhower-era top marginal tax rate of 90 percent during last week's Democratic presidential debate, but as he prepares to detail his support of democratic socialism in a major speech Thursday, documents from his past show him supporting an even higher rate of taxation on the nation's highest earners.
In several articles dating back to the early 1970s, Sanders is described as supporting a top marginal tax of 100 percent for high earners or the establishment of a maximum wage.
During Saturday's debate in Des Moines, Sanders said "we haven't come up with an exact number yet" for the top tax rate "but it will not be as high as the number under Dwight D. Eisenhower, which was 90 percent."
"I'm not as socialist compared to Eisenhower," he added.
Earlier this year, in an interview with CNBC, Sanders sounded like he supported a top marginal tax rate even higher than 90 percent. Asked by John Harwood if 90 percent was too high, Sanders responded: "No. That's not 90 percent of your income, you know? That's the marginal."
In a 1974 article titled "Concentrated Wealth Is Causing Economic Illness," from an unidentified newspaper that was in his papers at the University of Vermont library, Sanders is described as wanting to "make it illegal to amass more wealth than a human family could use in a lifetime." He would do that, the article said, with "a 100 percent tax on incomes above this level ($ one million per year)" and "would recycle this money for the public need."
Also in 1974, when Sanders was the Liberty Union's candidate for Senate in Vermont, he told the Burlington Free Press that "nobody should earn more than $1 million," a line that was mentioned in passing in a July story in Politico. The Sanders campaign did not respond to requests for comment.
While most of the paper trail on Sanders's support for maximum wage or a top marginal tax rate of 100 percent dates back to the 1970s, he still had the issue on his mind while serving in the House in 1992, entering into the Congressional Record a Los Angeles Times op-ed written by Sam Pizzigati, the author of The Maximum Wage. In that piece, Pizzigati details President Franklin Delano Roosevelt's proposal for a "100% war supertax," which would have applied to all income above $40,000 for individuals or $110,000 for married couples, and notes that Treasury Department officials testified before Congress on the issue.
"Could a maximum-wage proposal ever get a hearing today? Stranger things have happened," Pittigatti wrote. "Between 1894 and 1917, for instance, the top federal tax rate on the income of the wealthy rose from 2 percent to 88 percent. If the nation's top marginal tax rate could jump by that much, why not a jump from 31 percent, the current top rate, to the 100 percent necessary to create a maximum wage?"
Reached by Bloomberg on Wednesday, Pizzigati, an associate fellow at the Institute for Policy Studies in Washington, said that he and Sanders discussed the concept of a maximum wage in conversations in the early 1990s. "He thought that this was something that needed to be explored and considered," Pizzigati said. "He thought it needed to be part of the public discourse and that's why he put the information in the Congressional Record."
Pizzigati noted that there's been momentum in recent years to cap executive salaries and bonuses but that "Sanders saw the importance of thinking about that much earlier than everybody else."
At least one candidate that Sanders supported also backed a maximum wage. In 1972, as he ran for governor of Vermont on the Liberty Union ticket, he campaigned for the party's presidential candidate, famed pediatrician Benjamin Spock, who advocated capping incomes and inheritances. Spock believed that "not only should every family of four receive a minimum income of $6,500 annually but the wealthy should be entitled to a maximum income of $50,000 and a minimum annual inheritance of $55,000," according to a Burlington Free Press article from September of that year.
"The constant element is that he's been on a search for a way that we can tamp down on income inequality in the United States," Pizzigati said of Sanders. "He's been open to considering all kinds of different approaches all through the years."
Before it's here, it's on the Bloomberg Terminal.
LEARN MORE