Favorite Son
Lindsey Graham Beats Hillary Clinton on At Least One Campaign Money Measure
He may be lagging in the polls, but that doesn't stop donors in his home state from investing in the South Carolina senator.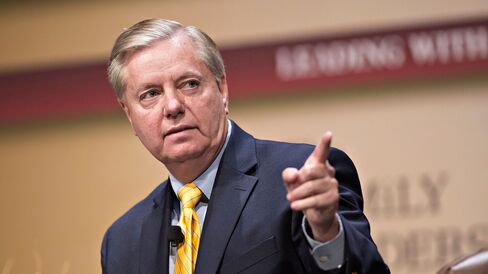 Lindsey Graham has failed to find traction in the crowded Republican presidential field, but there's one metric where he dominates: raising money from the states that will host the first four presidential nominating contests of 2016.
Among the Republicans who are seeking to jump-start their campaigns in the key early states of Iowa, New Hampshire, Nevada, and South Carolina, only one is a favorite son: Graham, the senior senator from South Carolina. Even as he lags in the polls, Graham has emerged as the early-state fundraising king.
Donors from the four early states have contributed more than $5 million to presidential candidates so far this election cycle, with Graham netting roughly a fifth of that total. Through the third quarter, Graham raised $1.2 million in itemized contributions (those of $200 or more) from individuals in Iowa, New Hampshire, Nevada, and South Carolina, a Bloomberg Politics analysis shows. That's more than Republican or Democratic front-runners Ben Carson and Hillary Clinton, both known for their fundraising strength.
There's an important asterisk: Of Graham's total take from the four early states, more than 98 percent came from South Carolina. Palmetto State donors made up roughly 44 percent of the money Graham raised overall in donations of $200 or more.
Presidential candidates typically aren't aggressive in trying to raise money from states like Iowa and New Hampshire, where securing volunteers, endorsements, and support is far more important than collecting of dollars. Still, it's a signal of commitment on the part of those who have given.
What's intriguing in Graham's case: the home-state fundraising remains strong even though it hasn't translated into presidential polling strength—nationally or in his home state. He registered less than 1 percent in the most recent Quinnipiac national poll of Republicans and those who lean that way, while recording just 5 percent in a CNN/ORC poll take in October among likely South Carolina primary voters.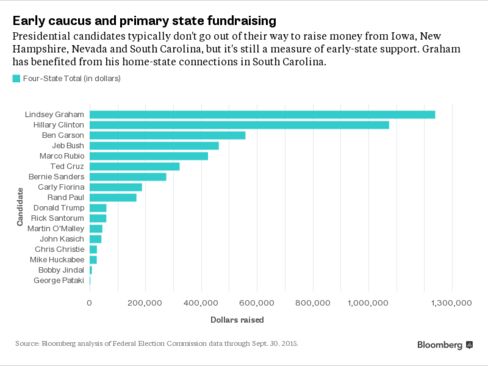 Adam Temple, a Republican strategist who worked for John McCain's South Carolina presidential primary campaign in 2008, said Graham donors in the state may be interested in building their relationship with him because he'll still be a powerful force there, even if he isn't elected president.
"It doesn't hurt to maintain a good relationship with your home-state senator," he said. "If people are looking for other ways to support him, this is one of those ways."
Other senators running for president—Marco Rubio of Florida, Rand Paul of Kentucky, Ted Cruz of Texas, and Bernie Sanders of Vermont—also have built-in fundraising advantages in their home states and beyond, as do the governors who are running. They'll all still hold powerful jobs, should their presidential bids fail, and donors will want those relationships.
Graham's fundraising in South Carolina is a reflection of the muscular political organization he's built in the state during 23 years in elective office there.
"I don't think our business leaders will turn their back on him at this point," said Leslie Gaines, a South Carolina Republican activist who worked as a deputy national director for Newt Gingrich's 2012 presidential campaign. "If he's not president, Lindsey is still going to be a part of South Carolina."
Some of the top donors to Graham's presidential campaign from South Carolina include Joe Taylor, chief executive officer of Southland Capital Partners in West Columbia; Nancy Snowden, chief executive officer of NCGS Inc., a pharmaceutical and medical research company in Charleston; and Mark Kent, chief executive officer of Kent Worldwide, a textile manufacturing business in Greenville.
Other presidential candidates' takes from the key four early states lag behind Graham. Clinton follows her former Senate colleague in dollars raised from the four states. Her largest chunk is from Nevada, where the Democratic front-runner has collected more than $433,000 in itemized contributions from individuals. Clinton's second-best state among the four is South Carolina, then New Hampshire and Iowa.
In New Hampshire, where polls show the race closest between Clinton and Sanders, the senator from neighboring Vermont, she has the advantage with itemized individual contributions. The former secretary of state raised about $198,000 in donations of $200 or more from New Hampshire, compared to about $116,000 for him. But Sanders has had significant success with small-dollar donations—those below the $200 level that triggers itemization—so comparing the two is difficult.
On the Republican side, Carson follows Graham in itemized contributions from individuals in the four states. The retired neurosurgeon has collected almost $560,000 from them.
Former Florida Governor Jeb Bush, who has benefited from the fundraising networks of his former president father and brother, has raised the next-highest amount from the four states. He's closely followed by Rubio.
Before it's here, it's on the Bloomberg Terminal.
LEARN MORE