Tech, Banking, Farming Are U.S. Winners in Asia Trade Deal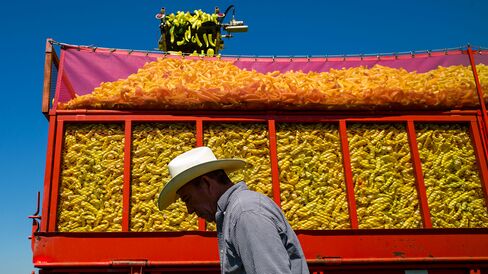 U.S. releases text of Trans-Pacific Partnership accord

Clock starts ticking to win over Congress, trade skeptics
U.S. technology companies, banks and farmers are among the biggest beneficiaries of falling tariffs that are part of the trade deal designed to liberate commerce among 12 Pacific Rim nations, according to a text of the agreement released Thursday.
The Trans-Pacific Partnership, which will affect almost 40 percent of the global economy, maintains protection for a handful of politically sensitive U.S. industries by keeping existing tariffs in place for as long as 30 years for pickup trucks and 13 years for some types of footwear.
The text released Thursday, after negotiations wrapped up last month, includes thousands of tariffs that affect a broad variety of U.S.-made products from Harley Davidson motorcycles sold in Malaysia, to toilet seats shipped to Vietnam to General Electric Co. turbines.
"We do see pretty widespread benefits across the economy," U.S. Trade Representative Michael Froman said in an interview.
Clock Starts
Release of the TPP text starts the clock ticking for ratification by the 12 Pacific Rim nations involved. In the U.S., that means a 90-day notice to Congress and at least a 60-day public review period before a vote by lawmakers, which probably will come no sooner than March. With the publication, supporters and critics now have fodder for their arguments.
The Trans-Pacific pact is the biggest trade deal the U.S. has negotiated since the North American Free Trade Agreement and stands as a significant achievement for President Barack Obama, who has been working to reassert U.S. influence in the Pacific region.
Although China is not among the signatories, the accord reflects one of the main points of friction between the world's two biggest economies by requiring the participating countries to outlaw theft of trade secrets, explicitly including thefts through computer hacking.
After massive breaches of commercial and government databases in recent years, U.S. trade officials say they hope the rules will not only deter hacking from within the 12 TPP countries, but also set an international precedent that becomes a norm in agreements with other nations countries, eventually including China.
Asia Strategy
The trade deal is a central part of Obama's strategy for balancing China's expanding economic influence and will bolster his diplomatic position when he travels to Asia less than two weeks for meetings with regional leaders. Along with Canada, Mexico and Chile, the other countries joining with the U.S. are Australia, New Zealand Brunei, Japan, Malaysia, Singapore and Vietnam.
Froman and the rest of the administration now must try to win over Democrats who are wary of the impact on U.S. jobs and Republicans who are reluctant to back a Democratic White House in an election year. Most Republicans, though, have generally backed free trade.
House Speaker Paul Ryan, a Wisconsin Republican who supported giving Obama the power to fast-track negotiations on the accord, said the public will have a chance to scrutinize the text before Congress votes on it.
"I remain hopeful that our negotiators reached an agreement that the House can support because a successful TPP would mean more good jobs for American workers and greater U.S. influence in the world," Ryan said in a statement on Thursday.
Obama's toughest task may be lobbying members of his party. Only 28 of 188 Democrats in the House voted to give the president fast-track negotiating authority to push the trade talks along. Former Secretary of State Hillary Clinton, the Democrat frontrunner to succeed Obama, has announced her objections to the TPP after having called it central to the U.S. pivot toward Asia while she served in the administration.
Obama said in a post on Medium.com that "the rules of global trade" disadvantage American companies and workers and that the Pacific trade deal "will change that." The deal, he said, "will boost Made-in-America exports abroad while supporting higher-paying jobs right here at home. And that's going to help our economy grow."
Market Share
Froman plans to sell the deal to Congress and trade skeptics by arguing that if the U.S. doesn't ratify the agreement, it will lose out on more trade in the future because Asian countries, including China, are negotiating free-trade pacts with each other that could put the U.S. at a disadvantage.
"If we don't get TPP, then we're just going to see a smaller and smaller market share," he said. "It's not like we're going to maintain a status quo. We're going to lose out in these markets."
The TPP will eventually lower all tariffs among its member countries on all goods to zero. Eighty percent of imports the U.S. from the 11 other countries are already brought in without tariffs, and goods subject to tariffs are hit with a levy that averages 1.4 percent. The deal also addresses regulations and practices known as non-tariff trade barriers, which are ways countries protect industries.
Economic Analysis
Trade officials said the administration hasn't completed an analysis of the economic impact. They pointed to research by the nonpartisan Peter G. Peterson Institute for International Economics, a pro-trade research organization, that estimates the TPP would add $77 billion to the U.S. economy annually by 2025. That's second to the $105 billion Japan would gain, according to the analysis.
Critics, such as the consumer group Public Citizen, said the agreement will make it easier to send jobs overseas and increase income inequality in the U.S. by driving down wages of low-skilled employees who will face more competition from those paid far less in Vietnam and Malaysia.
At agricultural machinery maker Deere & Co., spokesman Ken Golden said the trade agreement would open new markets to domestic agricultural producers who buy Deere equipment and reduce tariffs imposed on products it manufactures at facilities in the U.S., Mexico and New Zealand.
Thirty-eight percent of Deere's 2014 revenue of $36 billion came from sales outside the U.S. and Canada, Golden said. The company doesn't break down exports further, he said.
Big Winners
General Electric and Caterpillar Inc. are likely to be big winners as trade barriers drop for sales of heavy machinery such as construction equipment, power generation equipment and large vehicles, particularly in countries such as Vietnam and Malaysia that don't already have free-trade agreements with the U.S., according to Caroline Freund, a senior fellow at the Peterson Institute.
"A lot of countries have big infrastructure projects going on right now and the U.S. is well equipped to take advantage of these preferences," Freund said.
Each country has thousands of tariffs with duties ranging from zero to the double digits depending on whether there are domestic producers to protect and how much a country depends on imports of certain products.
The impact of the pact will be greatest in Japan, Malaysia and Vietnam because the U.S. already has free-trade agreements with most of the countries and the others have such small economies that more trade isn't likely to boost the bottom lines of U.S. companies.
Tariffs won't fade away all at once. Vietnam imposes a 70 percent tariff on cars it imports from the U.S. That would stay in place for three years and then begin dropping to zero over the following decade. In Malaysia, tariffs of 25 percent on road rollers, 20 percent on pile drivers and 10 percent on bulldozers will fall to zero over several years.
The thousands of pages of TPP text released Thursday also address barriers to trade that are less obvious than tariffs. Countries protect markets through regulation, with U.S. trade officials pointing to Asian nations that keep U.S. cosmetics at bay by requiring eye shadow to be inspected as if it were a pharmaceutical.
The agreement standardizes rules of origin for products made in any TPP country, as the North American Free Trade Agreement did for the U.S., Canada and Mexico, meaning that a product made in any of the member countries is treated as a domestic product for trade purposes.
Before it's here, it's on the Bloomberg Terminal.
LEARN MORE