Dialing the Donors
Jeb Bush: I'm Walking Over Hot Coals to Win New Hampshire
The former Florida governor says things are turning around in New Hampshire.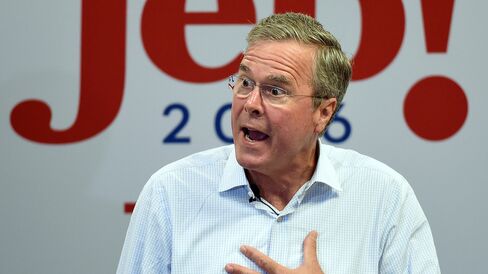 Republican presidential candidate Jeb Bush is urging "nervous nellies" among his top donors to stop reading the political press, saying the campaign is on the right track and that he will win the first primary contest in New Hampshire.
In a Wednesday conference call with financial backers from his campaign bus in New Hampshire, the former Florida governor tried to turn his moment of political adversity into an asset, saying that he's answering questions from reporters about whether he's going to drop out, and not giving into the urge to curse. He offered the story as an example of why he's got the character for the job he's seeking.
"I do it in a way that shows I can walk over hot coals," Bush told his top fundraisers on Wednesday, according to two donors who requested anonymity to discuss a private call.
"This is not nearly the hardest thing that a president is going to do," Bush said, according to the donors. "Running for president pales in comparison to being president."
Acknowledging that some of his donors have been discomforted by news reports about the campaign's slide in the polls, Bush told them a process-obsessed media would be on to another topic next week. Arguing that most voters in New Hampshire, the state that will host the nation's first presidential primary on Feb. 9, don't make up their minds until the final two weeks, Bush offered some advice to his supporters. "Stop reading Politico," he said, naming the Washington-based publication that focuses on politics. "It doesn't do any good for your health. It doesn't matter."
Bush promised donors that he'd improve at the next debate on Tuesday in Milwaukee. "All the nervous nellies on the call, chill out," he said. "We're going to do better. I promise you. This is going to be a fun campaign."
QuickTake American Political Jargon
The former Florida governor made the call from his campaign bus in New Hampshire, where he's on a "Jeb Can Fix It" tour, aimed at touting his record in the Sunshine State as proof that he can break the gridlock in Washington.
Bush's finance director, Heather Larrison, told donors that the campaign is still aggressively raising money, and was starting to book events in January. She asked for help finding volunteers to collect signatures in Delaware, Illinois, Indiana, and Virginia to help Bush get on the ballot in those states.
"I detect a major, major change," said Woody Johnson, Bush's national campaign finance chairman, said about the campaign, while asking donors to "keep the faith." "I'm really jazzed about what we're doing now."
Contributing: Mark Halperin
Before it's here, it's on the Bloomberg Terminal.
LEARN MORE