Ground Game
Ben Carson Is Taking Iowa One Church at a Time
Close ties with evangelical voters, fostered through book sales, and a Tea Party campaign manager fuel Carson's grassroots effort.
On the Seventh Day, Ben Carson's campaign in Iowa works especially hard.
Sunday church services and the Sabbath are prime time for Carson's operation, as the retired neurosurgeon tries to build a campaign infrastructure worthy of his front-runner status in the lead-off presidential nominating state.
"If he's here on a Sunday, he's going to be speaking at a pulpit, I can guarantee you that," said Ryan Rhodes, Carson's state director in Iowa.
Even if Carson is elsewhere on a Sunday, Rhodes and other campaign workers and volunteers are visiting churches to prospect for volunteers and supporters ahead of the Iowa caucuses, now just three months away. "We do Wednesday nights, too," he said of the weeknight gatherings common in some churches.
Often assisting with the church-recruitment effort is Carson's logo-wrapped campaign bus, which travels nationwide with its own schedule and Twitter handle, @healerhauler. Besides chatting with church-goers about Carson, volunteers and campaign workers sometimes hand out bumper stickers or beverages in church parking lots.
It isn't a new technique, but it's one that's crucial to Carson's campaign. A Bloomberg Politics/Des Moines Register Iowa Poll in mid-October showed Carson was able to surpass billionaire Donald Trump in the state and move into first place, in part because he's begun to lock up the state's evangelical Christians. In that poll, 42 percent of those who said they are likely to attend a Republican caucus identified themselves as evangelicals.
Carson's growing strength with the group presents a problem not only for others who want to compete in that lane, including Senator Ted Cruz of Texas, but for any Republican candidate trying to put together a victory in a state where grassroots organization is key. While Carson is relatively new to politics, he's got an advantage when it comes to evangelical voters: His numerous books have been on the shelves of religious book stores in Iowa and elsewhere for years.
Andy Cable, a member of the Republican Party of Iowa's state central committee, said Carson and Trump appear to be the best organized in the state so far. Still, he cautioned that there's still time for others to do a better job of building out. "It will be a fourth-quarter game and everything will break in January," he said.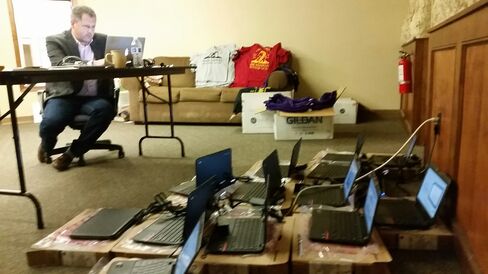 Rhodes commands Carson's Iowa campaign from an office in a strip mall in suburban Des Moines. Some of the walls are still pink from when the space housed a Mary Kay cosmetics dealership, while one in the room where Rhodes has set up shop has a western-themed, three-dimensional mural that includes a large buffalo and dates to a time when the space was home to an insurance agency.
On a nearby whiteboard in his office, there's the traditional countdown of the number of days until the caucuses. There's also a passage from the Bible, Proverbs 3:5-6: "Trust in the Lord with all your heart, and do not lean on your own understanding. In all your ways acknowledge him, and he will make straight your paths."
Rhodes' background is a bit unusual for a senior campaign operative. The 33-year-old former Tea Party leader studied turf grass management at Iowa State University, puttered in golf course management, worked as a chef, unsuccessfully ran for the Iowa legislature in 2008, and sold cars. In 2011, he made national headlines and boosted his credentials among Tea Party supporters by confronting President Barack Obama after an event in Decorah, Iowa, where Rhodes asked the nation's leader about reports that Vice President Joe Biden had called the limited-government activists "terrorists."
At least for now, Rhodes isn't running a big operation. Besides himself, he said he has just six paid employees in the state. There's a second office in Cedar Rapids and no immediate plans to open any more, as campaigns are increasingly moving to virtual offices for staff and volunteers.
"Everything we do is mobile," Rhodes said, as 13 laptops sat near his desk, waiting for distribution to volunteers who will use them for phone banking.
So far, Rhodes says the Carson campaign has identified a leader for about 60 percent of the state's more than 1,700 precincts. A training manual has been assembled to prepare each of them.
Trump's Iowa campaign has a larger organizational challenge than Carson's, Rhodes said. "Our people tend to look like the average caucus-goer," he said, adding that Trump's supporters "demographically look more like a primary-goer." That's code language in Iowa for a potential voter who might not be as conservative, or engaged in the process, as the typical Republican caucus-goer.
The latest Iowa Poll showed Trump's supporters are more likely to be new to the caucuses, which presents a greater turnout challenge. Overall, the poll showed, 17 percent of those who said they are likely to attend a Republican caucus will be going for their first time. That's the exact same percentage of newbies recorded among Carson's supporters, while 23 percent of Trump's backers say they'll be attending for the first time.
Trump's campaign insists that the billionaire will change the normal caucus dynamic—as Obama did in 2008—by attracting significant numbers of new voters. Rhodes agrees there will likely be significantly higher numbers than the roughly 122,000 who participated in the 2012 Republican caucus. Given the heightened level of interest in the race and the size of the candidate field, he predicts Republican turnout in Iowa will be about 140,000 and that Carson will win a good chunk of those new voters.
Without much prompting, Rhodes offered comments to contrast Carson's Iowa operation with Trump's. One key indicator he cited: "Our T-shirts are for sale." He would rather have potential supporters buy something from the campaign, instead of giving them something for free, as Trump has done, Rhodes explained, because it signals a greater level of personal commitment.
QuickTake U.S. Campaign Finance
Rhodes is adamant about getting people to volunteer, buy something from the campaign or contribute even a small amount of money because it makes them feel more invested and thus more likely to turnout. So far, he said, the campaign has more than 400 volunteers signed up in Iowa. "The No. 1 thing to do is get them involved in some level," he said.
Boosting the Carson effort in Iowa and elsewhere is a super political action committee called the 2016 Committee that has paid to plaster Carson's face around Iowa, including on billboards and even placards along indoor walkways connecting downtown buildings in Des Moines. The super-PAC is also assisting with phone banking and other get-out-the-vote efforts.
Carson's campaign and the 2016 Committee can't legally coordinate their activities, but that doesn't keep Rhodes from appreciating the work they're doing. He pointed to the super-PAC's placement of a Carson billboard near a bus stop where tens of thousands—perhaps hundreds of thousands—of people entered the Iowa State Fair in August. "That was a pretty good call on their part," he said.
At a Republican Party of Iowa event Saturday in Des Moines, the super-PAC set up a booth, even though Carson wasn't in attendance. On one of the tables were paperback copies of one of Carson's books.
Kim Gilmore, a small business owner from Des Moines, was one of those visiting the Carson booth. She's still undecided, but leaning Carson's way. "I like how he's soft-spoken," she said. "The flashy Donald Trump stuff doesn't work for me."
Before it's here, it's on the Bloomberg Terminal.
LEARN MORE