Rivalry
Marco Rubio, Jeb Bush Draw Contrasts With Each Other at Iowa Event
Following their clash at the debate, the two men appeared in Iowa for one of the final multi-candidate events before the state's Feb 1. caucuses.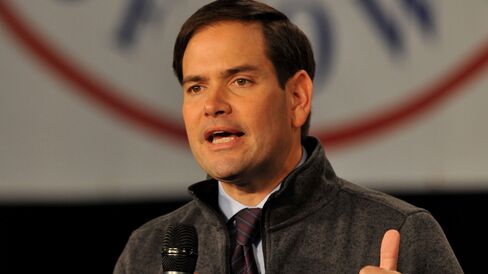 Two Floridians, Marco Rubio and Jeb Bush, appeared Saturday in a building where everything from kitchen cutlery to hot tubs is sold during the Iowa State Fair.
The sitting U.S. senator and former two-term governor each used the setting to sell themselves as uniquely suited for the presidency. Each also subtly drew contrasts with the other in appearances at a 10-candidate Republican event in the state that will host the first 2016 nomination contest in three months.
Rubio arrived in Des Moines with momentum following a strong debate performance Wednesday in Colorado, while Bush took the stage after one that was widely panned.
Even so, Bush seemed eager to continue the line of attack that he launched against Rubio on the debate stage in Boulder, as he invoked the name of Iowa's senior—and popular—senator.
"If you're elected to serve, you should do what Chuck Grassley does: You should show up and vote," Bush said, drawing only mild applause with a reference to the many votes Rubio has missed while campaigning.
"There are a lot of talkers in politics," Bush said. "Trust me. I was on the debate stage. I see it: some really good people that are really good talkers. I hope you want someone with a servant's heart that acts on principle. That does things, rather than just talks about them."
Bush's campaign has been struggling for months. The graveness of the situation became tangible last week when layoffs and salary cuts were instigated by his campaign, and word went out that the candidate and his staff would focus more on early-voting states like Iowa.
Bush told Bloomberg's Mark Halperin that speculation in the media and elsewhere that his bid for the Oval Office could end soon is far off base. "They don't know me," he said. "I eat nails when I wake up, then I have breakfast."
Bush, 62, the son and brother of former U.S. presidents, also said that he knows he has to improve as a candidate and debater. "I have enough humility to know that I've got to get better. But also, I'm a really competitive guy, and I do have a record that on that stage is unmatched, and I'm going to go share it with passion and conviction and I think I'm going to win."
In Saturday's speech Bush also took a more subtle shot at billionaire Donald Trump, who has complained after opinion polls recently showed retired neurosurgeon Ben Carson had supplanted him as the front-runner in Iowa.
"Poll numbers go up and they go down," Bush said. "When they go down, you don't insult Iowa voters, because they are the same discerning voters whether your polls are going up or going down. You learn from Iowa voters."
Saturday's event, formally called the "Growth and Opportunity Party," is one of the final multi-candidate events in Iowa before the Feb. 1 caucuses. Candidates were encouraged to design fall-themed booths around the main stage, offering Halloween candy and other treats to potential caucus-goers and their children.
For his part, the younger Rubio stuck mostly to his standard script, calling for a new generation to "turn the page on out of date and out of touch leaders in both parties in Washington that have forgotten our Constitution."
Like Bush, Rubio, 44, was mobbed by supporters after he left the stage. He signed autographs and posed for photographs for about 30 minutes, standing under an Iowa State University canopy his campaign had set up as part of a football-themed booth.
While Bush took questions from reporters, Rubio declined, refusing to even answer an easy one about whether Friday's announced endorsement from billionaire Paul Singer, one of his party's most sought-after fundraisers and bundlers, would boost his campaign coffers.
Reporters buzzed, though, when Rubio received a visit at his booth from Senator Joni Ernst, Iowa's junior senator and someone he endorsed early on during the state's 2014 primary. Ernst, who has insisted she will not endorse anyone ahead of the caucuses, was gone within seconds.
Besides Bush and Rubio, Senator Ted Cruz of Texas received one of the stronger receptions of the day, with dozens of people milling around after his speech. He also received repeated applause for the sort of media bashing that he launched during Wednesday's debate hosted by CNBC.
"How about we stop letting left-wing liberals moderate Republican debates?" Cruz said. "How about if say from now on, if you have never voted in a Republican primary in your life, you don't get moderate a Republican primary debate?"
Cruz suggested conservative media stars such as Sean Hannity, Mark Levin, and Rush Limbaugh should moderate the party's debates. "None of those three have ever been accused of being pussycats," he said.
Jamie Steen, a stay-at-home mother from Ankeny, Iowa, said she's still considering Cruz, but is leaning toward Rubio. "He had a great night the other night. It was good to see that," she said. "Bush looked pretty awful and it was great to see Marco rise above Bush's attack."
Steen said she's leaning away from Cruz because she doesn't "care for how scripted he can sound."
As he usually does, New Jersey Governor Chris Christie launched straight into questions from the audience and didn't deliver a speech. As the 15 minutes he was allocated drew to a close, Christie called on Iowa Republicans to closely watch the next debate on Nov. 10.
"Which of those 10 people do you want on the stage in September of 2016, prosecuting the case against Hillary Clinton," Christie asked the audience. "Who's going to be strong enough to stand up to her?" Christie asked, before delivering this answer: "I am ready to beat Hillary Clinton."
Left unspoken was the possibility that Christie might not make the main stage in Milwaukee. For that session, candidates will have to earn 2.5 percent or higher support in the four newest national polls prior to the debate; Christie has recently been polling closer to 1 percent.
Other candidates on hand Saturday were Senator Rand Paul of Kentucky, Louisiana Governor Bobby Jindal, former Arkansas Governor Mike Huckabee, Senator Lindsey Graham of South Carolina, former Senator Rick Santorum of Pennsylvania, and former Hewlett-Packard CEO Carly Fiorina. The two Iowa front-runners, Carson and Trump, skipped the event, which was more of a draw to candidates competing in the Republican Party's establishment lane.
Some of those backing Bush said they need to see him improve as a candidate soon if they are going to remain committed.
"He's got to pick his game up," said Ed Hermsen, a retired truck driver from Marshalltown, Iowa, who is trying to decide between Bush, Cruz and Fiorina. "If he doesn't, it's over."
Before it's here, it's on the Bloomberg Terminal.
LEARN MORE