Marco Rubio's Debate Takedown of Jeb Bush, by the Numbers
More questions, more air time, more laugh lines, and better odds of winning the nomination.
Just 15 years ago, Marco Rubio was a newly minted Florida state legislator hoping to catch a ride on the political coattails of then-Governor Jeb Bush. At Wednesday night's Republican presidential debate, it became clear the protégé has now become the master.
Rubio received nine direct questions or rebuttal invitations to Bush's six, and spoke for more than 10 minutes while Bush squeaked out less than seven minutes of air time. The audience engagement gap proved even wider. Rubio landed at least nine applause and laugh lines throughout the two-hour debate, compared to just one recorded laugh for Bush, according to an analysis of a Federal News Service rush transcript conducted by Bloomberg Politics in partnership with Adam Tiouririne (@Tiouririne) of Logos Consulting Group. He advises senior business executives on high-stakes communication, grounded in research about how leaders perform at their most important—and most public—moments.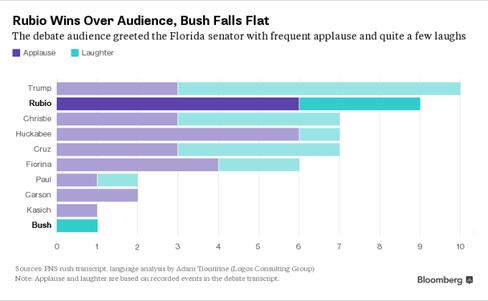 Front and Center
While outsiders like billionaire Donald Trump and retired neurosurgeon Ben Carson continue to dominate polls nationwide and in early-voting states, Rubio's star has been steadily rising. He bucked a trend from the first two GOP debates, when he trailed Bush in terms of minutes of air time. This time around, he accounted for more than 12 percent of the candidates' combined speaking time, compared to around 8 percent for Bush.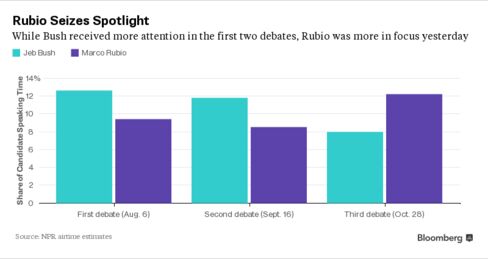 Prediction Markets
As recently as early October, Bush was still considered the favorite to win the nomination in prediction markets such as PredictWise and Pivit. Since then, Bush's campaign has announced some financial belt-tightening and less cash on hand than rivals Ted Cruz, Carson, and Rubio. Now, his odds of winning the nomination are at or near their all-time lows in those markets, buffeted by a further dramatic decline since Wednesday's debate.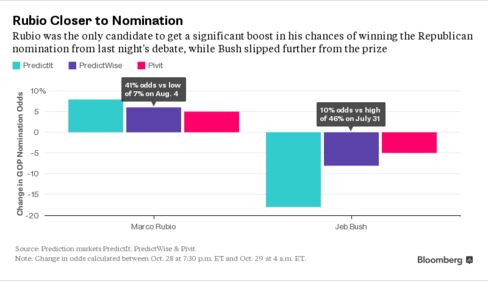 With almost 100 days until the Feb. 1 Iowa caucuses, a lot can still change. In the meantime, Rubio's nomination prospects have surged to more than one-in-three in the wake of the CNBC debate, and he remains the odds-on favorite.
Before it's here, it's on the Bloomberg Terminal.
LEARN MORE