Behind the Scenes
Bill Clinton Rallies Superdelegates as Hillary's Campaign Hints at Growing Roster
The Democratic front-runner's campaign says it has now secured the commitment of over 500 superdelegates.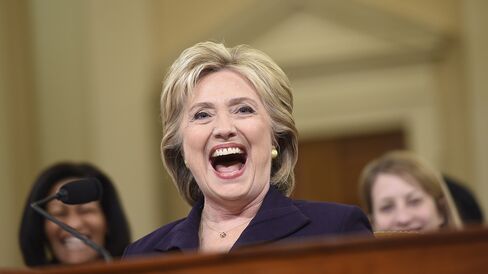 Democratic presidential candidate Hillary Clinton has extended her already sizable superdelegate lead by several dozen since August, and is deploying former President Bill Clinton to bring more of the powerful endorsers on board.
Based on a memo from campaign manager Robby Mook and delegate figures provided by the Democratic National Committee, Bloomberg Politics estimates Hillary Clinton has well over 500 superdelegate commitments, putting her even closer to securing the minimum number needed to win the party's nomination before ordinary voters cast a single ballot in a caucus or primary.
"Today, Hillary has more support from superdelegates than all the pledged delegates awarded in Iowa, New Hampshire, Nevada, South Carolina, and a third of delegates awarded on Super Tuesday combined," Mook said in the memo, which was sent to supporters on Tuesday and obtained by Bloomberg. (Politico reported on the memo earlier Wednesday.)
In late August, Democratic sources told Bloomberg Politics that she had won private and public commitments from more than 440 super delegates. She added to that roster both before and after Vice President Joe Biden announced he wouldn't join the race, news reports and announcements from her campaign indicate.
Campaign spokesman Brian Fallon wouldn't confirm the estimate or comment on Clinton's ongoing courtship of superdelegates. While some have publicly committed to Clinton, others have made only private commitments. Her campaign's claim of many more private pledges couldn't immediately be verified by outside sources, but there is no doubt her total has grown in recent weeks. Her chief rival, Vermont Senator Bernie Sanders, has the support of only a handful of superdelegates.
In an effort to solidify and boost his wife's hold, Bill Clinton spoke to a mix of committed and uncommitted superdelegates on a Tuesday night conference call, according to two people familiar with the call. The former president thanked those who had have already pledged to support his wife and told the neutral superdelegates that she is the best candidate for these times, mentioning her work on early childhood education, health care, and her position on family leave, the people said. He spoke for around 15 minutes and did not take questions. Campaign advisers Marlon Marshall and Joel Benenson also spoke on the call.
Delegate Math
Superdelegates are Democratic Party officials and elected officeholders have direct votes in the presidential nomination process. They're automatic delegates to the national convention, which will take place in Philadelphia in the summer of 2016. They can change their commitments at any time, as Clinton saw in 2008 when support shifted away from her to Barack Obama. This cycle, her operation is doing its best to lock in the commitments through regular contact and the solicitation of formal pledges.
There are 186 delegates up for grab in the four early-voting states, and 1,038 will be determined on so-called Super Tuesday, March 1, according to the DNC. The total number of delegates to the nominating convention is 4,768. A majority of those, 2,385, is needed to win the nomination.
Clinton's allies have long debated when and how to make her superdelegate commitments public. On the one hand, the numbers can fuel a perception among Democrats that Hillary Clinton is the party's inevitable nominee, despite a spirited challenge from Sanders. On the other hand, any suggestion that she has the nomination in hand based on superdelegate endorsements, rather than the support of ordinary voters, plays into Sanders's attack on Clinton as the candidate of the establishment.
Before it's here, it's on the Bloomberg Terminal.
LEARN MORE