No Compromise
Cruz, Rubio Threaten to Kill Partial Obamacare Repeal Bill
The Republican presidential hopefuls would rather have no loaf than half of one.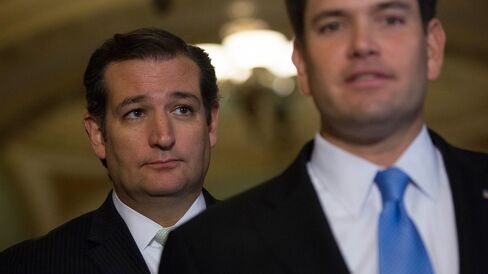 For the first time, Republicans have an opportunity to land a bill on President Barack Obama's desk that achieves two of their most sought after goals: rolling back his signature health care law and defunding Planned Parenthood.
But two of the party's most staunchly conservative presidential hopefuls in the Senate are threatening to scuttle the legislation, which passed the House on Friday with 239 Republican votes.
"This simply isn't good enough," Senators Ted Cruz of Texas and Marco Rubio of Florida said in a joint statement. The bill would repeal major pieces of the Affordable Care Act including the individual mandate, employer mandate and taxes on medical device sales and high-cost "Cadillac" insurance plans.
In their statement, co-signed by Senator Mike Lee of Utah, Cruz and Rubio said they can't support the House bill because it doesn't go far enough. "Each of us campaigned on a promise to fully repeal Obamacare," they said.
The purist manifesto is a revealing indication of how far unexpected developments in the contest for the Republican presidential nomination have pushed candidates to the right. Outsider contenders Donald Trump and Ben Carson, both promising to shatter the Washington status quo, are leading in national polls.
Meanwhile Rubio and Cruz are grappling with Jeb Bush for the lower three positions in the top five. A recent ABC/Washington Post poll found each of them to be more than than 20 points behind Trump. Cruz has forged an identity as an insurgent within the clubby Senate. For Rubio, who is seen as a more establishment-friendly candidate though he won office with Tea Party backing, the stance is a reminder of his hard-right roots.
Apparently not wanting to leave any room on their right flanks as they battle for conservative votes, Rubio and Cruz are spurning a parliamentary gambit that gives conservatives their best chance to force a showdown with Obama over Obamacare and Planned Parenthood.
The bill that the Republican-led House passed on Friday uses a budgetary maneuver called reconciliation which makes it filibuster-proof in the Senate, meaning it can pass with 51 votes. Republicans have 55 members in the chamber; two more votes against the bill—in addition to Rubio, Cruz and Lee—could kill it and save Obama the trouble of executing a certain veto.
The reason the legislation doesn't fully repeal Obamacare, which congressional Republicans overwhelmingly want to do, is that many Senate experts believe pursuing a full repeal under reconciliation, a tool that is generally reserved for deficit-reducing bills, would run afoul of Senate rules. Erasing the entire health care law would raise the deficit by $353 billion over a decade, according to the Congressional Budget Office.
Though Cruz and Rubio say in their statement that reconciliation is the best way to move legislation Democrats would otherwise block, they add: "If this bill cannot be amended so that it fully repeals Obamacare pursuant to Senate rules, we cannot support this bill." The most hardline conservative groups insist on using reconciliation for a full Obamacare repeal despite the procedural tradition.
"The bill does not even touch Obamacare's main two entitlement expansions: the Medicaid expansion and the exchange subsidies," the group Heritage Action said in a statement opposing the legislation. "The bill leaves all of Obamacare's new insurance rules and regulations in place. It also leaves many of Obamacare's taxes in place."
The legislation also calls for prohibiting federal funds for any national organization that "provides for elective abortions," such as Planned Parenthood, for one year. Defunding the family planning provider has been a rallying cry for conservatives.
Before it's here, it's on the Bloomberg Terminal.
LEARN MORE