The Outsider
If Jim Webb Hates Politics So Much, Why Is He Running?
Friends say he has an overwhelming compulsion to serve his country—stronger even than his visceral dislike for campaigning.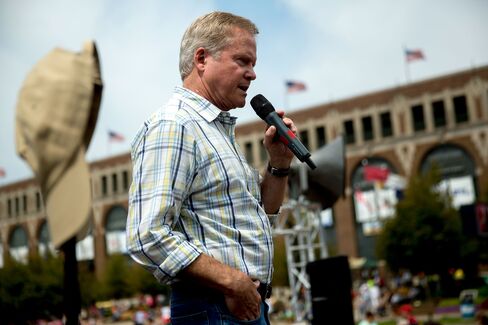 Jim Webb's political campaign is beyond minimalist. The former Virginia senator rarely does events. He's only made pilgrimages to Iowa and New Hampshire a handful of times. He doesn't maintain a super-PAC, or cultivate a presence on the Sunday shows, or make policy announcements, or send out attack lines. His poll numbers are under 1 percent. What's more, he's often expressed a contempt and even revulsion for the compromises and gladhanding and money raising necessary to pursue a career in electoral politics. Since he announced his candidacy in July, with a 2,000 word e-mail to supporters the day before a three-day weekend, his campaign has largely felt like an act of self-sabotage.
So why run?
In interviews, friends of many decades, staffers, former aides, and most importantly, the men who served with him in the An Hoa Basin in Vietnam say it comes down to Webb's sense of duty to his country, developed in the military. They describe it as an irresistible compulsion, driving him forward through any difficulties—including his own intense dislike of campaigning.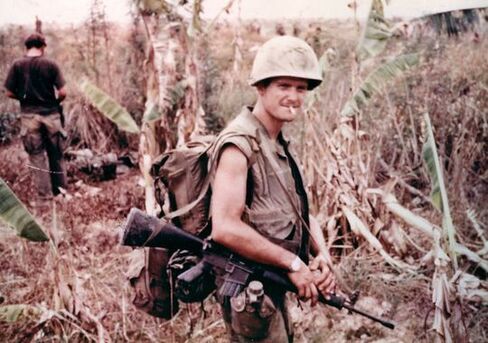 "The only time that he feels strongly about serving his country is during his waking hours," said former Nebraska governor and senator Bob Kerrey, a longtime friend and fellow veteran who is a recipient of the Medal of Honor. "I have no access to his dreams, but I've watched him awake and it never leaves him."
"Jim is not a politician," his friend Nelson Jones, a fellow Marine veteran, said simply. "But he serves."
"I realize it sounds like a cliché," said Walter Anderson, a former editor of Parade and a Vietnam vet himself who is Webb's longtime book editor. "The truth is it's who he is."
Friends—who form a core of advisers around him, with most members being fellow vets—agree that it's crucial he run for president. It's the kind of impulse that has a long history in the military mind. They compare Webb to a number of great men who answered the call: Horatio Nelson and George S. Patton. The writer Tom Wolfe said, in 2007, that Webb was de Gaulle facing Algeria. Anderson compares him to Churchill—party switcher, writer, head of the Navy—in 1939.
Duty
Webb's mindset was instilled from childhood. His father was an Air Force officer who was frequently stationed away from the family; sometimes, he brought them along to a new post. Webb described in his memoir how, during his boyhood, James Henry Webb Sr. would administer "military-style room inspections" to his children on Saturday mornings. If young Jim argued with "Dad," his father would correct him: "Don't call me Dad. I'm Captain Webb. And you're a corporal."
In his memoir, which he titled I Heard My Country Calling, Webb wrote that "those who speak fervently about their faith or how much they have done for their country while in public office usually make me nervous. But service to the country has always been my life clearest calling."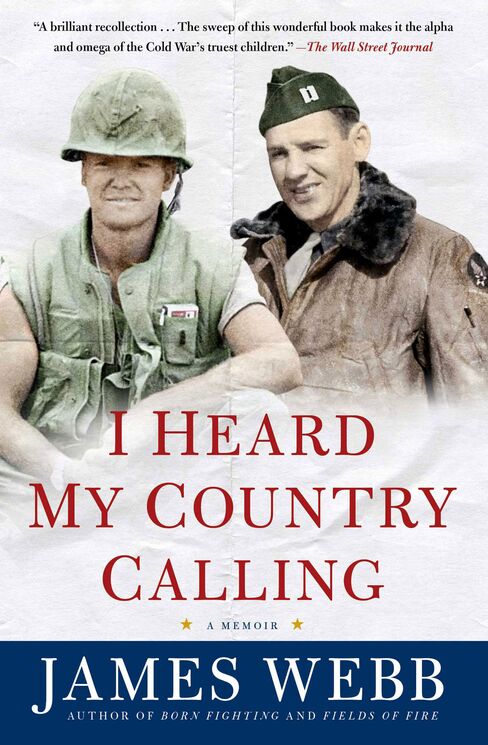 Webb graduated from the Naval Academy in 1968, (along with Oliver North and Admiral Mike Mullen). After coming in first in his class at Marine officer Basic School, he headed to the An Hoa basin in Vietnam, a "hellhole" where the water was sewer-like, the American bombing runs sometimes got too close to troops on the ground, and North Vietnamese terror squads blew up their own villages as part of a regime of total political control. He went through six radio operators during his time there, with two getting blown up within an hour of each other.
Webb himself was frequently wounded, incurring shrapnel wounds in his hands, forearms, or shins on an almost monthly basis. His commanding officer, Captain Michael Wyly, wanted to put him up for at least two Purple Hearts.
"Jim insisted that he was not deserving of more than one Purple Heart given the nature of his wounds contrasted against the very serious wounds received by his men," Wyly, today a gregarious retired colonel who jokes he still can't talk to those who opposed the war, wrote in an e-mail. "I am convinced to this day that Jim's reluctance to claim... two awards was because he did not want to be withdrawn from the field and his Marines, which would have been standard practice regarding Marines after their second Heart."
Webb received a Navy Cross—a notch below the Medal of Honor— for valor. "Observing the grenade land dangerously close to his companion," read the citation, "First Lieutenant Webb simultaneously fired his weapon at the enemy, pushed the Marine away from the grenade, and shielded him from the explosion with his own body." But for him, much of politics is the diametrical opposite of the kind of heroism required of troops in wartime—a world of dishonesty, indecisiveness, compromise, and self-aggrandizement. When he served as Secretary of the Navy under President Ronald Reagan, he resigned in 1988 after just 10 months as a result of a policy disagreement over the size of the fleet.
"He'll serve in the government, and then he'll step back and do other things," Jones, a sardonic Texas lawyer who met Webb when the two attended Georgetown Law together. "Then he'll go back and serve when there's something going on with the country or he has a sense of obligation."
After time writing and teaching, Webb decided to get back into politics as a Democrat and run against a man he had once endorsed, Senator George Allen. At one early event, an aide told a band at a campaign event to learn the Marine Corps hymn, but Webb shut it down, feeling its use was inappropriate.
When he finally made it to the Senate in 2007, Webb quickly breached Washington protocol. At a welcome reception for new members of Congress with President George W. Bush at the White House, Webb refused to take a picture with the president, whose war he had run against. Later, he rejected the plum offered by then-Majority Leader Harry Reid, a spot on the Banking Committee, demanding a place on Foreign Relations instead. Reid relented, because of Webb's swing state bona fides.
On his first weeks in the Senate, in fact, he introduced a modern G.I. Bill, and eventually succeeding in getting it passed, a tremendous win for a freshman. But rather than building on his victories, Webb left Washington again after just one term, huffing and puffing about compromise and the yawning distance between the powerless and the elites.
He wrote in I Heard My Country Calling that he felt "gratitude for having had the honor of serving" as a senator. "But that sense of pride is mingled with regret that I was unable to do enough, that both political parties have become frozen by money and interest groups into awkward positions and false debates that do not fully reflect the concerns of our citizens."
Webb's Moment
This campaign seems to be following the pattern of those prior excursions into government—except this time he doesn't even seem to have gotten in the door before walking out of it.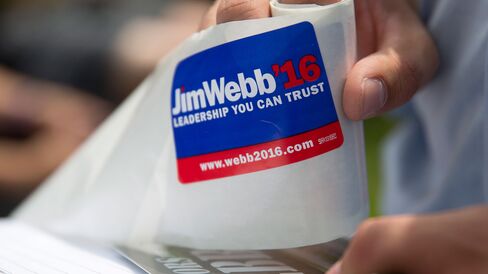 His campaign couldn't confirm his travel plans in the hours following his announcement. He hates chatting up donors, and almost never does it. He loathes making promises or appealing to voters who don't naturally take to him. With no super-PAC, he gets by with a minuscule and relatively unknown staff. He also skips big Democratic candidate forums, sometimes without saying he didn't plan to come, and he is writing many of his campaign's social media posts himself.
His campaign touted an August event and told some media it would be a launch. Instead, it was simply canceled, as were a series interviews he had planned around it.
Doubtless, far happier campaigners have found themselves unable to catch on, but in certain ways, 2016 could have been Jim Webb's time. Many of the candidates who are surging—Donald Trump, Ben Carson, and even Vice President Joe Biden—espouse authenticity over Washington experience. Even Webb's core platform, which focuses as much on a populist economic fairness as it does on his foreign policy and national security credentials, seems designed for the present moment, if there were an adequate campaign behind it.
"Looking in the rearview mirror, had he gotten in earlier, there's a well spring of support for an alternative," Bob Kerrey said. He said he thinks that wouldn't have been Webb, to get in before he was ready.
"I think he just wasn't certain that he wanted to get back into the public arena," he said. "He's a private citizen; he's got a young child, happy marriage."
Like many of Webb's advisers, Kerrey, who sought the Democratic presidential nomination in 1992 against then-Arkansas Governor Bill Clinton, is fully aware of what his friend is up against.
"It was easier running against Governor Clinton then than President Clinton and Secretary Clinton now," he said. "This is really going to be hard," he said. "His need to to serve overwhelms all other considerations."
Winning may not be the most important thing here; serving, however grudgingly, is the prime directive.
Before it's here, it's on the Bloomberg Terminal.
LEARN MORE