Bloomberg Politics Focus Groups: What's Powering the Ben Carson Boom
Despite never holding elected office, or perhaps because of that fact, the retired neurosurgeon has managed to impress many Republican voters.
What explains the appeal of Ben Carson, the retired neurosurgeon who, despite never having held political office, is mounting a serious challenge for the Republican presidential nomination?
Simultaneous focus groups conducted by Bloomberg Politics' Mark Halperin and John Heilemann in Iowa and New Hampshire on Monday shed light on that question, and may help explain the doctor's strong polling numbers.
When asked to describe Carson, participants in the focus groups called him "deep," "thoughtful," "intelligent," "measured," "true to himself," "someone you can trust," and "calm."
"He seems like he'd be more of a—a soothing balm," Judi, a custodian from Iowa, said.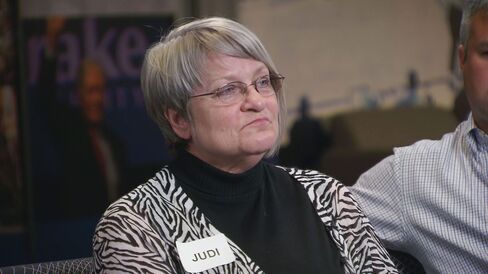 "I think there's nothing common anymore about common sense. And I think he has the mentality that he can look at an issue, carefully weigh the facts, and make sound decisions," Scott, a who manages subcontractors for defense control in New Hampshire, said.
Indeed, Carson's lack of business experience seems to be a draw, and the focus-group participants cited his unique background as evidence that he may be able to address problems from a different angle.
"I think his brilliance would help us solve problems thinking outside the box," said Marie, a teacher and librarian from New Hampshire, where a majority of focus-group participants said they believed Carson would eventually become the Republican nominee.
In both early states, Carson has been climbing in the polls since August, just after the first nationally televised Republican presidential debate, and has been on the rise ever since. The outsider candidate has now risen to third place in New Hampshire and second place in Iowa. In an election in which candidates lacking political experience are leading the pack, Carson, unlike rivals Donald Trump and Carly Fiorina, cannot point to a strong record of leadership in the business world. But when it comes to his appeal, participants in both focus groups pointed to his demeanor as a sign of strength.
Compared to the bombastic style of Trump, Carson presents voters with a Washington alternative who focus group participants believe is more likely to engage in diplomacy than name-calling.
"I really think he could create a much more peaceful world, just by sitting down with diplomacy and talking to people," Marie said.
That's not to say Carson's own statements have always proved uncontroversial. He found himself roundly criticized after saying in late September that he "would not advocate that we put a Muslim in charge of this nation." But some of his focus-group supporters did not seem to care—in fact, many agreed.
New Hampshire participants were split on whether they agreed with Carson's comments, but every participant in Iowa said they concurred, with some calling the comments "spot on."
"I'm not saying I couldn't ever get that, and I'm not saying that I—there couldn't be an intelligent, very well-spoken Muslim as president someday," Aaron, a teacher from Iowa, said. He added, "It would be hard to trust that at this point."
But Carson's perceived strength as an untested outsider could also be his weakness.
"I'm not so sure he is qualified," Jessie, who works in real estate in New Hampshire, said. "I think that he seems like a genuinely good man, I think that he's a smart man, I think that he could do wonders in local politics, and I think that honestly he should stick to that. I don't think that in the Oval Office he would be good, I don't think he necessarily has the demeanor to get things done."
His temperament, too, has raised alarms for some, with a handful of participants calling for a "less passive" version of Carson with "a little bit more edge."
"If I could create this, I don't know, super awesome candidate, that was Ben and Trump put together, because if Ben Carson could use some of Trump's fire with his diplomacy in which he talks with, that would be a—it would be almost an open-shut case," Aaron said.
The focus groups were organized by independent polling firm Purple Strategies. Participants came from the Manchester, New Hampshire, and Des Moines, Iowa, areas and represented a variety of ages and socio-economic and educational backgrounds. They agreed to be quoted without their last names. Qualitative research results cannot be statistically analyzed or projected onto the broader population at large. As is customary, respondents were compensated for their participation.
For much more from Bloomberg Politics' focus groups, watch With All Due Respect on Bloomberg TV and BloombergPolitics.com Thursday at 5 p.m. ET.
Before it's here, it's on the Bloomberg Terminal.
LEARN MORE