Europe Tries to Bridge Gap as U.S., Russia Maneuver on Syria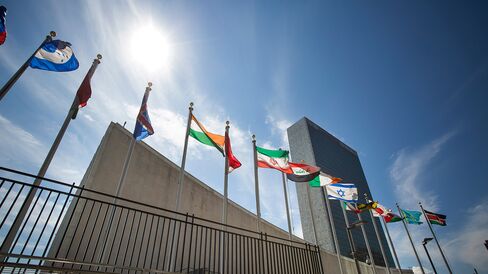 French propose no-fly zone as civil war toll keeps rising

U.S., Russia seem no closer to agreement on role for Assad
With Russia and the U.S. sparring over how to fight Islamic State and end Syria's bloody civil war, European nations besieged by refugees are trying to bridge the gap.
French Foreign Minister Laurent Fabius told reporters Tuesday his nation was proposing a no-fly zone -- an action the U.S. opposes -- that would offer protection to Syrians so they wouldn't have to flee to Europe. Meanwhile, the European Union's foreign policy chief, Federica Mogherini, struck a note of optimism, seeing "political space for new initiatives" in the coming weeks.
The global danger posed by extremists is the one thing leaders at the United Nations could agree on. In response to the Islamic State's reach beyond the areas it controls in Iraq and Syria, the U.S. and UN announced financial sanctions targeting members of the militant group from Yemen, Saudi Arabia, the U.K., Pakistan and elsewhere.
U.S. President Barack Obama led a UN-sponsored summit on countering extremism where he said the U.S. is prepared to work with all countries, including Syrian President Bashar al-Assad's backers, Russia and Iran, "to find a political mechanism in which it is possible to find a transition process."
No Guns
Still, "ideologies are not defeated with guns," he said, but with "better ideas," a possible reference to Russia's build-up of fighter jets, attack helicopters and troops in Syria as well as its creation of a military center in Baghdad to share intelligence with Iran, Iraq and Syria.
Establishing a no-fly zone -- an idea touted in the early stages of the Syrian conflict -- requires a large amount of military forces.
"You need the U.S.," Saudi Foreign Minister Adel al-Ahmad al-Jubeir told reporters in New York. As for the Saudis working with Iran on Syria, he's skeptical: "We need to know Iran is serious about changing their behavior."
The conflict has killed at least 250,000 people in Syria alone and displaced millions more. Obama told the UN General Assembly on Monday that the U.S., Russia and European countries must take a realistic approach, which requires compromise to establish a coordinated fight against Islamic State and a "managed transition" away from Assad.
Opposing Views
While the U.S. and Russia agree that resolving Syria's conflict requires a political settlement, the principal difference is how Assad fits in, according to an administration official who briefed reporters on a 90-minute meeting between Obama and Russian President Vladimir Putin on Monday. U.S. officials stressed their view that Assad is a cause of the conflict and that his presence and brutality draws extremists.
Putin, who shows no sign of backing down from support of Russia's longtime ally, is emphasizing the fight against Islamic State and said Western policies created a power vacuum in the Middle East. Still, that may leave room for negotiations on a time line and method for Assad's departure.
UN Resolution
Russia will try to force the U.S.'s hand on Sept. 30, when it submits a resolution to the UN Security Council to coordinate all forces fighting Islamic State, including Iran's and Assad's. Putin argued that it's "a major mistake" to refuse to cooperate with Assad's forces in combating the terrorist group because those are the troops fighting the Islamic State.
The prospect of an accord on Syria had been dangled heading into this week's UN gathering, as leaders including German Chancellor Angela Merkel and U.K. Prime Minister David Cameron signaled more flexibility in their stance toward Assad, who they have previously said must step aside.
Some of those countries now seem to be edging back into Obama's camp.
"We're still some way from getting what we need, which is the transition from Assad to something else, but there's an accelerated sense of how important this is," Cameron told reporters on his plane en route to Jamaica from New York. U.K. Foreign Secretary Philip Hammond told the General Assembly on Tuesday that Assad's regime and Islamic State represented "twin evils" and that his country would continue air strikes on Iraqi territory held by the militant group "for as long as it takes."
While French diplomats had signaled their country might be willing to consider a political transition that includes Assad, Syrian opposition members told reporters today that France shares their view that Assad has no role, even temporarily, in a political settlement.
Richard Gowan, a fellow with New York University's Center on International Cooperation, said that the U.S.-Russia tensions are "clearly a setback for the Germans, who were trying to foster a more cooperative spirit." He said the Europeans aren't united on the issue either, with French President Francois Hollande's comments on Assad generally looking closer to Obama's.
Before it's here, it's on the Bloomberg Terminal.
LEARN MORE