The Fight for the Soul of the Republican Party
House Speaker John Boehner's departure and the fight to succeed him echo the battle that's being fought for the Republican Party's presidential nomination.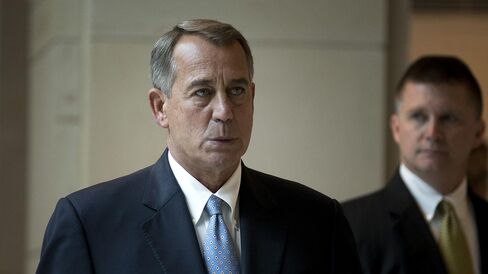 Nothing reveals the difficulty of holding the Republican Party together more starkly than John Boehner's mood when he announced he was no longer going to try. At his press conference Friday confirming his resignation, the soon-to-be former speaker of the U.S. House of Representatives smiled, laughed, and even sang a few bars of "Zip-a-Dee-Doo-Dah."
As he exits, the battle for the soul of the party continues—in Congress and also on the campaign trail, where the same anti-establishment forces that sent Boehner packing have led to the ascendency of Donald Trump, Ben Carson, and Carly Fiorina.
The widening schism was reflected in the starkly different reactions of Boehner's fellow Republicans. On one side, U.S. Representative Peter King decried "a victory for the crazies" who "you can't appease." On the other, U.S. Representative Tim Huelskamp, a Kansas Republican who lost a committee post after failing to oust Boehner in a leadership election, celebrated. "The establishment lost, conservatives won, and it's a good sign for the Republican Party," he said. "Who'd have thought after he kicked me off a committee, three years later, we're still here and he's gone?"
Huelskamp was first elected in 2010, the year that Boehner and his likely successor, House Majority Leader Kevin McCarthy, recruited and helped finance candidates who identified with the small-government Tea Party movement. Nearly five years later, it was clear McCarthy's wing had gained the upper hand with many of the candidates competing for the White House.
Energizing 2016 Candidates
Four miles across town from the Capitol where the Boehner drama was playing out, jubilation erupted at the Values Voter gathering of conservatives and Republican presidential candidates on the speaking schedule piled on. "The time has come to turn the page," Senator Marco Rubio of Florida said of the Boehner news. Senator Ted Cruz of Texas declared that "the American people are waking up."
Left to boil down the party's battle in the plainest terms was Trump. "We are so disappointed in the Republican establishment," he told the Values Voter audience. "We want to see the job being done properly. We want to see people that are going to get it done."
One of the early rallying cries of conservatives in the presidential campaign has been that the establishment's choices—John McCain in 2008 and Mitt Romney in 2012—failed, and it's time to try something different. The first candidate to drop out of the race: former Texas Governor Rick Perry, who had the most executive experience in government of anyone in a crowded field. He was followed by Wisconsin Governor Scott Walker, who couldn't coalesce the kind of grass-roots support that helped him survive a recall election against labor unions in 2013.
Instead, that insurgent wing of the party has run lined up behind candidates such as Carson, a former neurosurgeon with no political experience, and Trump, whose bluster has found traction with a frustrated conservative base.
Trump's Rise, Boehner's Fall
Trump's meteoric rise has coincided with Boehner's fall to a new low in the four-year history of the Bloomberg poll. He is viewed favorably by just 20 percent of Americans, according to figures released this week. That sank to 21 percent among supporters of Trump, Carson, and Fiorina.
The divide and its connection to the Republican presidential primary was captured in a survey this month by NBC. The factions who wanted Boehner out most were talk radio listeners, Tea Party supporters, very conservative Republicans, and Trump supporters. Those who least wanted him on go were moderate or liberal Republicans and non-Trump supporters.
https://twitter.com/CarrieNBCNews/status/647477117681299456
Meanwhile, Boehner's pick in the Republican presidential race—former Florida Governor Jeb Bush—has struggled to get traction. While his more successful rivals were skewering Boehner, Bush paid tribute to the speaker with a laudatory tweet.
https://twitter.com/JebBush/status/647415269032333312
One of the main arguments of Bush's candidacy is that he has a message that can boost the party's embarrassing lack of support from Hispanic and independent voters. But conservative voters have eschewed Bush's pro-immigration message in favor of Trump, who wants to build a wall along the southern border with a "big, beautiful door" to allow for legal immigration.
The Next Step: Leadership
About half of 247 House Republicans were first elected in 2010 or later, and dozens of these lawmakers have spent years repeatedly voting against Boehner's leadership, according to data compiled by Bloomberg. And these lawmakers may be outlasting the establishment. Among the two-dozen retirements last year, many were Boehner allies: party-line Republicans who argued against Democratic policies, but faced Tea Partiers who equate the give and take of legislating with betrayal.
According to Boehner's allies, the missing piece for the new House leadership might be summed up in a phrase borrowed from Trump: the art of the deal.
Representative Charlie Dent, a Boehner ally from Pennsylvania, pointed out that Republicans own majorities in both chambers, and will have to figure out ways to pass a spending deal to avoid another shutdown, find an agreement to lift the debt ceiling, and address future of the controversial Export Import Bank before the end of the year.
"Any jackass can kick down a barn door," Dent said. "It takes a carpenter to hang one. We need a few more carpenters around here."
Boehner was asked about the internal turmoil on Friday, and how the party might stabilize itself. He noted that when he announced his decision at a private meeting of the House Republican conference, it sparked a 90-minute conversation.
"Between that and the pope's call for living by the golden rule yesterday," Boehner said, "hope springs eternal."
Before it's here, it's on the Bloomberg Terminal.
LEARN MORE