Obama to Meet Putin Next Week at United Nations General Assembly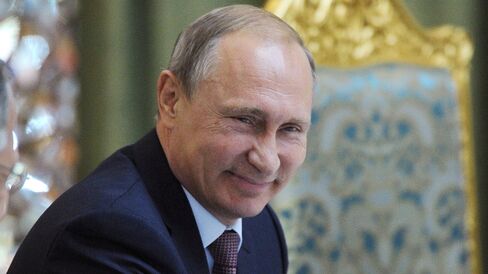 First encounter between the two leaders in more than a year

Tensions are high over Russian moves in Ukraine, Syria
President Barack Obama will hold a rare in-person meeting with Russian President Vladimir Putin during the United Nations General Assembly next week in New York amid a new flare-up of tensions over Russia's moves in Syria.
The White House decided the meeting would serve as a test of whether high-level engagement with the Russians can result in any progress in resolving profound differences, according to a administration official, who requested anonymity to discuss internal deliberations. The official said Putin requested the discussion, which also was announced in Moscow by a Kremlin spokesman.
The meeting would be the first face-to-face discussion between the two in more than a year. U.S.-Russian relations have been in a deep freeze since Russia annexed Crimea in March 2014. The situation in Ukraine will be at top of the agenda for the meeting, according to the official.
The latest concern for the Obama administration is the Russian leader's deployment of weapons and equipment to Syria. Russia is pressing the U.S. to join in a coordinated campaign against the Islamic State extremist group and is prepared to launch airstrikes unilaterally if the White House won't go along with the plan, according to a person close to the Kremlin and an adviser to the Defense Ministry in Moscow.
Islamic State has seized territory in Syria, Russia's only outpost in the Middle East, as the regime of Bashar al-Assad is besieged by a civil war.
Administration officials including Secretary of State John Kerry have said Putin's motives in Syria are difficult to discern. Obama has warned that any move to prop up Assad is doomed to fail.
Kerry said Tuesday that the U.S. "hope is that Russia is prepared to be helpful and Iran prepared to be helpful in finding a peaceful resolution to this conflict."
The U.S. already is conducting its own airstrikes against Islamic State and Putin is proposing a parallel track of joint military action accompanied by a political transition away from Assad, a key U.S. demand, according to a third person. The proposal has been communicated to the U.S., the person said.
Obama and Putin last met in person June 6, 2014, in France at a commemoration of the end of World War II.
Before it's here, it's on the Bloomberg Terminal.
LEARN MORE