In Francis, Obama Finds an Ally to Amplify His Agenda to Public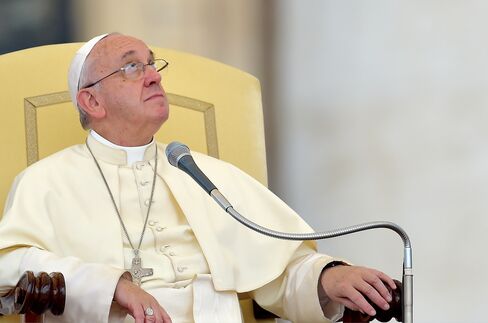 Pope's social justice, climate messages align with president

Political lines on poverty, immigration hardened in U.S.
Pope Francis's attempt to inject moral urgency into dealing with poverty, immigration and climate change is about to run into entrenched political divisions in the U.S.
The pontiff's agenda neatly dovetails with that of President Barack Obama, and some of his advisers are looking to Francis's arrival in the U.S. on Tuesday as a way to lift the prospects of getting the unfinished work of his presidency done.
While Francis has the potential to shape still-evolving public attitudes on climate change at a critical moment, immigration and income inequality are another matter. The political lines are firmly drawn on immigration and Washington's budget gridlock leaves no room for major new anti-poverty programs.
Francis's visit will be rich with symbolism advancing the themes of his papacy. He will arrive on a flight from Cuba, underscoring the first Latin American pope's support for Obama's opening to the island nation, which the Vatican helped nurture. The pope's first public mass in the U.S. will be given in Spanish, highlighting his connection with the country's Hispanic immigrants.
'Savage Capitalism'
He will go to New York, the global center of finance, after decrying "savage capitalism." In a June encyclical on climate change, he called for reining in the "absolute power" of the financial markets and criticized "an economy of exclusion and inequality."
The themes parallel some of the key goals of a president who has imposed new regulations on the financial industry, run for re-election on raising taxes for the rich, struggled unsuccessfully for a new immigration law and then unilaterally granted protection from deportation to millions of undocumented immigrants. Obama also is making getting a global agreement on climate change a primary goal of his final months in office.
"His essential messages will resonate very much with the president's agenda," said Charlie Kupchan, senior director for European affairs on Obama's National Security Council. "We are hoping that his moral authority helps us advance many of the items."
That agenda, though, is under sustained challenge from Republicans.
The party's presidential candidates compete for applause with promises to keep out migrants, and Obama's executive actions on immigration have been challenged in the courts. Many of the candidates also are running on platforms of reduced financial regulation and tax cuts that would further benefit the wealthy.
Francis's papacy is disrupting a decades-long tacit political alliance between much of the U.S. church's hierarchy and Republican cultural conservatives that underpinned the movement of many Catholics away from the Democratic Party over the past three decades. So far, the pope isn't changing minds among Obama critics.
Former Florida Governor Jeb Bush, one of six Catholics among the Republican presidential candidates, suggested he wasn't persuaded by Francis's views on social justice. "I don't get economic policy from my bishops or my cardinals or my pope," Bush said.
Republican Representative Paul Gosar of Arizona, a Catholic, said he would boycott the Pope's address to Congress. In an article published on the website Townhall.com, Gosar said, "When the Pope chooses to act and talk like a leftist politician, then he can expect to be treated like one."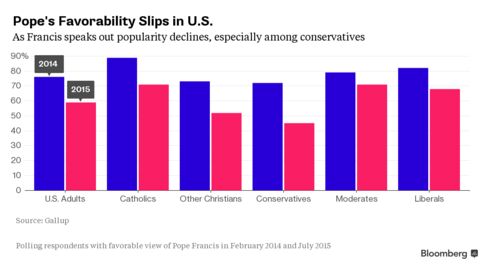 While he remains a popular figure, especially compared with U.S. politicians, the public view of him has slipped as he's focused on social justice and environmental issues. In a July Gallup poll, 59 percent of Americans had a favorable view of Francis, down from 76 percent in February 2014. Among conservatives, 45 percent view him favorably, down from 71 percent last year.
However the pope can shift the center of gravity in public opinion, and climate change is an area where sentiment is still being shaped.
As one of the most admired world leaders and best-recognized religious figures, the Pope's message on global warming presents a powerful challenge to those who deny human activity is changing the climate and adds a moral voice to a debate so far largely seen as political.
"In terms of moving the needle, he has enormous potential," Anthony Leiserowitz, director of Yale University's Project on Climate Change Communication, said of the pontiff.
Francis and Obama could become transitional figures on global warming similar to the way that Pope John Paul II and former President Ronald Reagan are remembered for their partnership in rolling back Communism.
Moral Issue
The perspective Francis brings will be new to many Americans. Only 39 percent currently consider climate change a moral issue, 25 percent a social justice issue and 9 percent a religious issue, according to a July poll by the Associated Press and the University of Chicago's National Opinion Research Center.

Even so, the public accepts Francis as a legitimate voice on global warming. Fifty-five percent of Americans and 64 percent of Catholic say it is appropriate for the pope to take a public position on climate change, according to the poll.
"Whatever he says will make people think," Ben Rhodes, Obama's deputy national security adviser, said.
Though an encyclical issued by Francis in June declared climate change "one of the principal challenges facing humanity," it was submerged amid other news. A month later, fewer than 1 in 3 Americans and only 40 percent of Catholics were aware of his efforts to make countering climate change a priority issue for the Catholic Church, the poll found.
But pageantry and personality excites public attention far more than a theological document. Many more people will be aware by the time he completes his U.S. visit.
Major Theme
Francis, who adopted name of the Catholic patron saint of ecology when
he became pope, is likely to make action on climate change a prominent theme of his tour, particularly in his addresses to Congress and the United Nations, said Tom Reese, a Jesuit priest and a senior analyst for the National Catholic Reporter.
"He's pushing the world to do something," Reese said. "It's a moral issue he feels compelled to talk about."
The timing of the visit will magnify its impact because it comes just ahead of a global summit on climate change in December and at the beginning of the election cycle as American bishops are preparing guidance this November for the presidential election a year away, said Catholic Archbishop Thomas Wenski of Miami, who is spearheading U.S. bishops response to a papal encyclical on the environment.
The encyclical and the message he delivers in the U.S. will shape the mission of Catholic churches for years to come. That includes sermons, Sunday religious education classes and curriculum at Catholic schools, an influence unrivaled by most environmental groups.
Catholic priests and bishops take their cues from the pope and his message during the visit will shape their approach to the election, Wenski said.
"We'll engage the candidates to pay attention, and they will," he said.
Before it's here, it's on the Bloomberg Terminal.
LEARN MORE