Long Shadow of Donald Trump Dominates Debate He Missed
Candidates argue with the front-runner in absentia and with each other on immigration and religious freedom.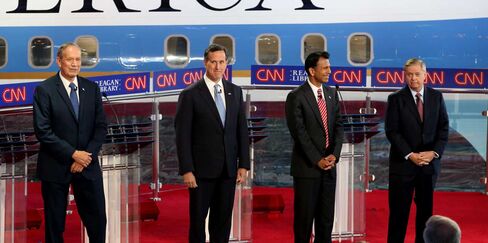 The four candidates who faced off in the "undercard" Republican presidential debate Wednesday in California have 70 years of elected experience among them, including 24 years in the Senate and 19 years in governor's offices. Yet a candidate with no time in office, and who wasn't even in the room, dominated the top of the 90-minute debate.
Donald Trump, the billionaire real-estate developer from New York, drew stinging attacks from Louisiana Governor Bobby Jindal and former New York Governor George Pataki. Former Senator Rick Santorum urged the other candidates to refrain from criticizing Trump, and Senator Lindsey Graham, after initially avoiding a mention of Trump, finally got in a swipe of his own. The four, whose low polling numbers put them in the non-prime time event as CNN hosted the 15-member Republican presidential field in two stages, had spirited exchanges over immigration and border security, and religious freedom at the Ronald Reagan Presidential Foundation and Library in Simi Valley, California.
The candidates were arranged from tallest to shortest: Pataki on the left then Santorum, Jindal, and Graham.
But it was Trump who cast the longest shadow over the proceedings, especially in the opening segment, as moderator Jake Tapper quizzed Pataki and Jindal over their criticisms of the front-runner. Pataki has been feuding with Trump over Twitter, at one point calling him "unfit to run for president," and Jindal this week denounced the mogul as a "madman who must be stopped."
Jindal insisted he has not violated Reagan's famous "11th commandment" against speaking ill of a fellow Republican because, he said, Trump isn't one. "Let's stop treating Donald Trump like a Republican," the Louisiana governor said. "He's not a conservative. He's not a liberal. He's not a Democrat. He's not a Republican. He believes in Donald Trump."
Pataki amplified his criticisms of Trump, saying his failed casinos in Atlantic City, New Jersey, belie his self-styled image as a businessman with a golden touch.
"Donald Trump is not going to be the Republican nominee. Period. I guarantee it," Pataki said. "Donald Trump is unfit to be the president of the United States or the Republican nominee."
Santorum called on the other candidates to cool down.
"Personal attacks just please one person: Hillary Clinton," Santorum said. "Donald Trump has every right to run for president as a Republican." In the post-debate spin room, Santorum said personal attacks on Trump were not helpful. "We don't need people accusing other candidates of being narcissists," Santorum said. "The American voters can figure that out on their own."
Trump clearly was listening to the early debate: When he took the stage dor the prime-time debate, Trump hit back at Pataki as a "failed governor" who "couldn't be elected dog catcher" and said his Atlantic City casinos were profitable. Trump gave $43,500 to Pataki, whom he just described as a "failed governor," according to figures compiled by the National Institute on Money in State Politics.
Tapper asked Graham why Trump is leading him in polls in South Carolina, the state where Graham was born and represents in Congress. Graham, citing his experience as an Air Force lawyer, said he's the best qualified candidate to be commander in chief but avoided criticizing Trump or answering Tapper's question. Later however, he took an unmistakable swing, saying: "Our leading candidate gets his foreign policy from watching television" and describing Trump as "a cartoon character."
Santorum, a Pennsylvanian who overlapped with Graham in the Senate, clashed sharply with him on immigration and the minimum wage. Graham, who has sponsored legislation that would offer a path to citizenship to millions of immigrants now, sharply challenged Santorum about his own legislation. "How many Democrats supported it?" Graham interjected. "I can tell you: None." And when Santorum said his bill didn't move because the president favored a different approach, Graham intejected again with the name of the Republican chief executive. "George W. Bush," he said, adding pointedly "who won with Hispanics." Later in the debate, it was Santorum's turn to round on his party for abandoning an important constituency. Challenging Graham over his refusal to support a raise in the minimum wage, Santorum noted that most Americans are wage-earners and added: "Republicans are losing elections because we're not talking about them.
"How are we going to win, ladies and gentlemen, if 90 percent of American don't think you care about them?" Santorum asked.
The four candidates also split when asked about Rowan County, Kentucky, Clerk Kim Davis, who was jailed for refusing to issue marriage licenses to same-sex couples after a U.S. Supreme Court ruling ratified gay marriage.
Santorum and Jindal defended Davis, saying she was jailed for practicing her religious beliefs. Santorum said there needed to be an accommodation.
"Is there not room in America?" the former Pennsylvania senator asked. "I believe there has to be room." Jindal said religious objections needed to be respected. "America did not create religious liberty," he said. "Religious liberty created America."
But Pataki said he would have fired Davis. "There is one place where religion supersedes the rule of law," he said. "It's called Iran."
Graham, who has struggled to gain traction in the polls, delivered a feisty performance, at one point earning plaudits from co-moderator Hugh Hewitt, who told him "You're having a good debate." And he made perhaps the most unusual campaign promise. When Hewitt challenged him on why had has occasionally said nice things about Hillary Clinton, the Democratic presidential front-runner and Graham's former Senate colleague, the South Carolinian invoked Ronald Reagan in making a plea for bipartisanship. Noting that Reagan had accomplished much through his relationship with Democratic House Speaker Thomas "Tip" O'Neill, Graham noted that the friendship began with the two having drinks at the White House.
"That's one thing I'm going to do when I'm president," Graham cracked. "We're going to drink more."
Before it's here, it's on the Bloomberg Terminal.
LEARN MORE