U.S. Olympic Committee Backs Los Angeles Bid for 2024 Games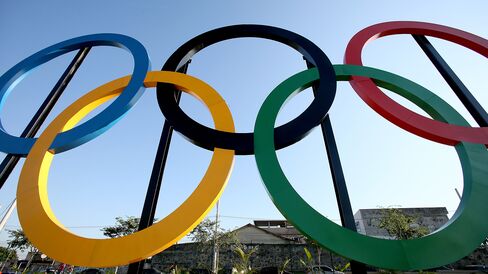 The U.S. Olympic Committee endorsed Los Angeles's bid for the 2024 Olympic Games after the City Council agreed to allow a contract that would require the city to cover financial losses, Committee Chief Executive Scott Blackmun said.
The second-largest U.S. city, which hosted the games in 1932 and 1984, will compete against Rome, Paris, Budapest and Hamburg, Blackmun said Tuesday in Santa Monica, California.
Los Angeles vaulted to the lead of U.S. Olympic contention after Boston withdrew from consideration amid concerns that taxpayers there would be saddled with costs from a money-losing event. Bid documents prepared by Mayor Eric Garcetti's administration released Aug. 25 show that the games are projected to cost Los Angeles about $4.5 billion while producing enough revenue for a $161 million surplus.
"L.A. was built to host the Olympic Games," said Casey Wasserman, founder of Wasserman Media Group LLC and the chairman of the LA 2024 bid committee. "As a global sports destination, we can put on an exciting games with substantially reduced costs and risks."
The Olympic and Paralympic games would take place over five weeks in July and August 2024 in venues from the beach to the Hollywood Hills, the city says in the documents. Proposed facilities, most of which already exist, include AEG Worldwide's Staples Center and the Los Angeles Memorial Coliseum, which hosted the previous games.
Garcetti and other leaders are working to assemble a budget by a Sept. 15 deadline. Garcetti said the City Council vote to proceed with the games doesn't commit the city to spend any money.
Significantly Exceed
City Administrative Officer Miguel Santana, the chief financial adviser to the mayor and council, released an analysis of the bid Aug. 27, saying he couldn't verify the mayor's cost and profit estimates.
The proposed Olympic Village to accommodate 17,000 athletes, to be built on land owned by Union Pacific Corp., may "significantly exceed" the $1 billion estimate, Santana wrote.
City Controller Ron Galperin has said it would be "imprudent" to stick taxpayers with the bill.
The City Council voted 15-0 Tuesday to authorize Santana and Chief Legislative Analyst Sharon Tso to negotiate for the city. They have until mid-2017 to develop a detailed budget and pitch it to the International Olympic Committee, which is to make a final decision that September.
The City Council also would get to vote on terms of the contract.
Before it's here, it's on the Bloomberg Terminal.
LEARN MORE