Where Donald Trump and Ted Cruz Completely Disagree on Immigration
While the Texas senator wants to increase legal immigration, the GOP front-runner wants to do just the opposite.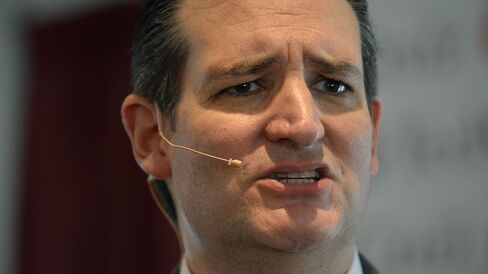 Republican presidential candidate Ted Cruz says he was an across-the-board immigration hawk before Republican front-runner Donald Trump made it cool.
"Virtually every element in the proposal he submitted is contained within legislation that I filed years ago years ago in the United States Senate," the Texas senator said Wednesday on the Michael Medved radio show.
Well, not quite.
Though Cruz's get-tough attitude on illegal immigration certainly matches Trump's, the two men differ vastly on policies involving legal immigration. While the real estate mogul's plan calls for a swath of protectionist measures to curb legal immigration, Cruz has championed an expansion of legal immigration, arguing it would help the economy.
During the 2013 immigration debate, the Texas senator proposed an amendment to the comprehensive "gang of eight" Senate bill that he boasted would "dramatically increas[e]" the annual limit on H-1B skilled guest worker visas—from 65,000 to 325,000—a five-fold expansion. At the time Cruz cited a study by the American Enterprise Institute, a conservative think tank, which found that immigrants with advanced degrees "boost employment for US natives."
"I strongly support legal immigration. Legal immigration is a fundamental pillar of our nation's heritage, and I was pleased today to offer legislation that would have improved and expanded legal immigration by dramatically increasing the cap for high-tech temporary worker visas," Cruz said on May 14, 2013. "This amendment would not only improve the current system, but would also encourage economic growth and create new jobs in America."
When the Judiciary Committee voted down his amendment in favor of a 180,000 limit for H-1B visas, Cruz said he was "disappointed."
Trump's plan, unveiled Sunday, instead curtails the H-1B program by imposing new barriers for businesses seeking to sponsor foreign workers for a visa. It raises the "prevailing wage" that prospective workers must be paid to qualify, and requires that employers try to hire domestic workers first by mailing petitions to the unemployment office.
"Raising the prevailing wage paid to H-1Bs," Trump wrote, "will force companies to give these coveted entry-level jobs to the existing domestic pool of unemployed native and immigrant workers in the U.S., instead of flying in cheaper workers from overseas."
The former reality TV star's ideas, while attacked by the typically Republican-aligned Chamber of Commerce, were music to the ears of conservative immigration restrictionists who have long inveighed against the H-1B program, including Alabama Senator Jeff Sessions, who reportedly helped craft Trump's policy. Wisconsin Governor Scott Walker, a Republican presidential candidate, earlier this year lauded Sessions and cast doubt on the virtues of legal immigration.
Former Pennsylvania Senator Rick Santorum, another Republican candidate who has been critical of legal immigration, said Thursday in a speech in Washington, D.C. that Walker and Trump were following his lead. He said his ideas to curb legal immigration were "in stark contrast with other Republicans, particularly Ted Cruz, who seeks to increase H1Bs five-fold."
Cruz, who was born in Canada to an American mother and Cuban father, has struck up a friendly relationship with Trump, which may be an attempt to court the front-runner's large following of supporters.
A Cruz campaign spokesperson didn't respond to messages seeking comment.
Before it's here, it's on the Bloomberg Terminal.
LEARN MORE