Vitamins and Caviar: Getting to Know Melania Trump
She is a decorous, gracious, glamorous wife and mother. A model for first lady?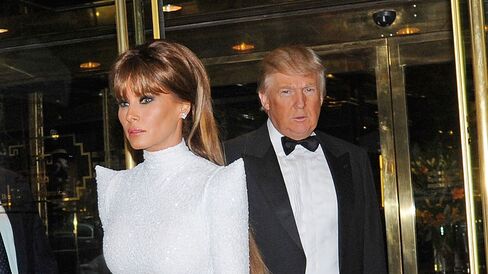 Four years ago, the Slovenian former supermodel Melania Trump stood in a belted white dress that sang of Hamptons summer, sleek pumps on her feet and a pale pink clutch in her manicured grip. She squinted. She smoldered. But she was neither on runway nor red carpet. Melania Trump, the longtime pin-up and cover girl, was posing outside an Applebee's in Times Square. She was there to bear witness to the friendship between the two people beside her: her husband, Donald Trump, and the former Alaska governor Sarah Palin.
A year later, the Trumps hosted another Capitol Hill hopeful in their Gotham playground: they threw a 63rd birthday bash for Ann Romney that doubled as a campaign fundraiser for Ann's husband, Mitt, the former governor of Massachusetts. Again, an opportunity for Donald to trumpet his friendship with a Republican politician; again an opportunity for Melania to pose. This time she chose hot pink and a forced smile. She stood beside Ann, before the gilded columnary of Trump Tower, showing off a very special birthday cake: dainty flowers, green pastures, three odd tree stumps, and a sugary figurine of Ann Romney on a horse that could only have been Rafalca.
When Ann Romney's husband was the Republican nominee, Ann was a vocal presence on the campaign trail. (And Melania a tweeter of support.) Today, it is Melania's husband, the opinionated Donald, who is leading the Republican pack. When Donald launched his campaign in June, Melania was by his side on the long escalator ride down to his microphone: sun reflecting on the building's well-shined white-veined pink marble, beaming like a spotlight on the celebrity couple. But she has yet to appear in Iowa or in New Hampshire. And while Melania has quoted and posted her husband's announcement, she has not yet waded into the political conversation.
https://instagram.com/p/3_vGGrmhdq/
When Jeb Bush was still the Republican front-runner, the whisperers of Washington whispered about his wife, Columba Bush, who famously once said that she is "not a political person." Columba seemed wary of entry into the Bush family business, but the consensus was that, for the third Bush to ascend to the White House, she'd have to take part in the campaign.
Trump's campaign, more in the Palin-maverick mold than an establishment-Romney one, has hardly followed the rules or strategies of decorum. And yet, now that he's ahead, the question arises: when might Melania join her husband on the trail or at the podium? What does she, his wife, make of his discussion of Megyn Kelly—and other women? She would be the first foreign-born first lady since John Quincy Adams's wife, Louisa. What does she, an immigrant, think of her husband's forceful commentary on immigration policy? What kind of a first lady would she be? (Melania Trump was not available to speak with Bloomberg, according to a spokesperson for the Trump campaign.)
It seems clear that First Trumps would bring quite a change to Washington. President Barack Obama and the first lady, Michelle Obama, have been a White House model of a new kind of gender equality—they met, after all, when Michelle was Barack's supervisor at a law firm. (It bears noting that Michelle, like Hillary Clinton, is an attorney.)
Would having the Trumps on Pennsylvania Avenue return us to the era of a masculine man, who doesn't change diapers, and the feminine woman, preening, perfectly polished, ruling the home sphere?
Not that the Trumps could exactly be called traditional.
Born Melanija Knavs (pronounced Kuh-NAUS) in Sevnica, Slovenia, in the former Yugoslavia, Trump's third wife spent her childhood winters skiing and her summers on the shore. Her family was well-off: Her father managed car and motorcycle dealerships. Her mother was a fashion designer. Melania started modeling when she was five. She studied design and architecture in Ljubljana. At eighteen, she signed with a modeling agency in Milan. She bopped between Milan and Paris, shooting ad campaigns, magazine spreads (Sports Illustrated swimsuit issue, Vanity Fair) and magazine covers (Vogue, New York Magazine, Harper's Bazaar), working with high-fashion photographers (Patrick Demarchelier, Helmut Newton, Mario Testino). In 1996, she came to New York. In 1998, at a party, she met Donald Trump, 24 years her senior. (She's recalled, "It was a fashion party.") She wouldn't give him her number. "I am not a girl who will just give away the number to anybody," she told the New York Times, which described Melania's strong Eastern European accent as one "that can render scrambled eggs caviar."
But she got his number, and, three days later, she called. The following year, the couple called in and spoke to Howard Stern on air. Stern asked what she was wearing, she said, "not much." She raved about their sex life. (On another Howard Stern appearance, according to the Daily Beast, Trump told Stern that despite knowing Paris Hilton "since the age of 12 and being very close friends with the Hilton family," he and Melania had watched her sex tape. Per the New York Post: "Melania told Howard Stern she and The Donald enjoyed 'incredible sex' at least once a day—sometimes 'even more.' 'We have a great time,' she cooed as Trump gushed about how hot Melania looked in 'a very small thong.'") In 2000, she posed atop a rug of white fur, for the cover of British GQ, wearing only some sort of sparkly choker.
In 2005, Melania and Donald got married in a large ceremony in Palm Beach, Florida, at the Palm Beach Episcopalian church. (They managed to shrug off the church's usual pre-wedding requirement of six weeks of religious training.) Trump built a white and gold ballroom at the Mar-a-Lago resort for the reception. Billy Joel serenaded the crowd, and rewrote the lyrics to "The Lady Is a Tramp" for the occasion. Guests included Shaquille O'Neal, the Giulianis, the Patakis, Katie Couric, P. Diddy, Heidi Klum, Kathy Hilton, Lord Conrad Black, and Anna Wintour, who put Melania on the cover of Vogue in her Christian Dior gown, for which the embroidery alone required 550 hours of labor. ("Donald Trump's New Bride: The Ring, the Dress, the Wedding, the Jet, the Party," went the cover line to the article titled, "How to Marry a Billionaire.")
The Clintons were there, too, of whom Tina Brown, another guest, wrote, in a column for the Washington Post: "Bill and Hillary Clinton were there to do what they always like to do for R&R: raise money." (Donald Trump, in the recent Republican presidential debate, characterized their attendance as a kind of quid pro quo: "I'll tell you what, with Hillary Clinton, I said, 'Be at my wedding,' and she came to my wedding. You know why? She had no choice. I gave to a foundation." For her part, Clinton stated last week, "I happened to be planning to be in Florida and I thought it would be fun to go to his wedding because it is always entertaining,")
Brown, a scholar of women and of royals, observed Melania closely. She wrote:
Underneath all her fabulousness and gloss, Melania Knauss's staying power in his life is based on a shrewd understanding of her quasi-commercial role. One feels she will not make Ivana's mistake of competing with the Trump brand. But she also knows, as second wife Marla Maples did not, the difference between being mere arm candy and high-definition product enhancement. As one of her friends put it, "For Melania it's never, Ask what the Donald can do for you. It's, Ask what you can do for the Donald."
Privileged though he may be, Donald Trump prides himself on being penny-wise. He got a 13-carat engagement ring at half off, in exchange for putting the jeweler on television. Jean George Vongerichten cooked for free. And, Trump said beforehand, "I'll do my own hair … unfortunately for the world."
The couple signed a prenup, about which Donald Trump told Liz Smith over lunch at Le Cirque: "And the beautiful thing is that she agrees with it. She knows I have to have that."
The following year, in March 2006, Melania gave birth to their son, Barron William Trump—but not, mind you, before posing again for Vogue: seven months pregnant, in a golden bikini, on the airstairs of her husband's private jet. She seems to remember it fondly:
Barron speaks Slovenian, English, and French, and has his own Twitter profile—@BARRONTRUMP—with zero tweets so far. He follows only his mother. Donald might feel left out.
But they have an understanding, when it comes to child-rearing. Melania told Parenting.com of their arrangement. Of her husband as a father:
He is very busy. He spends quality time with Barron. They have a beautiful relationship full of respect and love. New York is our home base, but we spend a lot of time in Mar-a-Lago [in Palm Beach, Florida]. There they play golf, spend time together, eat dinner together, and we enjoy family time. It is always a really special time. He didn't change diapers and I am completely fine with that. It is not important to me. It's all about what works for you. It's very important to know the person you're with. And we know our roles. I didn't want him to change the diapers or put Barron to bed. I love every minute of it.
Of Barron, several years more grown up, she told the Daily Mail that he applies his mother's vitamin and caviar skin products each night—also that he is "not a sweatpants child," that he likes to wear a suit and tie.
"I call him 'Mini-Donald,'" she said. When he was five, she told Joy Behar how mature he was. "He's bossing everybody around," she said. "He fired nannies, fired housekeepers. And it's very cute, you know? And then he hires them back, and one day he's like that; one day, that way and it's very cute. Adorable."
Melania has been asked if they plan to have more children. She told the Daily Mail in 2013, "'I don't like to say never, but my life is very busy. We are happy and my hands are full with my two boys—my big boy and my little boy!'" It was a formulation she'd used before, almost to the word.
Since she has become a Trump, a lifestyle that includes a private spa in her apartment, she has appeared on Oprah, on Fox and Friends, and of course, on The Apprentice. And like every well-heeled New York woman of a certain social strata, she has entered the realm of luncheons for causes, and galas galore. (Her website biography notes, "The aqua-eyed beauty has thrived on the cultural diversification of New York City. This passion can only be surpassed by her dedication to helping others, and her generosity has been noted.") Melania Trump has been involved with the Martha Graham Dance Company, The Boy's Club of New York, The American Red Cross. In 2006, she was a Woman of the Year of the Police Athletic League, an organization her husband has long supported. In 2008, she rang the closing bell at NASDAQ to commemorate the Fifth Annual National Love Our Children Day and the beginning of National Child Abuse Prevention month.
She also shares her commitment to humanitarian organizations:
In truth, whatever the occasion, however poor the camera's focus, a great many of Melania's tweets feature pictures of herself.
And, naturally, in this family, Melania Trump has become her own business and brand. In February 2010, she launched her first jewelry collection with QVC: "Melania™ Timepieces & Jewelry." It sold out in 45 minutes, and her husband was the first caller. Her pieces are often cheaper versions of expensive jewels that she owns. "I like to help women to spend not a lot of money—to feel powerful, elegant, glamorous, to feel good about themselves," she said in one interview.
Three years later, she created her Skin Care Collection: "Melania™ Caviar Complexe C6." When a beauty company failed to promote her line, she sued for $50 million in damages.
Earlier this year, the Trumps celebrated their ten-year anniversary. Melania says that her husband may be a "general" in business, but that they have equality in their relationship. She said in an interview in 2011, "He's a great husband, very understanding if I need time for myself. We are both very independent. He works in the office, I work at home and he understands that. If I say I need an hour—I'm going to take a bath, or I'm having a massage—he doesn't have nothing against it. He's very supportive in that way."
Her Twitter profile is a parade of sexy photographs, a kind of public flirtation to this point unknown among presidential candidates. There is a touch of Kanye and Kim to this kind of luxury-streaked romance.
Then there is straight itsy-bitsy teenie-weenie white bikini exhibitionism:
Not that Melania is merely a prop, an object—she seems perfectly her own creation. And she does, when it's called for, evince a Trumpian temper herself:
But on the whole, Melania is the decorous, gracious, glamorous wife:
And mother:
She's sexy and she knows it, and she also seems to know what part to play. Arm candy to a billionaire? With relish.
And surely there are American voters who would look at the union of Donald and Melania and rejoice in this image: the macho man in the dark suit, the astonishingly elegant woman in the gown. Donald Trump talks border walls: here comes another kind of security.
In 1999, the New York Times asked Melania what her role would be were Trump ever to become president. She was 26 at the time, and they would not marry for six years. But Melania replied, "I would be very traditional. Like Betty Ford or Jackie Kennedy. I would support him."
Before it's here, it's on the Bloomberg Terminal.
LEARN MORE