Bernie Sanders' Eye-Popping West Coast Swing: 3 Days, 70,000 Cheering Supporters
The Democratic candidate wraps up his trip in Los Angeles.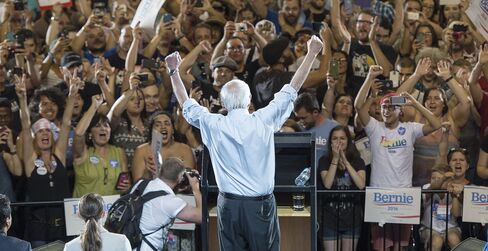 Some 27,000 people descended Monday night on the Los Angeles Memorial Sports Arena, which has hosted acts such as Madonna and Pink Floyd, to hear from a raspy-voiced 73-year-old who has become the 2016 political season's breakout star.
For Senator Bernie Sanders of Vermont, the Democratic presidential candidate and self-proclaimed socialist, it was the third staggeringly large crowd in three nights that capped a west coast swing that put his political rivals on notice. From fellow white-haired activists to youth wielding signs depicting him as "Bernie Man," his head grafted onto a stick figure representing the counterculture Burning Man festival in Nevada, his fans turned out in numbers that other candidates might only dream of at this early stage in the race.
Also on Bloomberg Politics: Bernie Sanders Takes on Clinton Welfare Legacy as He Woos Iowa Unions
The crowd packed the Los Angeles arena and spilled into an overflow area outside, where people cheered under the palm trees as Sanders spoke for an hour, denouncing income inequality and money in politics and supporting gay marriage and abortion rights and free tuition at public universities.
https://twitter.com/BernieSanders/status/630934918189719552
"This is a bigger buildup, a bigger grassroots thing than Howard Dean," said Allen Peters, a 73-year-old doctor wearing a T-shirt from the failed 2004 Democratic presidential candidate from Vermont, also a darling among liberals. "Bernie Sanders is in a better place than Howard Dean was at this time. We always have to worry that Hillary and her bank buddies will knock him down."
Sanders himself did not mention former Democratic front-runner Hillary Clinton or any Republican candidates during his speech, which drew sustained and rapturous applause and cheers when he voiced support for universal health care, legal rights for undocumented immigrants, and higher minimum wages. He repeated his call for a "grassroots political revolution" that would upend the economic system, which he said is rigged to benefit the elite.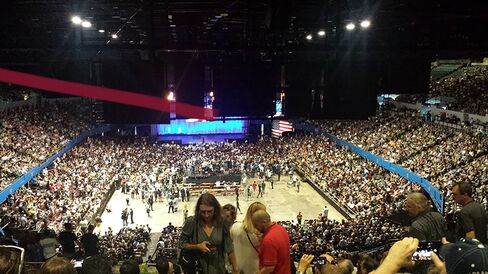 "We are going to create an economy that works for all people, not just a handful of billionaires," he said.
The crowd included people like Peters, who've seen their hopes for more liberal candidates dashed before, as well as first-timers like Ellis Douma and Katherine Noble, both 18-year-olds from suburban Valencia.
"Age is just a number," Noble said while waiting in a line that snaked around the sports arena. "He has a really strong message for all people. For people our age, it's definitely student loans and getting money out of politics."
Sanders has brought out roughly 70,000 people to rallies in Portland, Ore., and Seattle, Wash., since Saturday, adding to big totals seen in places as far ranging as Dallas, Texas and Madison, Wis., as his candidacy electrifies liberals disillusioned with the more centrist course pursued by Clinton.
WATCH: Can Bernie Sanders Beat Hillary Clinton in New Hampshire?
On Saturday, Sanders left a stage in Seattle after protesters from the Black Lives Matter movement, which has spoken out against racism and police abuses, disrupted one of his speeches. His appearance in Los Angeles was not interrupted, and the candidate declared that no one else "will fight harder to end institutional racism."
As thousands lined up outside the arena for the event, Sanders volunteers fired up the crowd by yelling "Feel the Bern!" Later, they informed would-be spectators that the arena was filled to capacity and some people would need to watch the speech outside the arena, at which point some broke from the line and headed to the doors.
Sanders, once done with his speech, went outside and addressed the overflow crowd directly.
"The atmosphere was electric," said Richard Graham, an author who drove up from San Diego with friends to see Sanders.
Before it's here, it's on the Bloomberg Terminal.
LEARN MORE