Rick Perry and Rick Santorum Left Off the Republican Debate Stage
The network releases the lineup for the first GOP debate.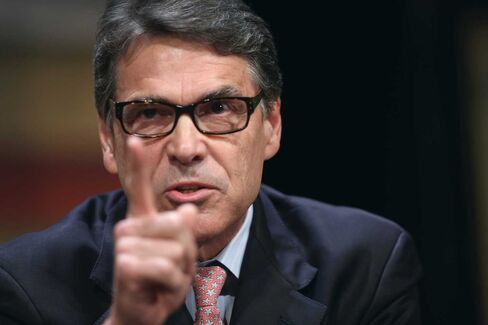 New Jersey Governor Chris Christie and Ohio Governor John Kasich will appear on stage for the first Republican presidential debate Thursday evening while former Texas Governor Rick Perry, former Pennsylvania Senator Rick Santorum, and Louisiana Governor Bobby Jindal didn't make the cut, debate host Fox News said Tuesday.
Christie and Kasich will be joined by billionaire Donald Trump, former Florida Governor Jeb Bush, Wisconsin Governor Scott Walker, retired neurosurgeon Ben Carson, former Arkansas Governor Mike Huckabee, Texas Senator Ted Cruz, Florida Senator Marco Rubio and Kentucky Senator Rand Paul in the prime-time debate, the network announced on air on Tuesday evening.
Kasich, whose late entry into the race appeared to give him just enough momentum to break through in the crowded field, celebrated the news that he had avoided being omitted from the stage in his home state.
"It's only fitting that this phase of the Republican presidential nomination begins in Ohio—the Mother of Presidents. After all, no Republican has ever won the presidency without Ohio," Kasich said in a statement following Fox's announcement. "As governor, I am glad to welcome my fellow debate participants to our great state and I look forward to discussing the issues facing our country with them on Thursday."
Along with Perry, Santorum, and Jindal, former Hewlett-Packard CEO Carly Fiorina, South Carolina Senator Lindsey Graham, former New York Governor George Pataki and former Virginia Governor Jim Gilmore failed to meet Fox's criteria for the prime-time debate but are eligible to appear at a televised forum Thursday afternoon in Cleveland, the network said.
Immediately after Fox announced what candidates had made the cut, the Republican National Committee released a statement praising the quality of candidates who will be included.
"Our field is the biggest and most diverse of any party in history and I am glad to see that every one of those extremely qualified candidates will have the opportunity to participate on Thursday evening," RNC Chairman Reince Priebus said in the statement. "Republicans across the country will be able to choose which candidate has earned their support after hearing them talk through the issues."
Fox said in May that candidates who placed "in the top 10 of an average of the five most recent national polls, as recognized by FOX News leading up" Tuesday at 5 p.m. ET would earn spots in the prime-time debate, which Facebook is co-hosting. "Such polling must be conducted by major, nationally recognized organizations that use standard methodological techniques," the network said.
Eligibility concerns
The Republican National Committee sanctioned the debate after the 2012 election triggered concern that the party's broad field conveyed disunity and made it hard to unseat President Barack Obama. But Fox's criteria drew complaints from lower-polling candidates who said the network was merely engaging in a popularity contest and usurping voters' responsibility for winnowing the field.
Movie star Brad Pitt "would have a better shot of being on the debate stage than real candidates for president" because the "criterion favors celebrities and candidates who have run previously with high name recognition," Senator Lindsey Graham of South Carolina said in an e-mail to supporters July 7.
Republicans and local media figures in New Hampshire, which traditionally hosts the nation's first primary in presidential election years, blasted the Fox criteria in an open letter and a forum held in Manchester on Monday that drew 14 candidates, respectively.
Even one major polling organization objected to the format: Marist announced Sunday that it would temporarily suspend its Republican primary poll because the debate criteria "assume too much precision in polls in drawing a line between candidates just a fraction apart, presume that the national polls being averaged are comparable, and turn the media sponsoring most of the polls from analysts to participants."
Both Fox and the RNC say they are providing the largest-ever debate stage and ensuring opportunities for all candidates to have their voices heard.
The Trump factor
The presence in the debate of Trump, a bombastic and unpredictable real estate mogul who has long flirted with running for president, has caused particular angst. Trump has freely attacked many of his fellow Republicans and has a knack for grabbing attention that could limit the notice that other candidates get from standout performances. He had a double-digit lead over the next closest competitor, Bush, in a Bloomberg Politics national poll of registered voters who identify as Republicans that was published Tuesday.
With the debate rules' emphasis on national name recognition, many candidates turned to tactics seen as an attempt to elbow their way into the Trump-dominated headlines, including chain-sawing the tax code (Paul), destroying a cellphone with a baseball bat (Graham), and likening Obama's Iran nuclear deal to marching Israelis "to the door of the oven" (Huckabee).
"It's a group of assertive folks up there, and I think we'll be heard whether you're one, three, seven or nine," Christie, who himself has a reputation for blunt talk, said Saturday. "I think all of us want to have an opportunity to say what we need to say. I count on the fact that Fox will be fair about doling out the time to everybody."
For his part, Trump said Saturday he is "not a debater" and doesn't plan to go on the offensive unprovoked.
The rules
Fox News personalities Bret Baier, Megyn Kelly, and Chris Wallace will moderate the two-hour debate. Candidates will get one minute to answer each question addressed to them by the moderators, according to two people familiar with the network's plans. Candidates who are called upon will be given 30 seconds for rebuttals. If a candidate's name is invoked during someone else's answer to a question, that candidate will get a chance to respond for a length of time at the moderator's discretion.
As the candidate with the highest poll average, Trump is expected to stand at the center of the stage, with lower-polling candidates fanned out in alternating order to the left and right.
—With assistance from Kendall Breitman
Before it's here, it's on the Bloomberg Terminal.
LEARN MORE