Donald Trump Dominates Republican Field in Pre-Debate Bloomberg Poll
Governors Chris Christie of New Jersey and John Kasich of Ohio rank in the top 10.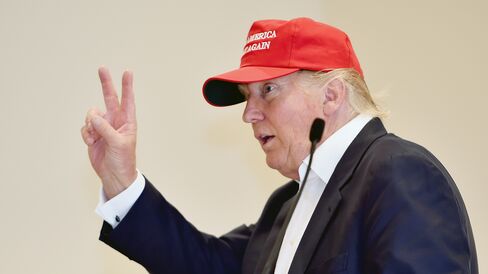 Billionaire Donald Trump is lapping the Republican field, a new Bloomberg Politics national poll shows, as two prominent governors, Chris Christie of New Jersey and John Kasich of Ohio, rank in the top 10 ahead of the first presidential debate.
Trump was backed by 21 percent of registered voters who identify as Republicans, followed by former Florida Governor Jeb Bush at 10 percent and Wisconsin Governor Scott Walker at 8 percent.
"Donald Trump is going to continue to grow because we need somebody who is strong," predicted poll participant Janet Roberts, 69, a nurse in Bellville, Ohio. "He has the balls to stand up against the career politicians."
Read the questions and methodology here.
Fox News, the host of Thursday's debate in Cleveland, plans to allow on stage the 10 candidates who fare best in an average of the five most recent national polls. The network hasn't said which polls it will consider, other than that they "must be conducted by major, nationally recognized organizations that use standard methodological techniques" and done before 5 p.m. ET Tuesday.
If the Bloomberg survey were the sole decider, the candidates on the debate stage would be, in descending order, Trump, Bush, Walker, former Arkansas Governor Mike Huckabee, Senator Marco Rubio of Florida, Senator Rand Paul of Kentucky, retired surgeon Ben Carson, Christie, Senator Ted Cruz of Texas and Kasich. The remaining candidates in the historically crowded field have been invited to a forum that will be broadcast earlier Thursday when there are typically fewer viewers.

"It could well be that the dividing line between those who make the primetime stage and those who get the consolation gift is a single percentage point—the difference between 3 percent and 2 percent," said J. Ann Selzer, president of West Des Moines-based Selzer & Co., which conducted the poll from Thursday through Sunday evening. The survey included 500 adults who say they're registered Republicans or registered as no party but lean Republican.
The poll had Huckabee at 7 percent, while Rubio recorded 6 percent. Carson and Paul had 5 percent, while Cruz, Christie and Kasich were at 4 percent.
Former Texas Governor Rick Perry and former Senator Rick Santorum of Pennsylvania were at 2 percent, while Senator Lindsey Graham of South Carolina, Louisiana Governor Bobby Jindal, and former Hewlett-Packard CEO Carly Fiorina recorded 1 percent. Former New York Governor George Pataki and former Virginia Governor Jim Gilmore both failed to reach 1 percent.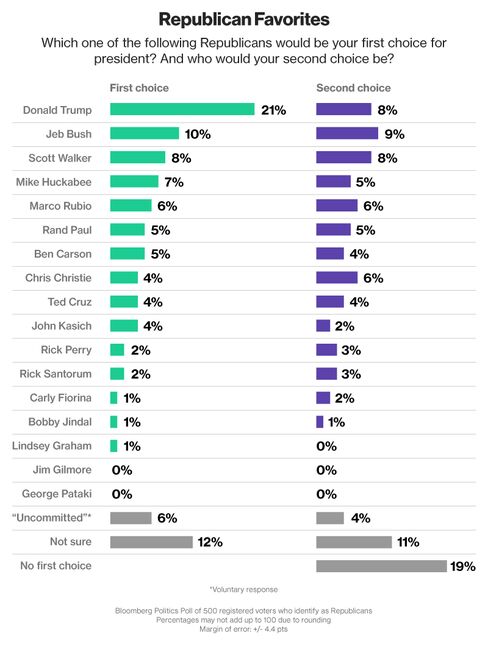 Kasich, Perry, and Christie especially have stepped up their efforts in recent days to boost their poll numbers ahead of the cutoff, perhaps even triggering a tie that might convince Fox to include an 11th candidate on stage.
With the exception of moderates, Trump has the edge among all subgroups measured in the Bloomberg poll. His smallest margins of victory are with evangelicals and those with incomes over $100,000. Bush edged him by one point among moderates, who made up 28 percent of respondents. (The margin of error in subgroups like these is higher than the overall margin of error, which is plus or minus 4.4 percentage points.)
Besides objections from candidates at the bottom of the polls, the Fox cutoff has also been criticized by some pollsters because it implies a greater level of precision than surveys can realistically offer. The McClatchy-Marist Poll has temporarily suspended its polling of Republican primary preferences because of concern that polling is being misused to decide who will be in and who will be excluded.
A strong majority in the Bloomberg poll, 71 percent, approve of the Fox rules. A narrower majority, 52 percent, want to see the Republicans play nice and avoid criticism of each other so as not to damage the ultimate nominee. Roughly four in 10 say the candidates should go after fellow Republicans with direct critiques, to show points of difference.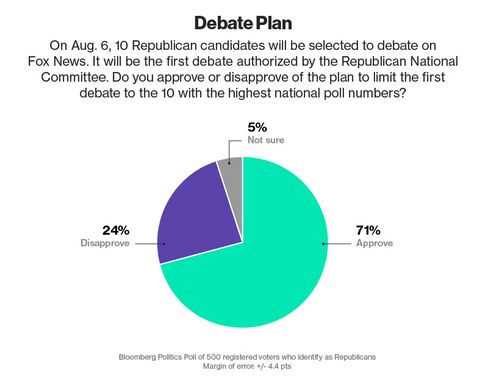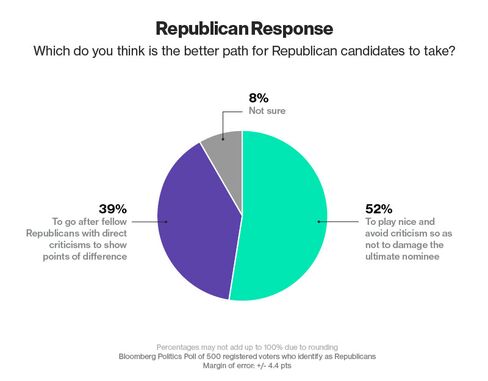 Trump's summer surge has come at the expense of other Republicans, including Bush, Walker, and Rubio, who have seen their national poll numbers drop since Trump's official entry into the race seven weeks ago. Those who picked Trump as their first choice in the Bloomberg poll most commonly pick Bush (16 percent), Walker (13 percent), and Christie (9 percent) as their second choice.
David Kearns, 66, a quality inspector in the electronics and metals manufacturing industry who lives in Boonton Township, New Jersey, said he's backing Trump because he likes the candidate's unscripted nature and willingness to confront others.
"He's the first one in I don't know how many years who has actually been non-political and not measuring everything he is going to say with a political poll," he said. "He has brought a breath of fresh air into the political spectrum."

Read more about the wide Republican field angling for the 10 available spots in the upcoming debates.
Before it's here, it's on the Bloomberg Terminal.
LEARN MORE