Planned Parenthood War Is About to Force a Stark Choice for GOP Candidates
Rubio, Cruz, Graham and Paul are caught between the passions of the base and their responsibility to keep government running.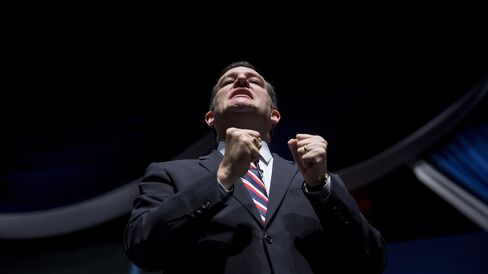 Republican presidential candidates will soon be forced to decide whether their party should shut down the federal government in a quest to defund Planned Parenthood.
With conservatives aghast over recently unveiled videos showing the group's officials discussing the cost of aborted fetal tissue, some activists are demanding that the Republican-led Congress shut down the government on October 1, when money expires, unless Democrats agree to rescind the roughly $500 million in federal funds that the women's health provider receives annually.
"Shut down the government if that is what it takes. Shut it down now," declared conservative radio host and Fox News contributor Erick Erickson. "If we cannot stand on this high ground, we should not stand at all. Children are being ripped apart and their hearts, brains, lungs, and livers sold. Is this not a fight worth having?"
As senators, four of the 17 Republican contenders are caught between the passions of the base and their responsibility to keep government running. At least some of them might seize on the moment to boost their ailing campaigns.
"If Republicans do not defund Planned Parenthood," Erickson warned, "they will see a great portion of their base vanish overnight. That is not an exaggeration."
Texas Senator Ted Cruz, the star of the 2013 shutdown over defunding Obamacare, indicated to Politico that he will support using the same tactic to try and strip taxpayer money from Planned Parenthood this fall. "I would support any and all legislative efforts to defund Planned Parenthood," he said. "We do not need a legislative show-vote."
Florida Senator Marco Rubio, who is struggling in the polls, is enlisting supporters on his website with the message: "It's time to defund Planned Parenthood now." Kentucky Senator Rand Paul, who is also struggling to gain traction, co-sponsored the bill unveiled Wednesday to defund Planned Parenthood, and called on Democratic front-runner Hillary Clinton to back it.
Then there's South Carolina Senator Lindsey Graham, who has opposed shutdown tactics in the past. Though he barely registers in Republican primary polls, he's not changing his colors, telling Newsmax TV on Thursday that "we'll never get a bill signed into law that defunds Planned Parenthood because Obama won't sign it." (Congressional Democrats have also made clear they'll oppose the effort.)
Outside the Beltway, candidates have less to lose by calling on the Republican-led Congress to use scorched-earth tactics in service of the cause du jour. Opposition to abortion rights is a signature issue for underdog candidates like Mike Huckabee and Rick Santorum.
And how will Wisconsin Governor Scott Walker—who was criticized recently by Cruz for opposing the 2013 shutdown over Obamacare—handle it? The top-tier Republican candidate is placing a heavy emphasis on Iowa, where the first-in-the-nation caucuses feature an outsize chunk of evangelical Christian voters who are energized by the Planned Parenthood issue.
Bloomberg asked Senate Majority Whip John Cornyn, a Texas Republican, if Republicans would attach a measure defunding Planned Parenthood, which could face a Senate vote as early as Monday, to government funding legislation. "I'm confident we'll use every resource available to us, every tool," he said. If a standalone bill fails, he continued, "I think you'll see it in other manifestations."
Meanwhile, 18 House Republicans have written a letter to leaders saying they "cannot and will not" support a government funding bill that "contains any funding for Planned Parenthood."
It's an ongoing dilemma for Republican leaders that resurfaced again in 2015 over President Barack Obama's executive actions on immigration: they want to energize their base, but when they try, the base asks them to go to politically dangerous ends to achieve their goals.
Next week, after the first Republican presidential debate, many candidates are slated to appear at the annual RedState Gathering in Atlanta, including Jeb Bush, Rubio, Walker, Cruz and Huckabee. The host of the gathering? Erickson. And he has made his intentions clear.
https://twitter.com/EWErickson/status/627114464660357120
That Planned Parenthood won't be defunded on Obama's watch is all but obvious. The question is whether Republican presidential candidates will push their leaders into an Obamacare-esque battle that they're highly unlikely to win, and that could damage their standing if voters again blame Congress for a potential shutdown.
Before it's here, it's on the Bloomberg Terminal.
LEARN MORE