Bernie Sanders Finds Warm Welcome in Louisiana, a Red State
The Democratic presidential candidate draws a crowd of 4,500, his campaign estimates—more than Governor Bobby Jindal reportedly got at his campaign announcement.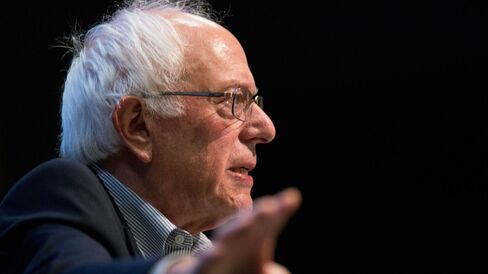 Democratic presidential candidate Bernie Sanders drew a crowd of about 4,500 people to a rally in Kenner, Louisiana, on Sunday, his campaign estimated, continuing his pattern of gathering enthusiastic audiences across the country.
While the audience at the Pontchartrain Center wasn't the biggest the Vermont senator had seen, it was noteworthy in another way: A month earlier, Republican Governor Bobby Jindal drew a crowd of about 1,000 people to the same venue for his presidential campaign announcement, according to the Times-Picayune.
"Some people told me that Louisiana was a conservative state," Sanders told the audience. "Guess not."
In recent weeks, Sanders has drawn large crowds in left-leaning college towns like Madison, Wisconsin, and Burlington, Vermont, but also red-state cities like Phoenix (11,000), Dallas (8,000), and Houston (5,200). The site of Sunday's rally was about 12 miles west of New Orleans, one of the blue dots in an otherwise conservative state. (Republican Mitt Romney won Louisiana with 58 percent of the vote to President Obama's 40 percent, but Obama won 80 percent of the New Orleans vote.)
"I think my colleagues in the Democratic Party have made a very, very serious mistake," said Sanders, an independent in the Senate who caucuses with the Democrats. "And that is, they have kind of written off half of America, including Louisiana. And I'm here to tell you that the time is now for us to fight in 50 states in the country."
Sanders recited several familiar parts of his stump speech, calling for three months of paid family leave for new parents, two weeks of paid vacation for workers, free public college, raising the minimum wage to $15 per hour, and a federal jobs program to rebuild infrastructure.
"Our roads are crumbling. Our bridges are crumbling," Sanders said. "You know about water systems here in Louisiana."
On climate change, Sanders acknowledged that the state relies heavily on fossil fuels and the jobs they create. "There's another issue that I am not insensitive to, the fact that I am in Louisiana, where there's a lot of fossil fuel," Sanders said. But, he said, "in terms of climate change, the debate is over."
His comments came the same day former Secretary of State Hillary Clinton, who is leading in primary polls, unveiled her own climate change agenda.
Sanders said, as he has before, that the U.S. needs to move away from fossil fuels to more sustainable energy forms like wind, solar, and geothermal. "I am more than aware," he said, "that there will be economic dislocation, and as part of any climate change legislation we must protect those people who will lose their jobs, and help them get good jobs." He didn't elaborate on how that transition for workers would work.
Near the end of his speech, Sanders turned to racial inequality to discuss Sandra Bland, a 28-year-old black woman who was found dead in a Texas jail this month after being arrested during a traffic stop.
"When an African-American woman gets yanked out of her car—" Sanders said, before being interrupted by nearly half a minute of loud cheers from the crowd at the mention of the Bland story. Last weekend, Sanders faced protests by Black Lives Matter activists who called on the senator to say Bland's name.
"When that happens, and when we all know that wouldn't have happened to a middle-class white woman, we know that we need some serious change in criminal justice in this country," he said.
During interviews before and after the rally, Sanders supporters praised his platform and his consistency, but were less optimistic about what role his appearance in Louisiana, which is set to hold its Democratic primary nearly a month after the Iowa caucuses, will play in the state.
Chris Ambrogio, a 23-year-old recent graduate from Louisiana State University, said he appreciated Sanders's "unabashed criticism of the oligarchs controlling this country" but was less optimistic about his chances in the state. "We're gonna go red regardless, everyone knows that," even if a more "conservative" Democrat like Clinton wins the nomination, Ambrogio said.
Todd Malinario, a 33-year-old cashier from New Orleans, said gaining traction in Louisiana would definitely be an uphill battle for Sanders, "but if he can reach the working class, and he can get his message out there, I'm confident it will resonate with a lot of people."
Before it's here, it's on the Bloomberg Terminal.
LEARN MORE