Republicans Rebuke Ted Cruz for Floor Remarks on McConnell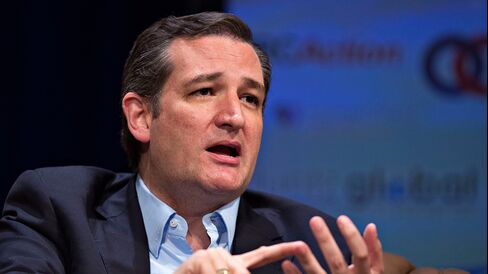 U.S. Senator Ted Cruz drew rebukes Sunday from fellow Republicans for attacking Majority Leader Mitch McConnell on the Senate floor and using the chamber to advance what one lawmaker called "personal ambitions."
The anger at Cruz, a 2016 Republican presidential candidate, came after the Texan called McConnell a liar on Friday for allowing a vote on an amendment to a highway funding bill that would re-charter the U.S. Export-Import Bank.
Cruz complained that McConnell, who also opposes the Ex-Im Bank, had promised him and other Republicans that there would be no deal to allow the Ex-Im amendment.
"I cannot believe he would tell a flat-out lie," Cruz said during a floor speech Friday.
Senators responded during a rare Sunday session before advancing the Ex-Im amendment on a 67-26 vote.
"Regrettably, in recent times, the Senate floor has too often become a forum for partisan messaging," said Senator Orrin Hatch of Utah.
"It has been used as a tool to advance personal ambitions, a venue to promote political campaigns, and even a vehicle to enhance fundraising efforts, all at the expense of the proper functioning of this body," said Hatch, who didn't mention Cruz by name.
Cruz spoke on the floor moments later, saying he agreed with Hatch's call for civility and decorum. Still, he said, "speaking the truth about actions is entirely consistent with civility."
Cruz 'Mistaken'
That wasn't the end of the back-and-forth. Senator John Cornyn, the second-ranking Senate Republican, said Cruz was "mistaken" in contending that McConnell had misrepresented plans regarding the Ex-Im Bank to other Republicans.
If McConnell had,"I suspect you would find other voices joining that of the junior senator," added Cornyn, the senior senator from Texas.
In opening the Sunday session, McConnell said that "when there is overwhelming bipartisan support for an idea, even if I oppose it, it doesn't require some 'special deal' to see a vote occur on that measure."
"This is the United States Senate, after all, where we debate and vote on all kinds of different issues," McConnell said.
Also on Sunday, senators refused to support a maneuver by Cruz to skirt a procedural rule blocking an Iran-related amendment he sought to add to the highway bill. The measure would have blocked sanctions relief to Iran until the Islamic Republic recognized Israel's right to exist and freed four Americans who are missing or being held there.
Before it's here, it's on the Bloomberg Terminal.
LEARN MORE