Obama Says Kenya Visit Is Down Payment on Post-Presidential Era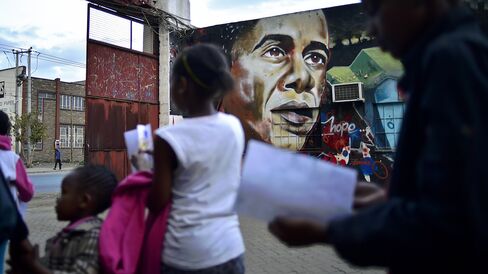 President Barack Obama offered a window into his post-presidential plans during a visit to Kenya, saying he intends to pursue philanthropic endeavors that benefit his late father's homeland and other African nations.
In uncharacteristically personal remarks at a news conference in Nairobi on Saturday, Obama said he began his visit the night before with some measure of "begging forgiveness" in a private dinner with relatives who felt snubbed by his nine-year absence and general lack of availability. He also bristled at being put in a "beauty contest" by the media with George W. Bush and Bill Clinton over which U.S. president loves Africa the most. He even channeled Arnold Schwarzenegger when he vowed, "I'll be back."
Obama is set to depart Sunday for meetings in Ethiopia before returning to the U.S. next week.
His first visit as president to Kenya, which also makes Obama the first sitting U.S. president to visit the country, is taking place after years of delays because of competing priorities and Kenyan election controversies. It comes amid grumbling by Kenyans who want a higher profile for global investment while they fight the threat of Islamist militants.
While the U.S. and Kenya don't agree on everything -– in their joint press conference, Obama took Kenya to task for criminalizing homosexual acts while Kenyan President Uhuru Kenyatta dismissed it as a "non-issue" –- Obama emphasized common goals when it comes to democracy, anti-terror efforts and the economy.
Obama also used the question-and-answer session with U.S. and Kenyan media to set the record straight about his feelings for his ancestral home.
Jeans, Backpack
"I'll be back," Obama said, recalling how during his first trip to Kenya as a young man he wore jeans and carried a backpack. He last visited in 2006 as a junior senator from Illinois."The next time I'm back I may not be wearing a suit," he said.
"I'm much more constrained now than I will be," after his presidency ends in January 2017, Obama said. "My hope is that some of the philanthropic work that I do after my presidency is over builds on some of the things that we've been doing now.
''I'm not going to stop being interested in the young people of Kenya and the young people of Africa, and developing the talented leaders and entrepreneurs that are going to help make this country and the world prosper," he said.
Obama described his reunion Friday night with three dozen family members at his hotel as "a wonderful time" and said that "mostly we were just catching up."
Family Politics
He said he knew many of the relatives well, including a half-sister, Auma, with whom he's close, and his 94-year-old step-grandmother, Sarah. Others he met for the first time. There were also some "lengthy" explanations of familial connections, Obama said with a laugh, and he spoke of having to navigate family politics. Obama said he did some "begging forgiveness" for not being around, and promised to make up for it once out of office.
At first Obama joked that he'd stayed away from Kenya because he didn't want other African countries to think he was playing favorites. He quickly acknowledged that the disputed Kenyan election of 2007, which triggered a political crisis and ultimately led to an International Criminal Court inquiry, also had been a factor. Kenyatta faced ICC charges related to post-election ethnic violence; his case was dropped in December.
"We don't need a reset" because there is already "robust" U.S.-Kenya cooperation, Obama said. "The fact that I didn't get here may have gotten people riled up."
Democracy, Governance
Obama praised Kenyatta's commitment to democracy and willingness to pursue anti-corruption efforts.
Asked how he'd ensure that his Africa legacy, which includes food security and the Power Africa program to double electricity access in six nations, will be as enduring as Bush's or Clinton's, Obama shot back, "This isn't a beauty contest between presidents."
Obama said he's "proud" of past administrations' work, including Bush's Pepfar initiative to combat HIV and AIDS, adding, "I've done everything I could to build on those successes." Obama said he's confident his own projects will have a "lasting effect -– not because they were initiated by me, but because they fill an extraordinary need."
"I don't have pride of authorship," Obama said.
Edwin Dande, chief executive officer of Nairobi-based Cytonn Investment Management Ltd., which oversees 50 billion Kenyan shillings ($494 million) of mostly real estate investments, said in a phone interview that it's too soon to assess the implications of Obama's power initiatives.
"Obama's biggest legacy on Africa will be more on the intangibles," said Dande. "In Kenya, young people need to be inspired to work beyond the bondages of ethnicity and past injustices that we suffered."
Before it's here, it's on the Bloomberg Terminal.
LEARN MORE