Corinthian Colleges Donated More Than $27,000 to Boost Marco Rubio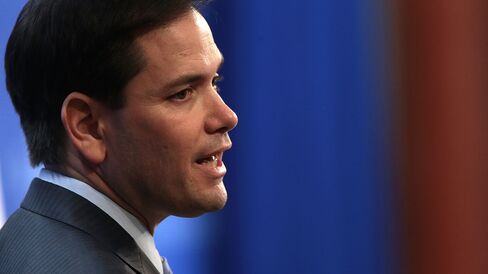 In the last five years, Florida Senator Marco Rubio's various political operations have accepted $27,600 in contributions from Corinthian Colleges, a for-profit education chain that shut down in April after a federal investigation found it had engaged in "predatory" practices.
The most recent donation appeared in the Republican presidential candidate's filing with the Federal Election Commission on Wednesday: a $2,700 maximum from Mark Pelesh, who was listed as a "business executive" for Corinthian Colleges. (The listing was a mistake by the Rubio campaign: Pelesh, who worked 10 years at Corinthian, was actually with another employer at the time of the contribution. Pelesh joined the higher education loan guarantee firm USA Funds in 2013).

The donation came on April 30, one day after Bloomberg reported that Rubio had written a June 20, 2014 letter to the Department of Education asking it to "demonstrate leniency" in maintaining Corinthian's access to federal student loans as it was under investigation. In April 2015, the Department fined the chain $30 million for misrepresenting grades, attendance and job placement data of its students, which led to the chain shutting down its campuses and displacing about 16,000 students across the country.
Prior to that, Corinthian Colleges had contributed $15,000—in three installments of $5,000 each from 2011 to 2013—to Rubio's Reclaim America PAC, according to the Sunlight Foundation, a nonpartisan campaign finance group. In addition, Corinthian gave $9,900 to Rubio during the 2009-2010 cycle when he was running for Senate, according to the Center for Responsive Politics, another nonpartisan entity that tracks campaign spending.
Defending his 2014 letter, Rubio's spokesperson Brooke Sammon said in April he "felt it was important to protect the thousands of students in Florida from being punished and having their educations disrupted while the investigation was underway." The senator is an outspoken supporter of alternative forms of higher education for students who don't have the money for traditional four-year colleges, and to inform them about opportunities and limitations of their educational endeavors. His campaign didn't immediately comment for this article.
(Clarification: An earlier version of this post has been updated to clarify Mark Pelesh's current employer, which was misreported by the Rubio campaign.)
Before it's here, it's on the Bloomberg Terminal.
LEARN MORE