California Lawmakers Stretch Limits of Greenhouse Gas Proceeds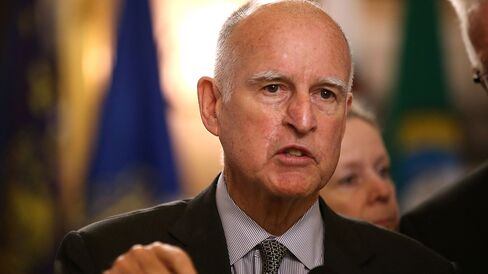 California lawmakers are finding it may not be so easy to spend more than $2.9 billion in proceeds from auctioning greenhouse gas credits in the state's landmark cap-and-trade market.
Buoyed by higher revenue estimates from selling pollution permits to companies, Democratic leaders of the Senate and Assembly are looking to pump money into communities most affected by toxins, improve the efficiency of farms and even ward off mosquitoes.
Governor Jerry Brown, a Democrat, has other plans for some of that carbon-auction revenue. Businesses say the money should help companies that pay for the credits compete with those in states that don't charge polluters. And California's fiscal analyst says some of those proposed uses may not even be legal.
"The biggest use of that money should be for supporting the companies that have contributed that money, that are covered by the cap-and-trade program, to make investments in their own operations to reduce emissions and remain competitive in the state," said Dorothy Rothrock, president of the California Manufacturers & Technology Association, which is challenging the auctions in court.
California, which would be the world's eighth-largest economy if it were a country, is the first U.S. state to raise revenue through capping emissions and auctioning credits to discharge greenhouse gases. The Canadian province of Quebec has a similar program.
California has capped emissions from industrial polluters since 2013 and applied limits on motor fuels at the beginning of this year.
Carbon Dioxide
Companies are required to own enough credits to cover the amount of pollutants they emit. They can buy, sell or trade credits. Each permit allows the release of a metric ton of carbon dioxide, and the total allowances shrink to achieve a roughly 15 percent reduction in gases by 2020.
The Democrats who run California's two legislative chambers were unable to compromise with Brown on how to spend the more than $2 billion in new auction revenue expected this year when they struck a deal on a $115.4 billion general fund budget in June.
The state also is carrying forward $914 million in auction revenue from the year ended June 30, and preliminary results this year suggest that revenue will beat Brown's forecast by about $140 million, according to the nonpartisan Legislative Analyst's Office.
Unforeseen Circumstances
About 60 percent of money from auctions is earmarked for recurring costs for sustainable housing, the state's bullet train and other transit projects. Brown wants to set aside another $500 million in reserve, said H.D. Palmer, a spokesman for the governor's Finance Department. That leaves about $1.2 billion up for grabs.
"The governor and the Legislature will have to decide how to allocate a pool of resources for reducing greenhouse-gas emissions," Palmer said, without commenting on the specific Senate and Assembly proposals.
Democrats in the Assembly have proposed spending for biomass power generation, mosquito control, climate adaptation and river revitalization. John Casey, a spokesman for Speaker Toni Atkins, a San Diego Democrat, didn't return a call and an e-mail seeking comment on the proposals.
Spend Wisely
In the largest departure from Brown's spending plan, the state Senate proposed earmarking $500 million for programs such as infill housing development and mass transit in disadvantaged areas. In a June 4 analysis of the proposals, the state's nonpartisan legislative analyst warned that programs not directly intended to reduce greenhouse gases could be vulnerable to legal challenges.
Senate President Pro Tem Kevin de Leon, a Los Angeles Democrat, said that while reducing pollution is the primary goal, there are other considerations.
"We have to spend and invest it wisely," de Leon said. "We need to stretch the dollars to get maximum value. That means maximum carbon reductions as well as economic growth. We have to be able to show a very successful cap-and-trade scheme. California will be a model."
Before it's here, it's on the Bloomberg Terminal.
LEARN MORE